Chef Watch: The Latest News on Academy Members
What young chefs have been up to, from collaborations to media appearances.
As the Grand Finale of S.Pellegrino Young Chef Academy Competition 2019-21 approaches (28-30 October), we check in with Academy members to find out the latest happenings from all corners of the globe — from new restaurant openings, to media exposure and exciting new projects.
Chef Watch is the place to keep track of all the Academy's young chefs.
Eight Hands: Antonio Romano, Davide Marzullo, Tommaso Tonioni and Alessandro Bergamo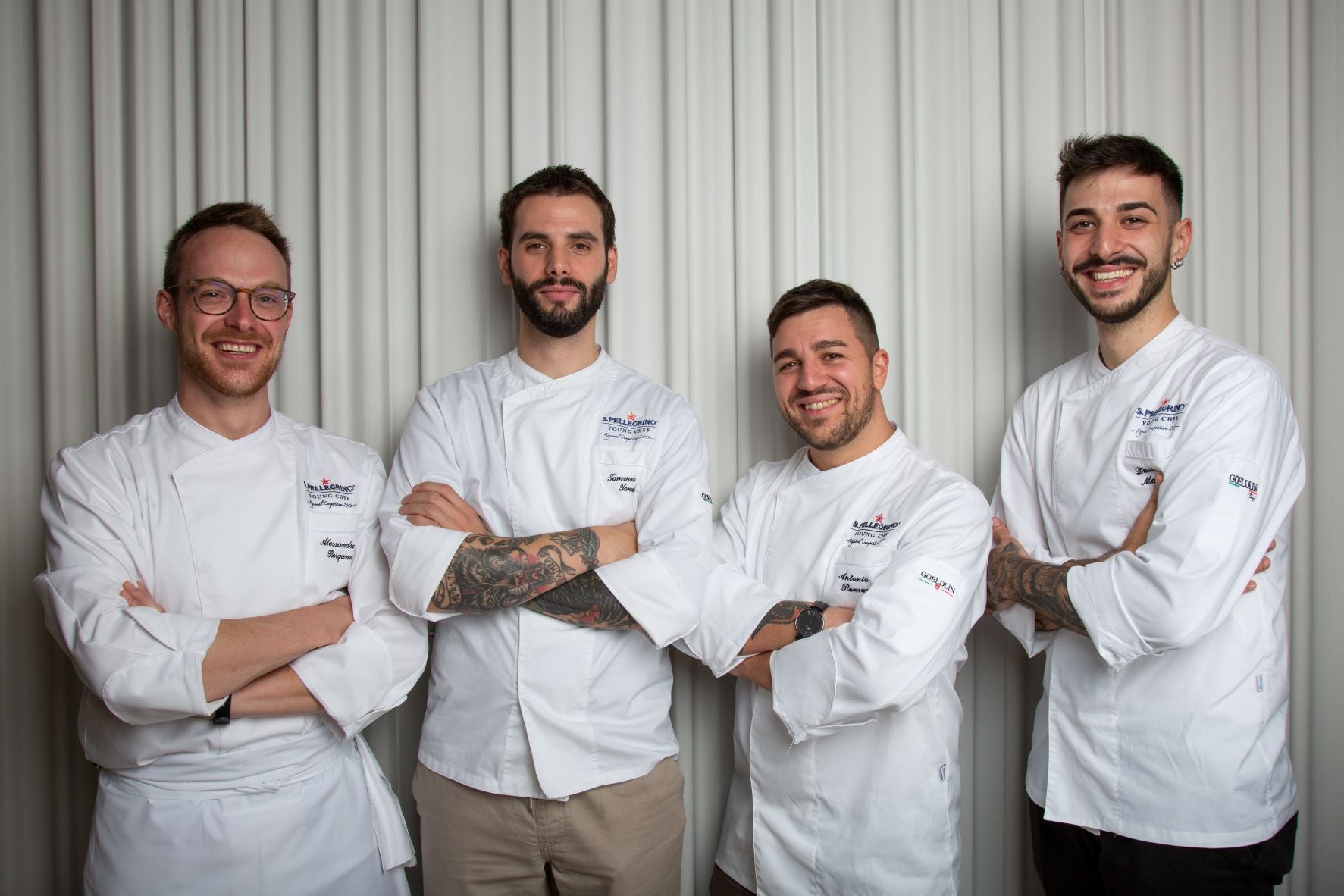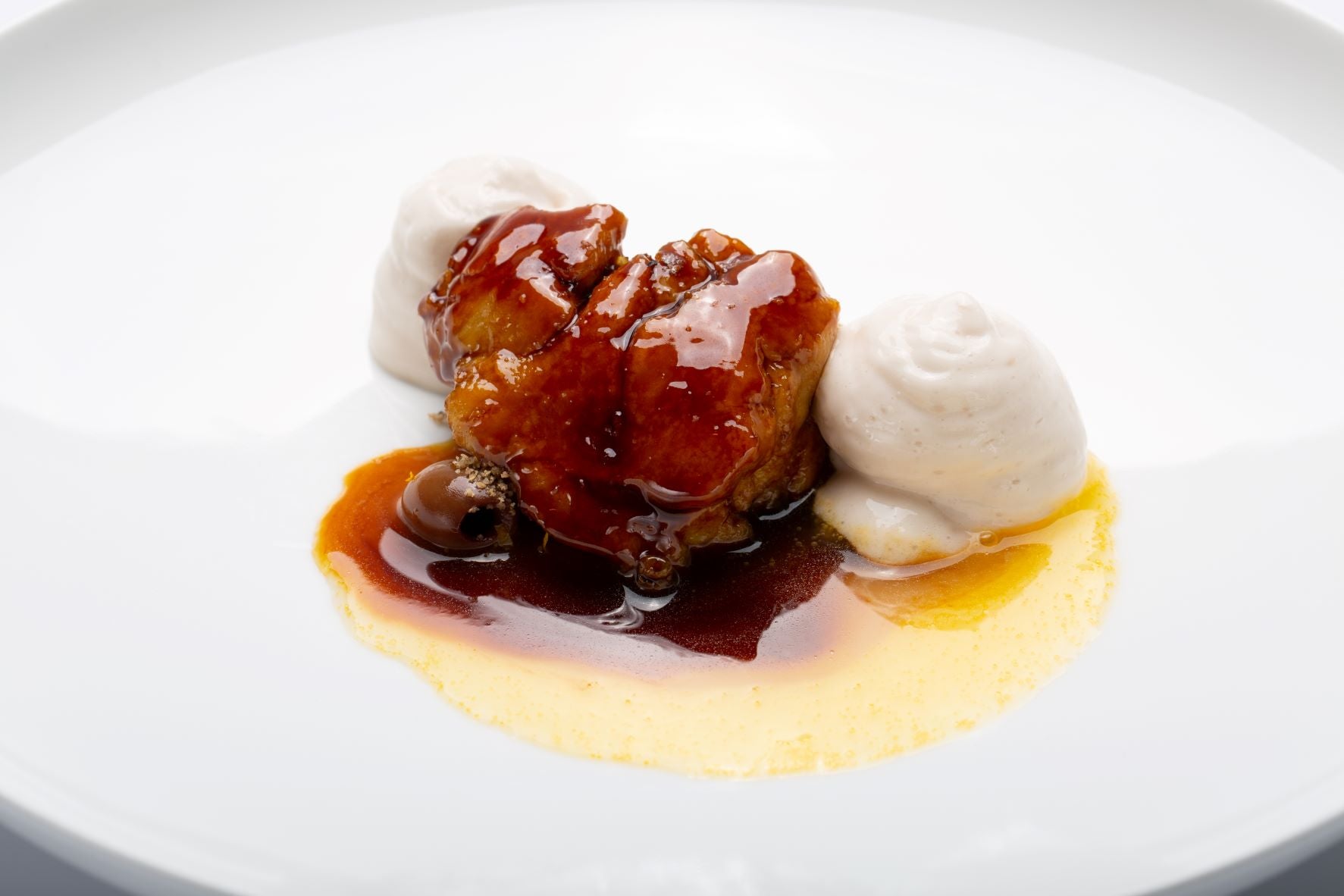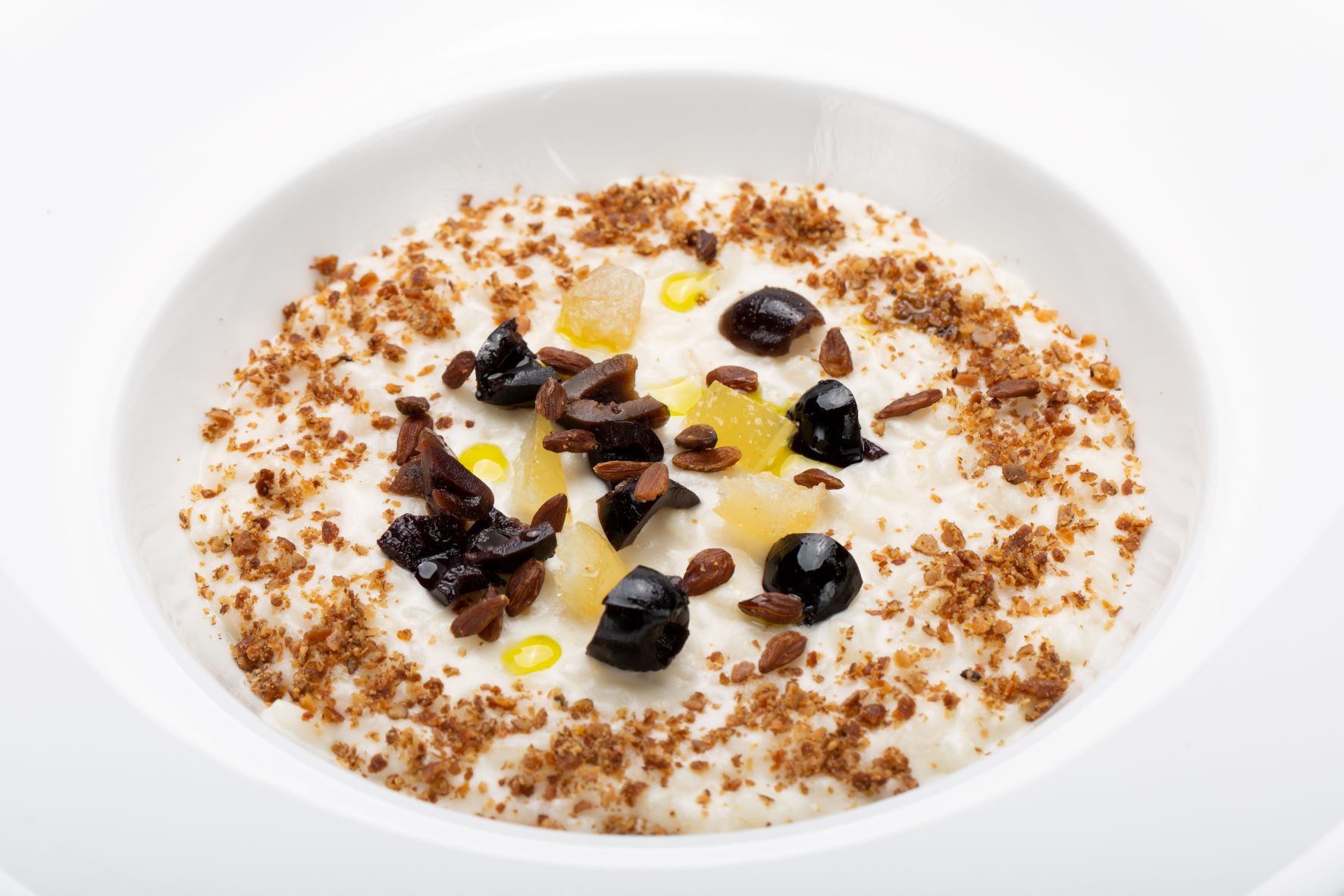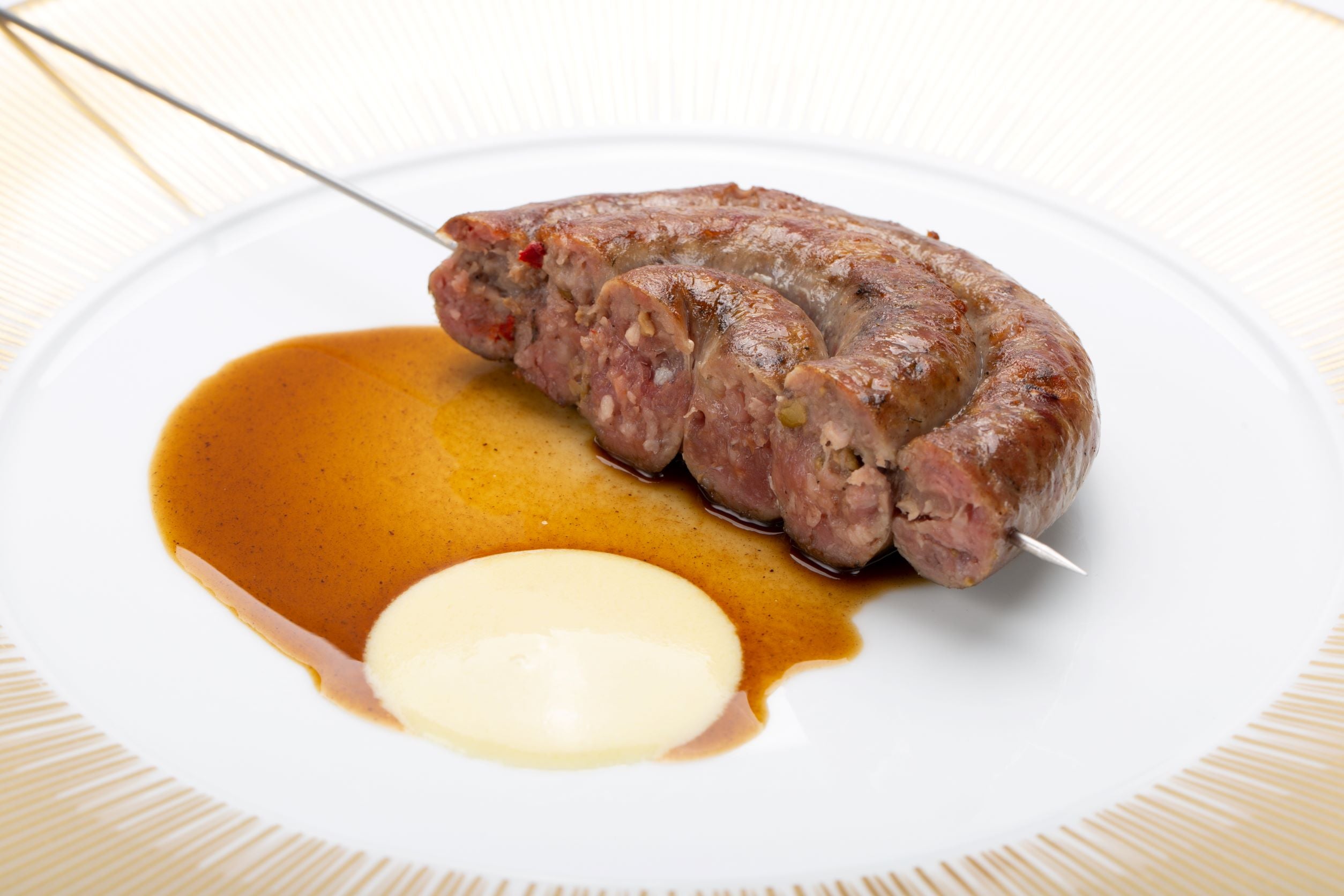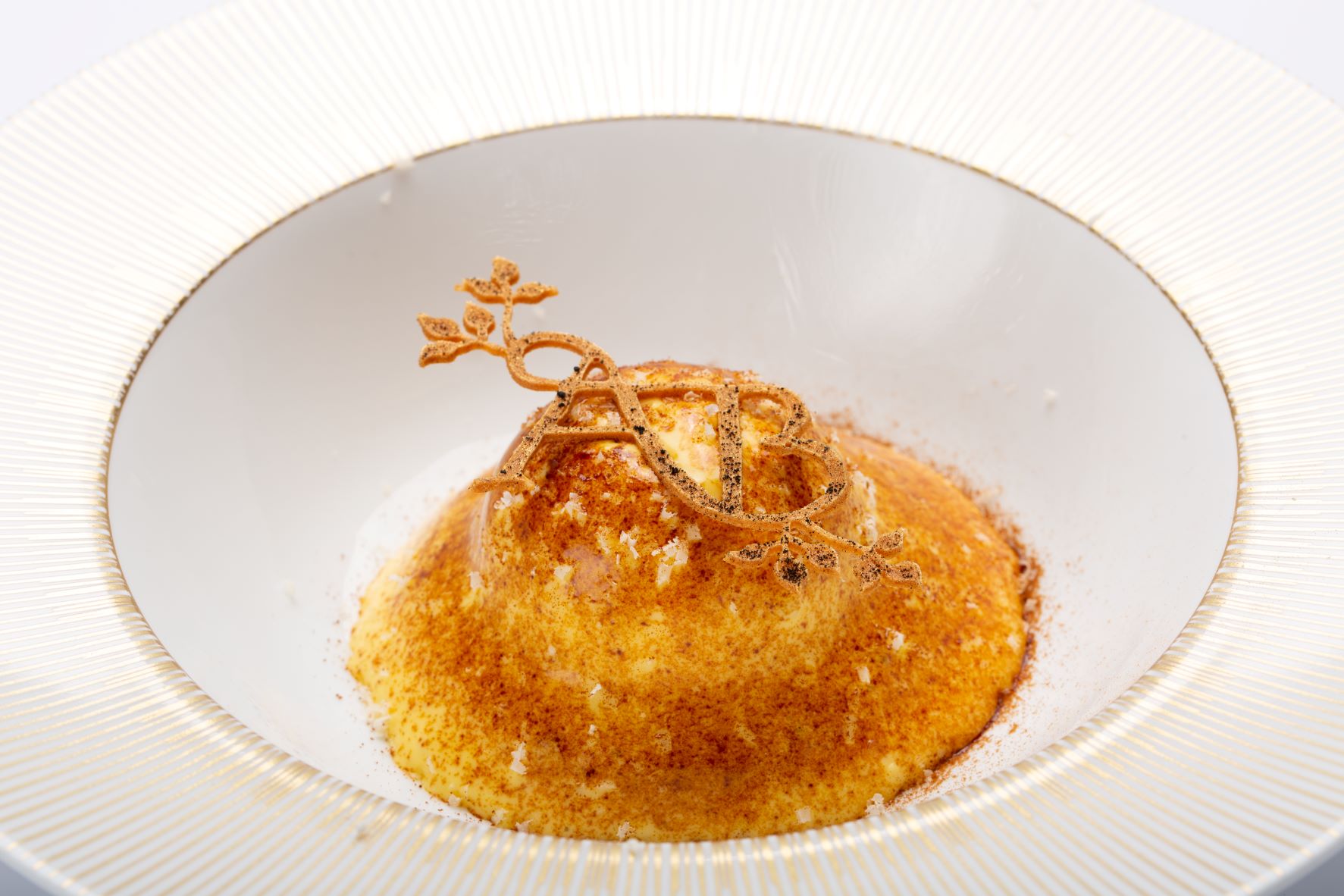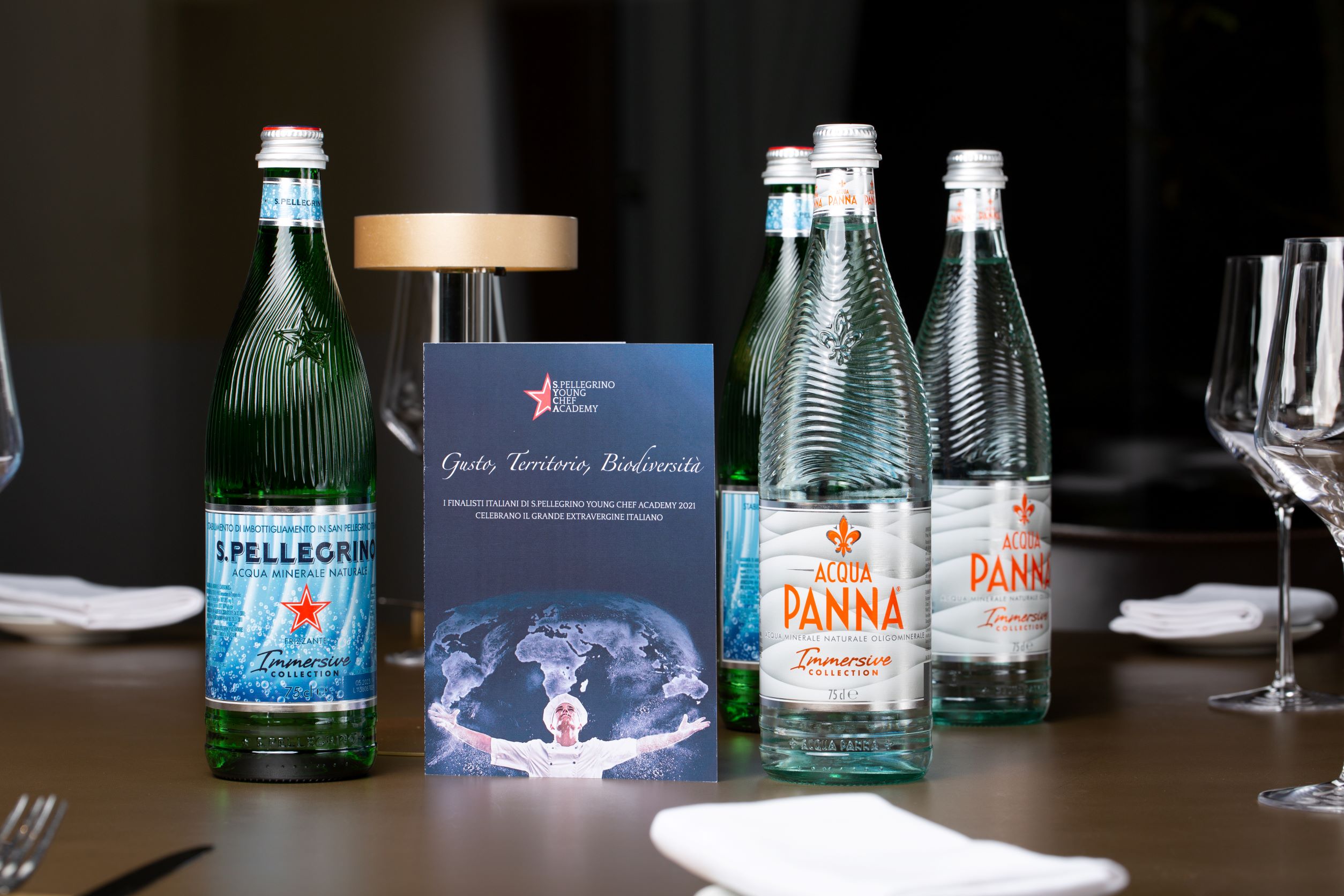 Four Italian finalists from this year's S.Pellegrino Young Chef Academy Competition came together this October to prepare an exclusive eight hands dinner at the Identità Golose Hub in Milan.
The chefs, Antonio Romano (finalist for the Fine Dining Lovers Food for Thought Award) Davide Marzullo (finalist for the S.Pellegrino Award for Social Responsibility), Tommaso Tonioni (finalist for the Acqua Panna Award for Connection in Gastronomy) and Alessandro Bergamo (S.Pellegrino Young Chef Academy finalist), prepared a unique menu that not only expressed their personal culinary journeys thus far, but also celebrated a pillar of Italian culinary tradition: Extra Virgin Olive (EVO) Oil.
Romano kicked off proceedings with his dish, Olives and Veal Sweetbreads, followed by Marzullo's Risotto with Olives, EVO Oil, Almonds and Lemon, where simple ingredients and clever technique were expertly balanced. The young chef also freeze-dried olive pits to create a powder garnish — demonstrating how haute cuisine can embrace sustainable food practices.
Tonioni served up Smoked Goat Sausage, Goats Cheese Emulsion and Olive Leaf Infusion as a delicate main dish, and Bergamo's EVO Oil, Seed and Olive provided a unique note to finish.
Giolina & S.Pellegrino Young Chef Academy: Chang Liu, Paolo Griffa, Luca Natalini, Davide Marzullo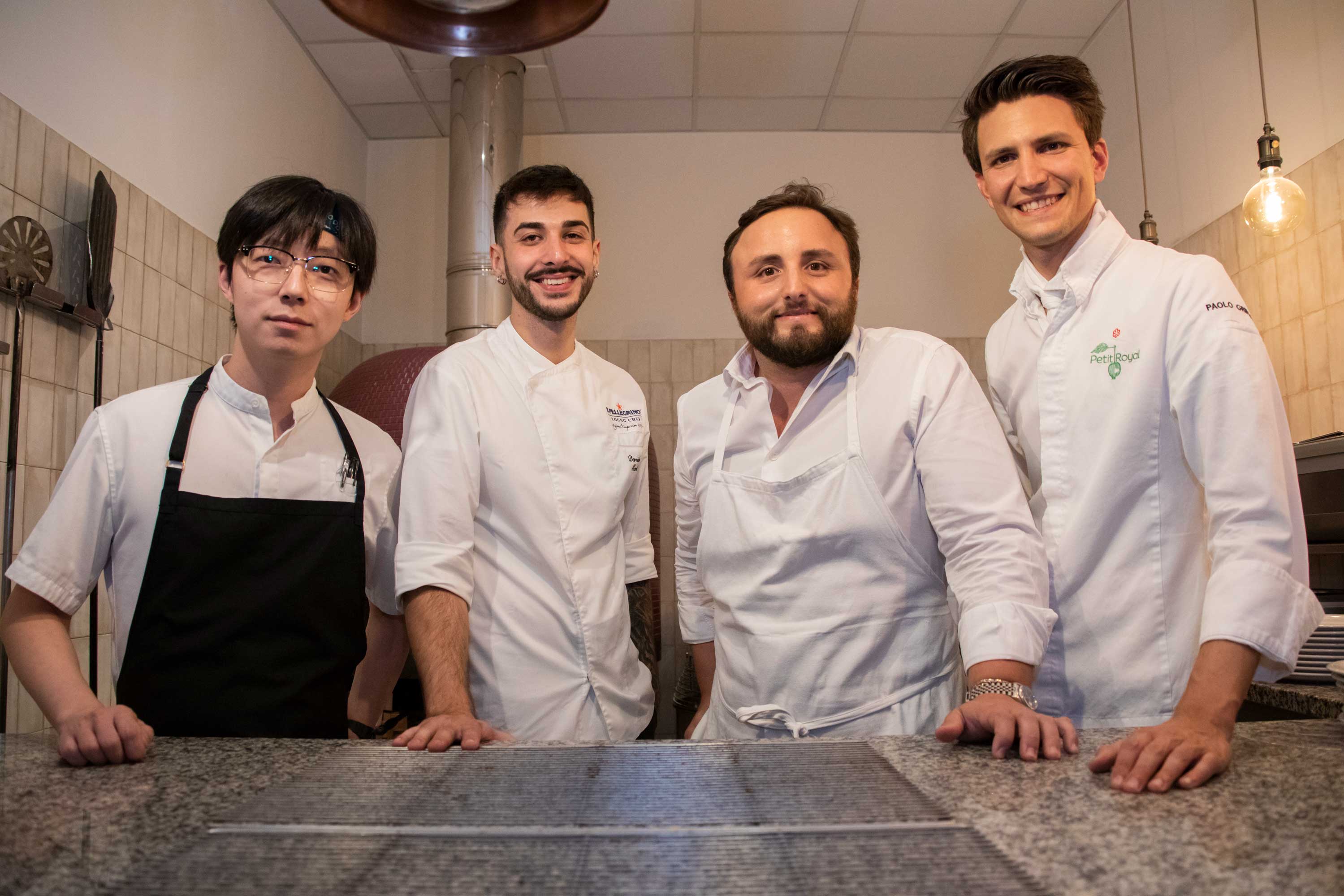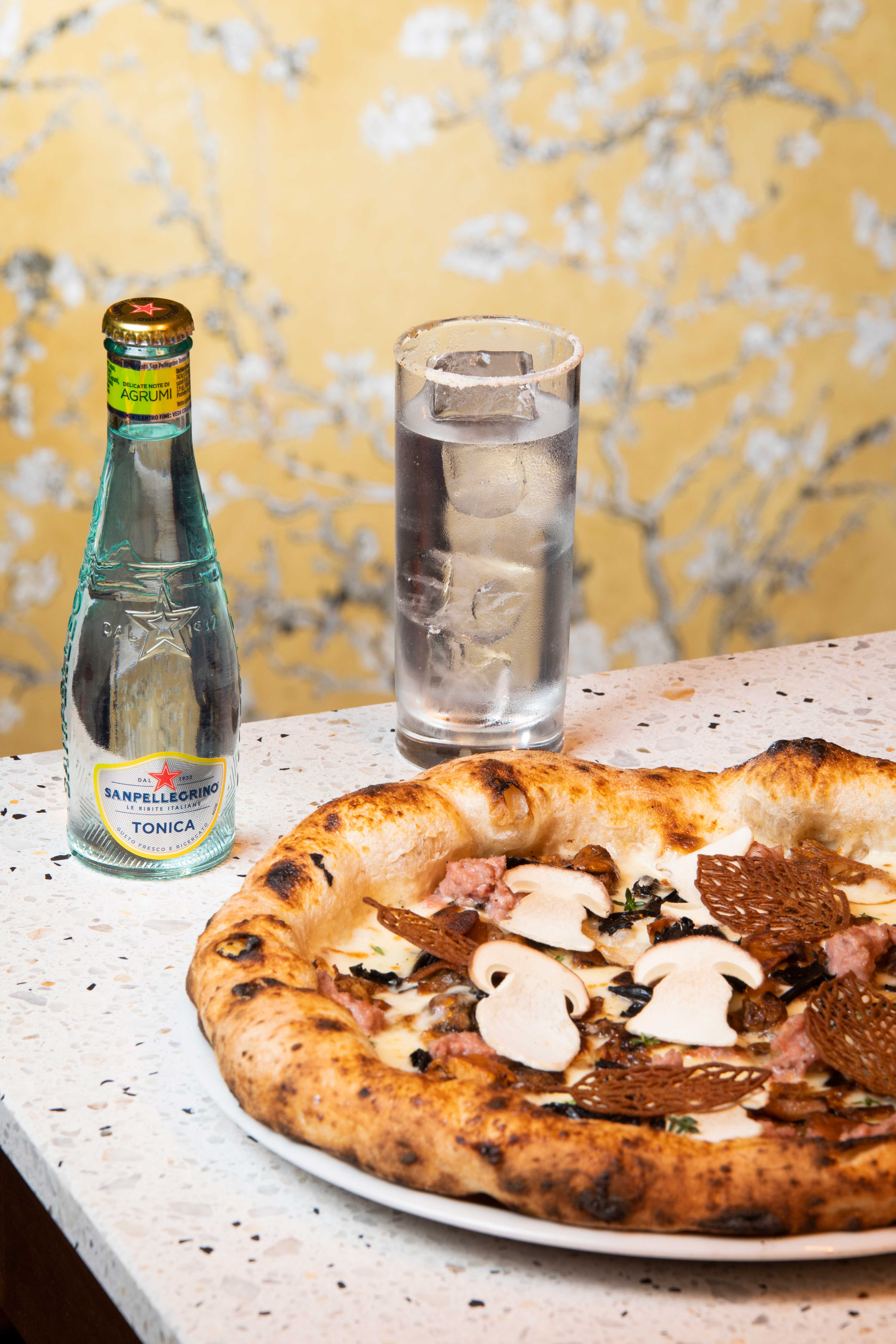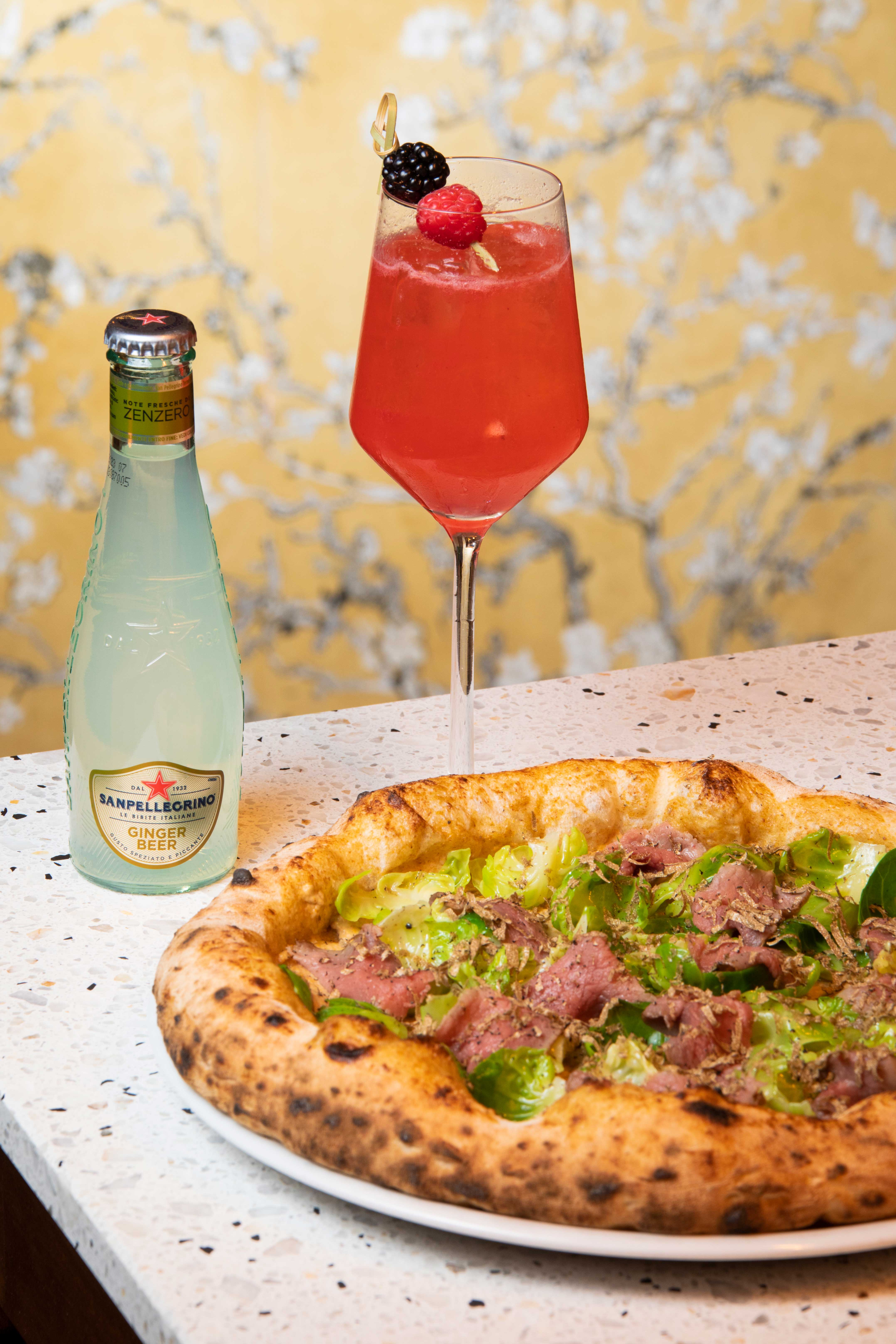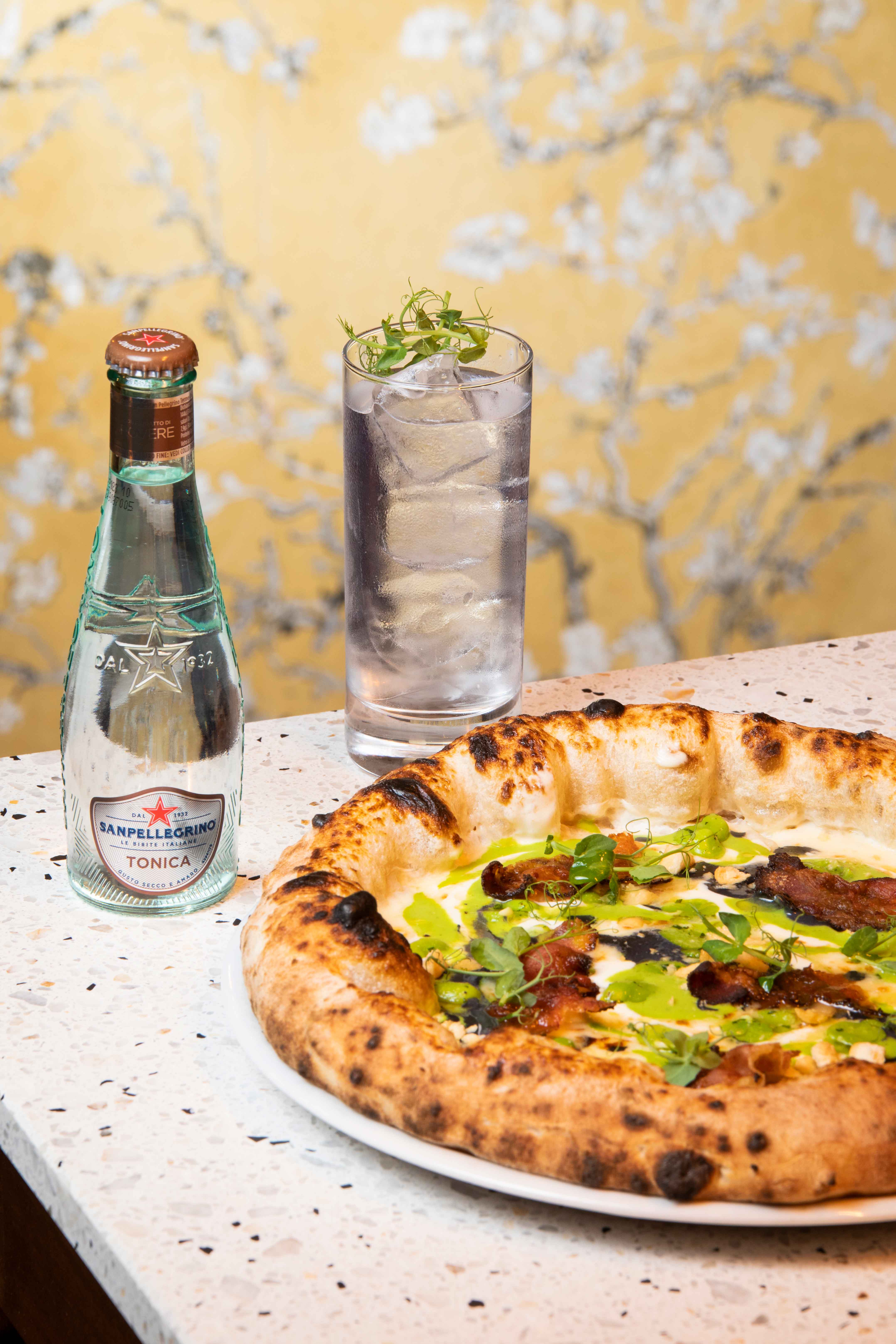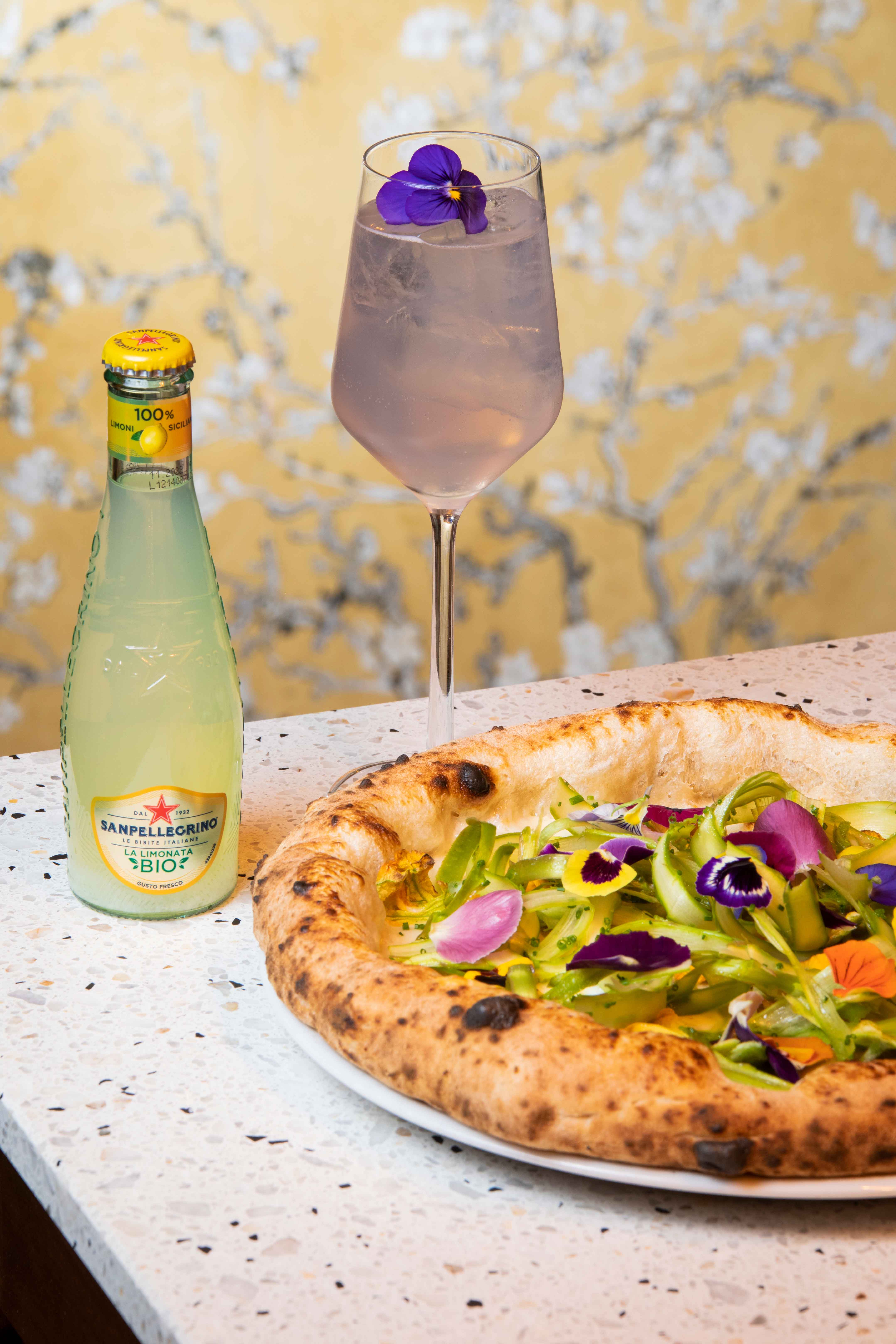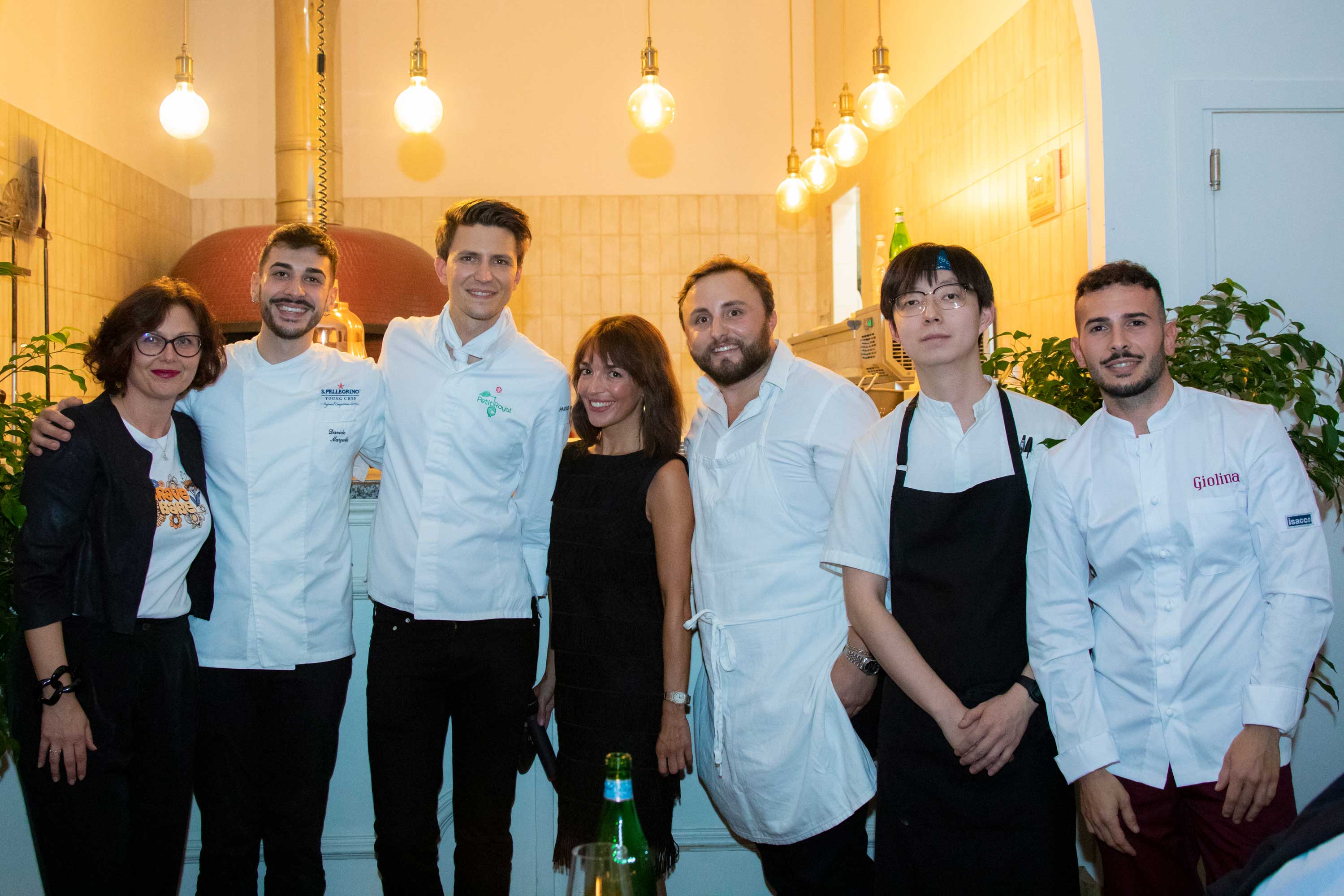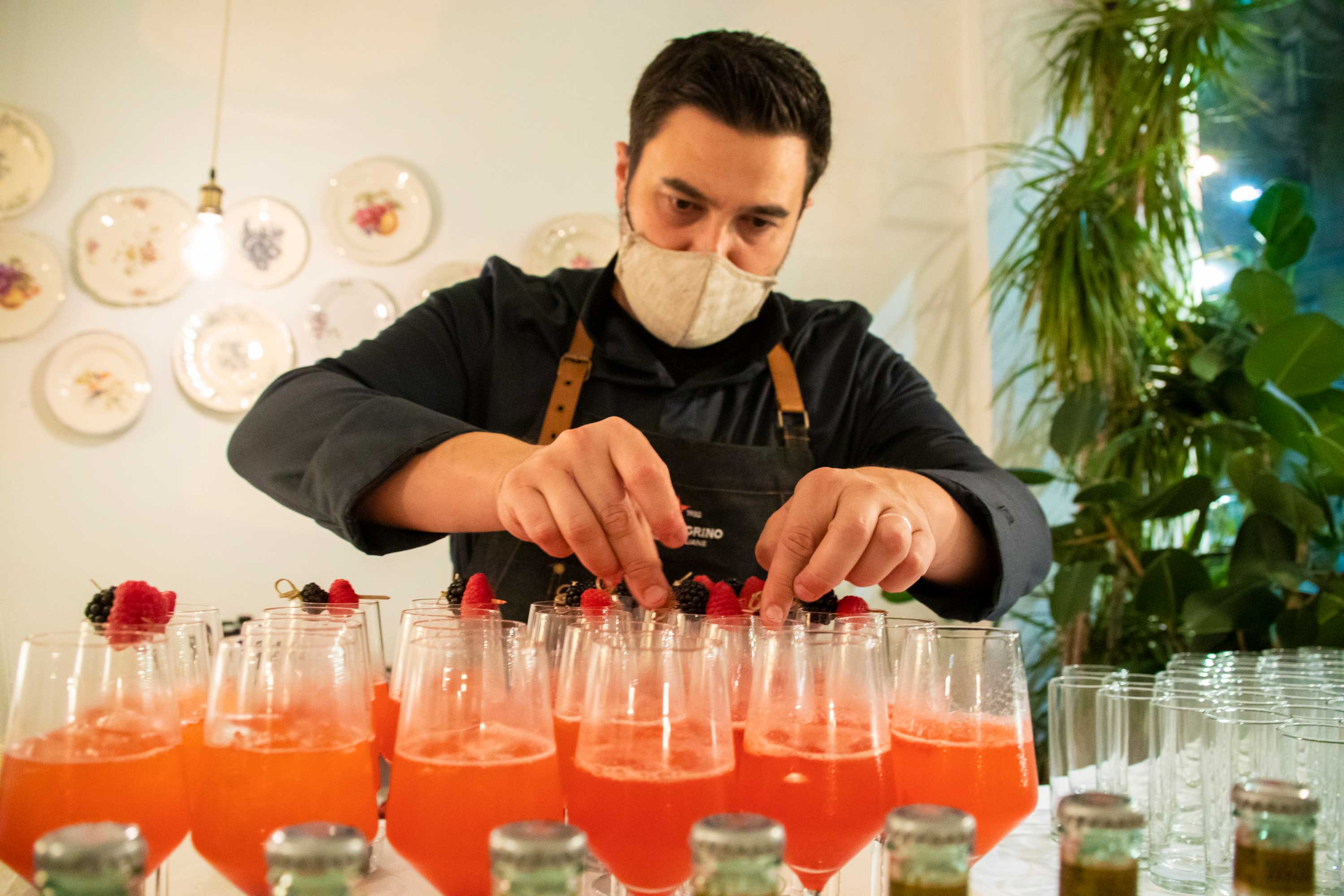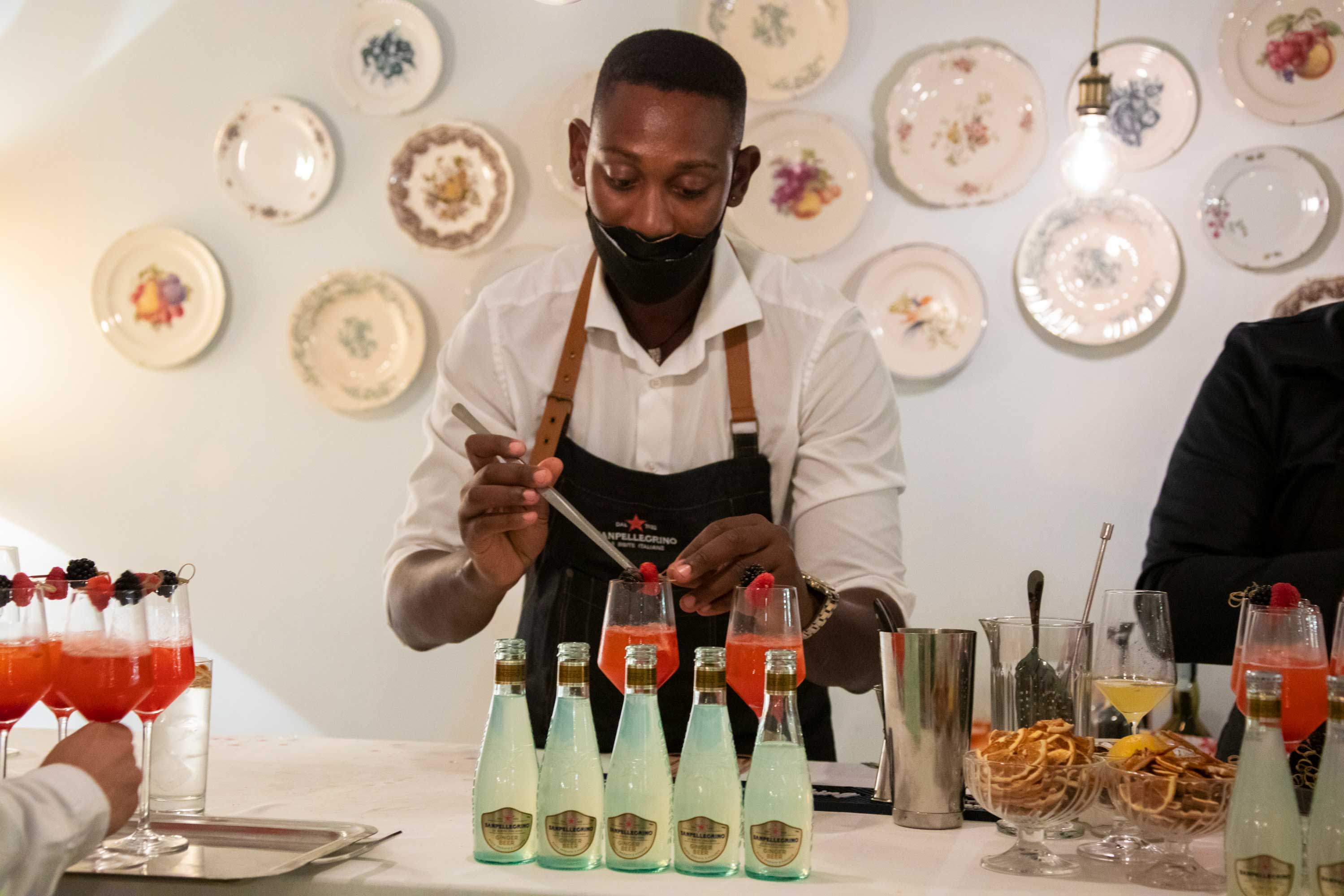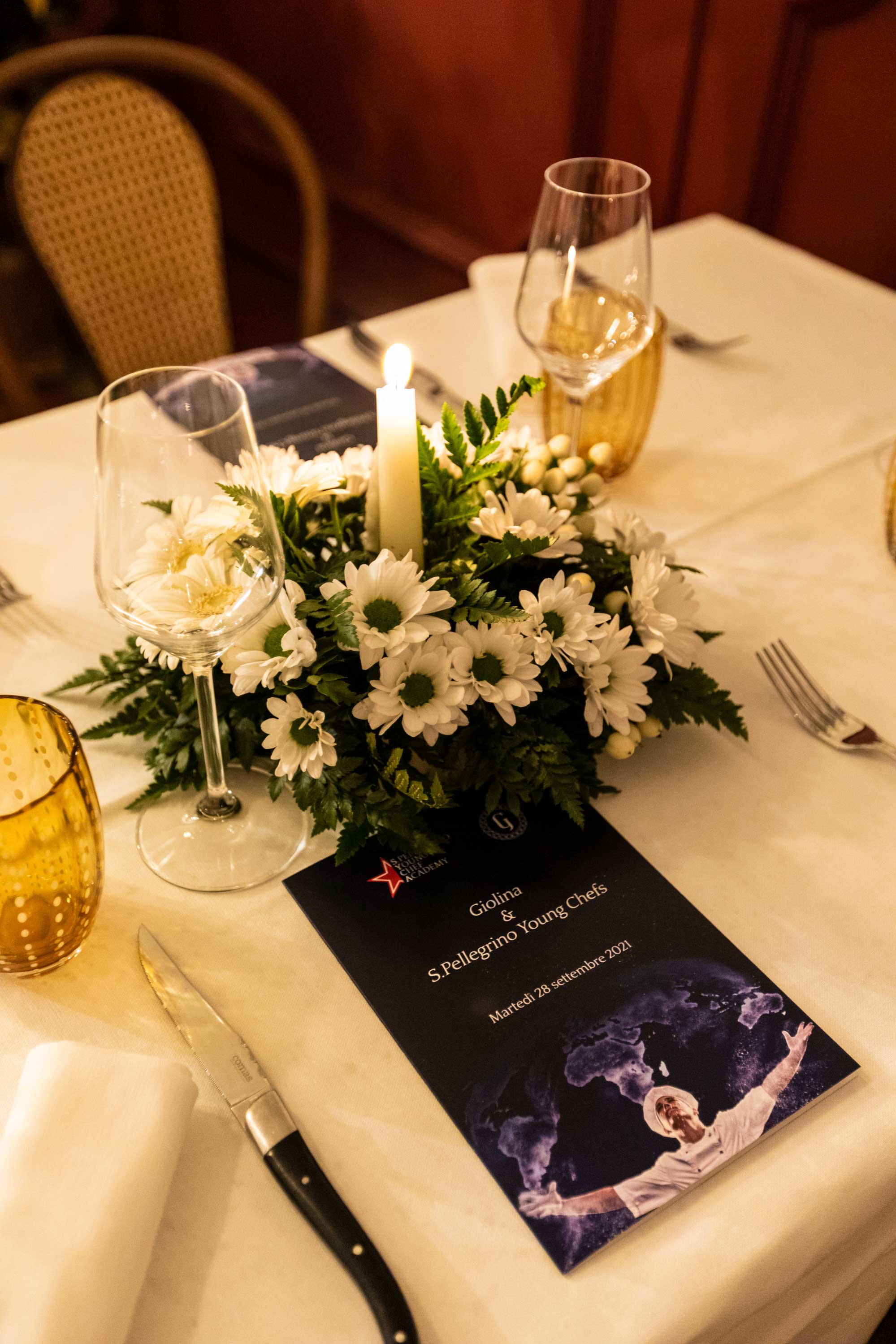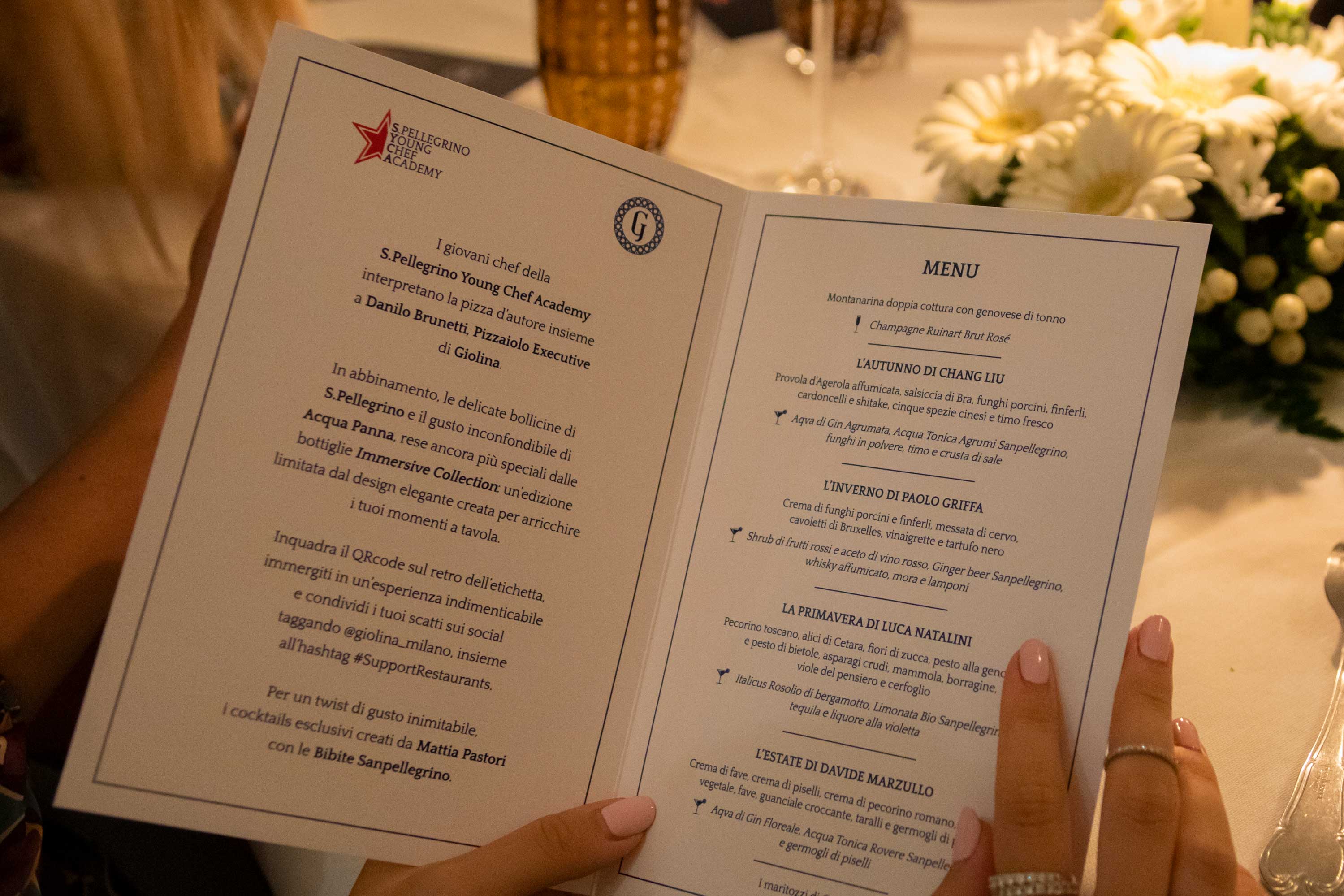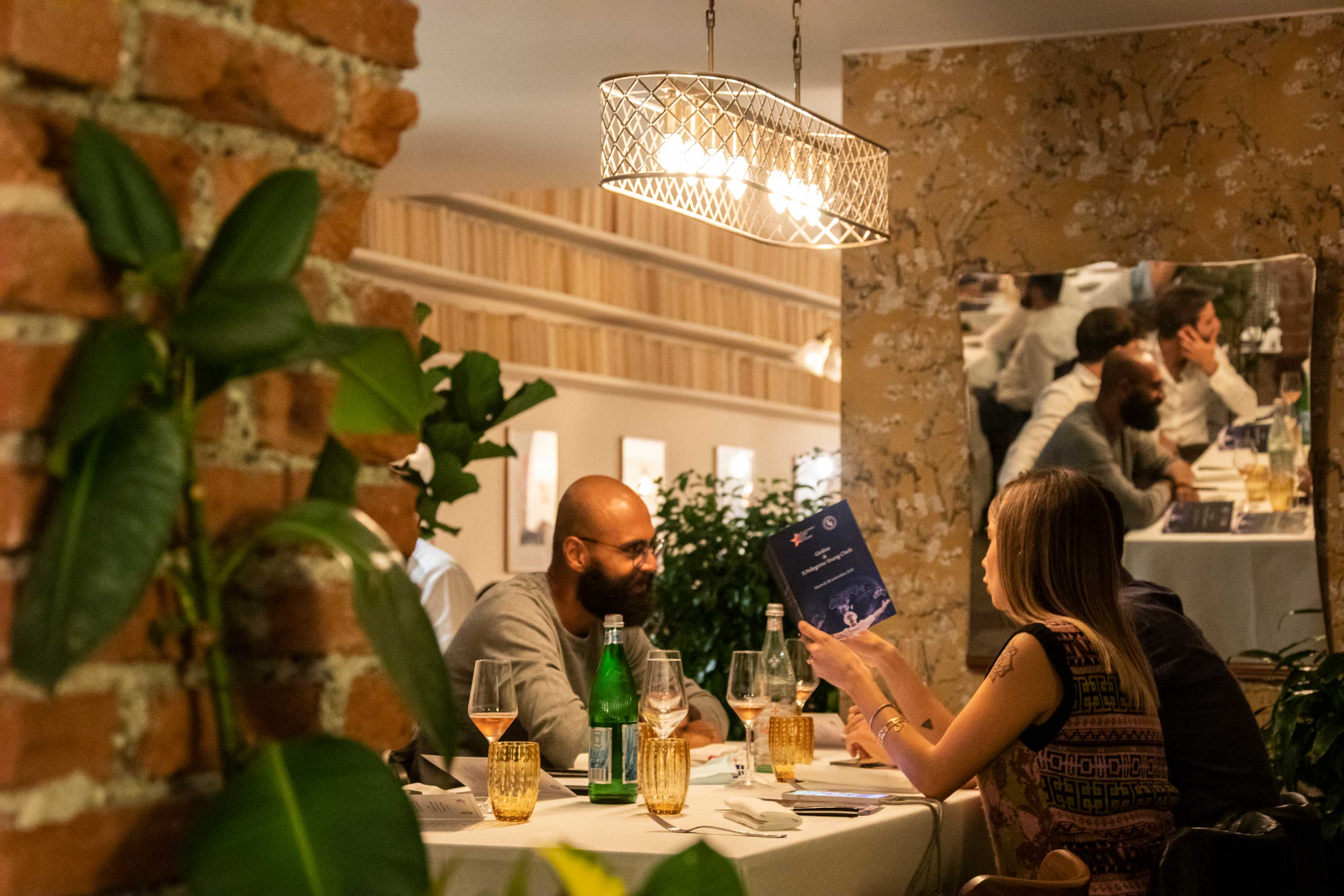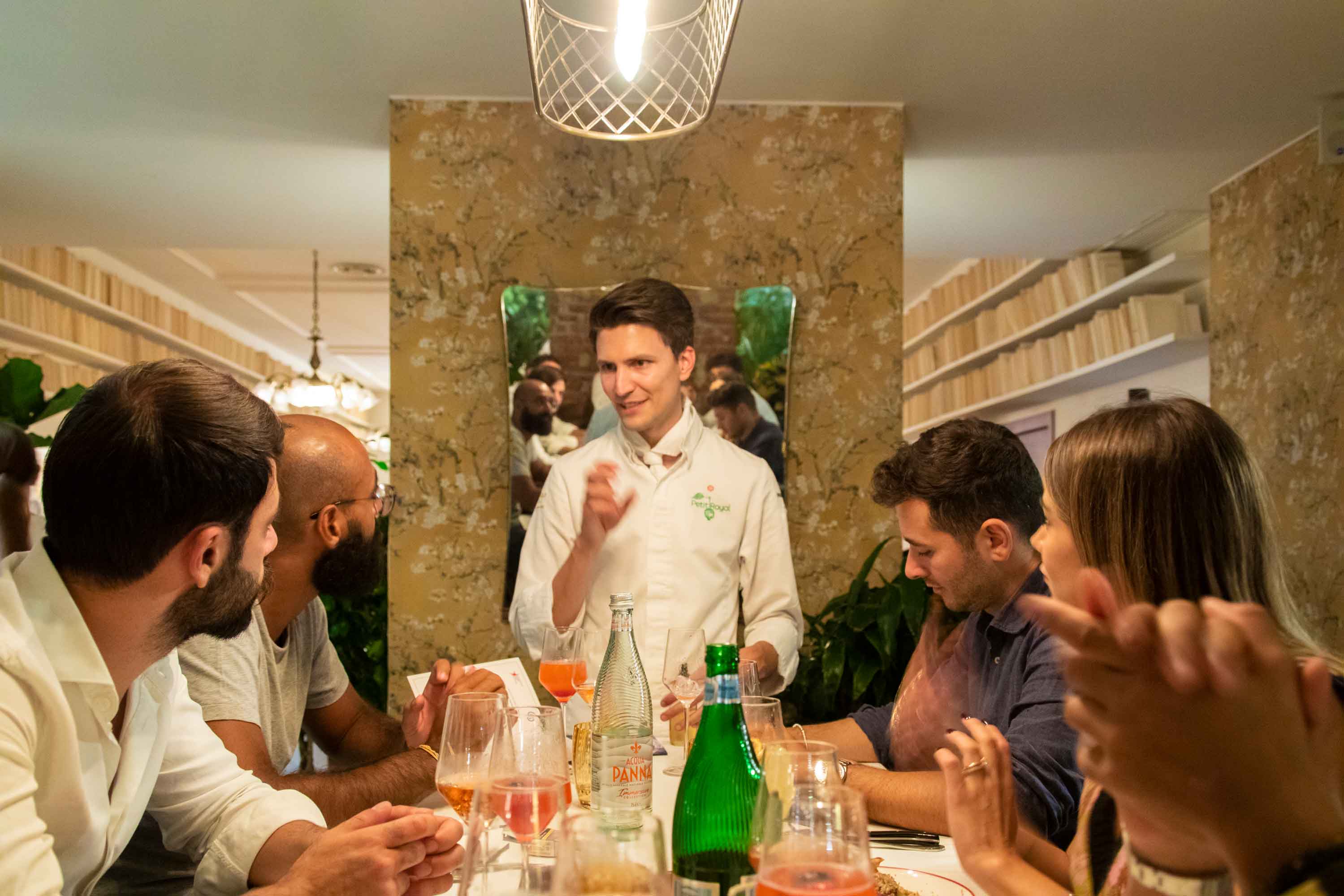 Four Academy members (including finalists from this year's competition) will partake in an exciting new project to showcase the talents of young chefs and pizzaioli (pizza makers) while examining the art of pizza and haute cuisine.
A collaboration between Milan-based pizzeria, Giolina, S.Pellegrino and Alma culinary school, the four young chefs will each work with Giolina's talented pizza master, Danilo Brunetti, to co-create a pizza inspired by the seasons. Each pizza will be paired with a S.Pellegrino cocktail and featured on Giolina's menu for a limited time, starting this October with 2016 finalist Chang Liu's interpretation of autumn.
Paolo Griffa (2015 finalist) will take over the winter season, while Luca Natalini (one of this year's Italy & South East Europe regional finalist) and Davide Marzullo (finalist for this year's S.Pellegrino Award for Social Responsibility) will represent spring and summer, respectively.
The proceeds from all four pizzas will go towards Alma scholarships to support more aspiring young chefs.
"This is a project I care a lot about because, above all else, I believe that entrepreneurs must invest in young talent," said Giolina founder and owner, Ilaria Puddu. "They are the true future of gastronomy and it is therefore important to give them the opportunity to grow, to have visibility, and to be able to create synergies so that new ideas and projects are born."
 

Young chefs at Identità Golose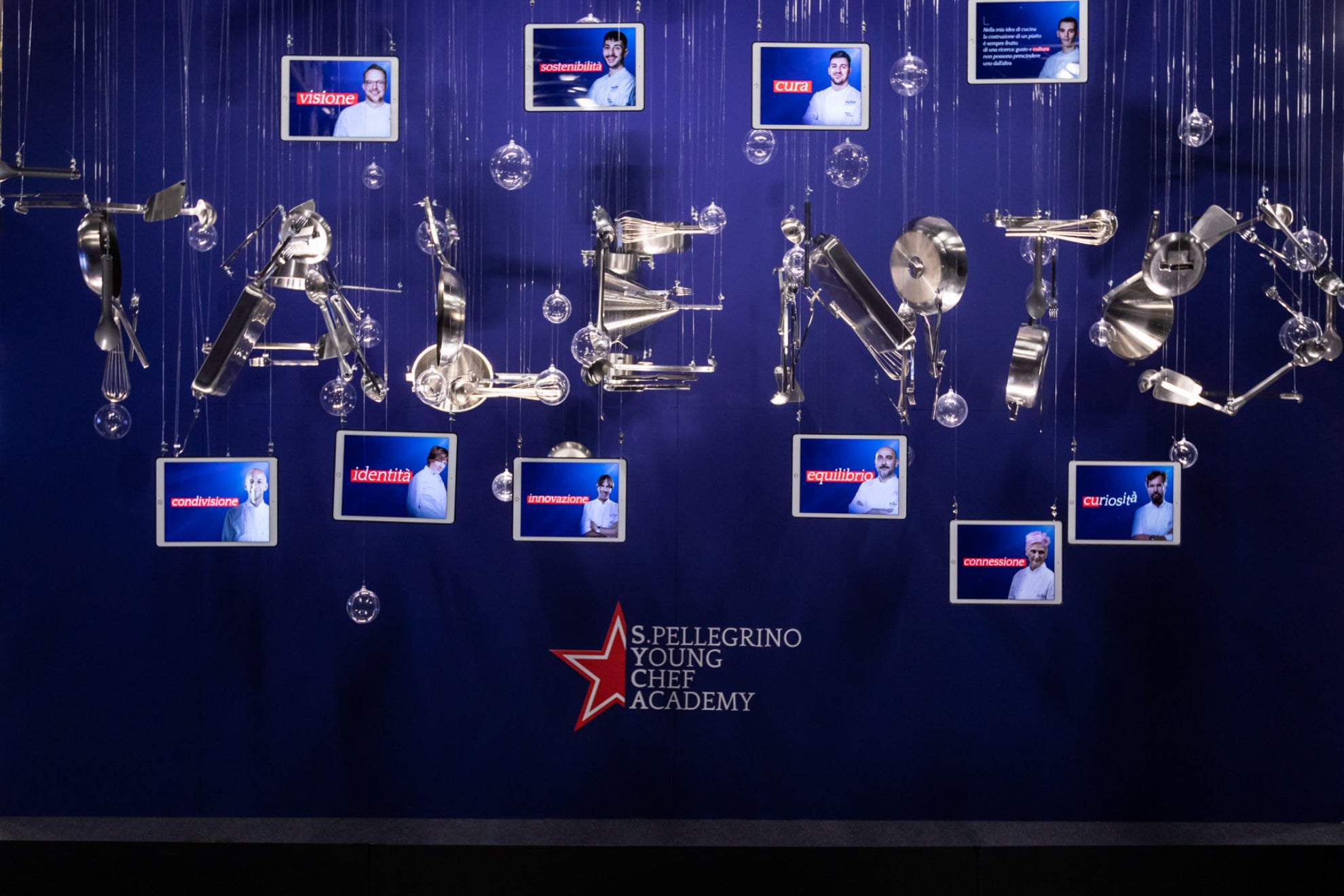 Identità Golose, the international haute cuisine congress, recently took place in Milan (25 to 27 September) where young chefs from this year's Italy & South East Europe regional final were showcased.
Event attendees were given the chance to get to know young chefs, Alessandro Bergamo, Antonio Romano, Tommaso Tonioni and Davide Marzullo, and learn about the Academy via a series of digital and physical displays at S.Pellegrino's dedicated exhibition stand.
Meanwhile, some of the Academy's high-profile chef mentors, Antonia Klugmann, Carlo Cracco and Riccardo Camanini, each prepared lunch for attendees at the three-day event.
Nicolas Fagundes Galindo and Kathryn Ferries
Two finalists for this year's special awards recently appeared in Time Out magazine, sharing their views on the best cooking shows of all time — and revealing that even professional chefs binge on reality TV.
For Nicolas Fagundes Galindo, sous chef at Pichet in Dublin, Ireland and a finalist for this year's Fine Dining Lovers Food for Thought Award, Chef's Table tops the list.
"When the title music starts, there's absolutely no way you can't get excited. It is so beautifully filmed and I appreciate the casting of the most prestigious and talented chefs around the globe. It's just a perfect cooking show, and I hope it never ends," he said.
Meanwhile, Kathryn Ferries, sous chef at Stofa Restaurant in Ottawa, Canada and a finalist for the S.Pellegrino Award for Social Responsibility, confessed her love for Guy Fieri's Diners, Drive-Ins and Dives.
"This may be a controversial take but stay with me here… This show has highlighted so many of North America's unsung restaurants that make up the fabric of our industry. These local favourites are what make small towns – and larger cities – unforgettable and really showcase that you don't need to be the fanciest place to make people happy with your food," she said.
 
Sanjay Thakur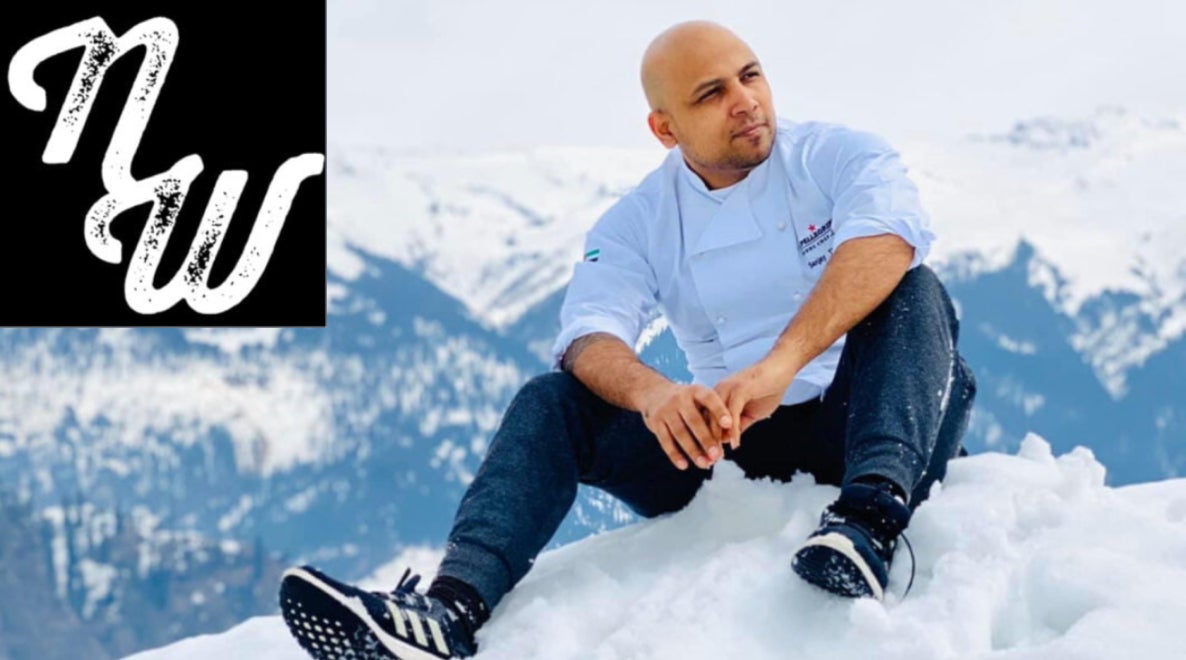 A finalist from the 2015 competition, Sanjay Thakur, was recently interviewed on the New Worlder podcast.
A chef from Himachal Pradesh, the mountainous far northern region of India, Thakur explained how he is working to spread awareness of India's Himalayan cuisine through cooking, teaching, and film making.
Thakur works with several universities, both in India and abroad, to educate young chefs about the vastness and depth of Indian cuisine, and the importance of indigenous ingredients.
"Indian food is much more than curries and kebabs," he said.
 
Antonio Buono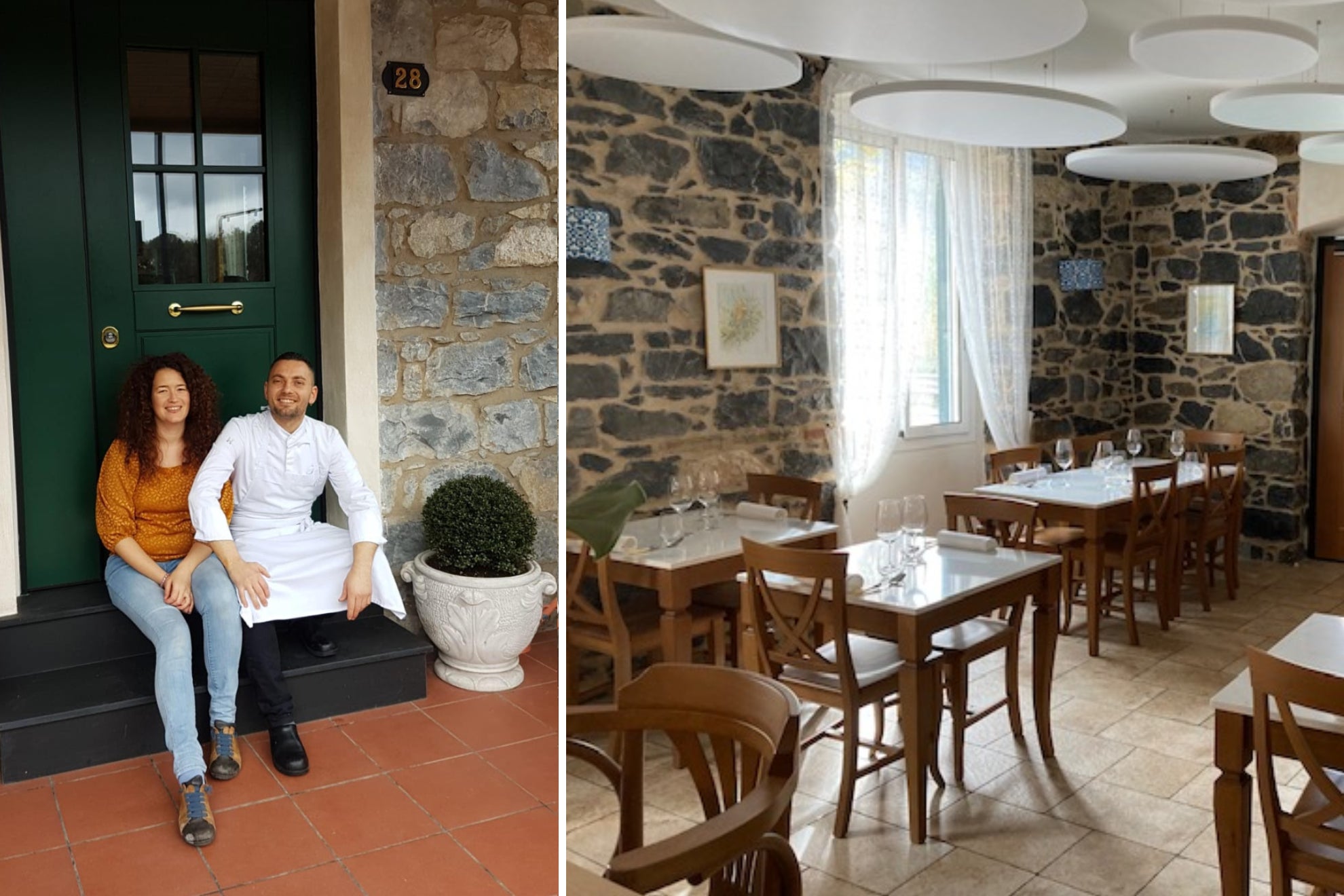 A finalist from the 2018 competition, chef Antonio Buono has celebrated the opening of his very own restaurant, Ristorante Casa Buono, in Italy's Liguria region. Previously the chef de cuisine of the highly-acclaimed Mirazur in France — which was awarded three Michelin stars and ranked first place in The World's 50 Best Restaurants list in 2019 — Buono is now working alongside his wife and food anthropologist, Valentina Florio.
 
"We are in the countryside, next to the Roya river, which gives life to a beautiful valley that crosses Italy and France. This gives us the possibility to use the best ingredients of the two countries," Buono said. The intimate 20-seat restaurant serves a daily degustation menu focused on 'simple and comforting' cuisine that showcases local produce. 
 
Casa Buono is featured in the 2021 Michelin Guide Italia and the chef was recently named among the 2021 Young Talents of the Year by LA LISTE, an award sponsored by S.Pellegrino.
"What a great honour and emotion to receive this young talent award," Buono shared on Facebook upon receiving the accolade. "This is also a great win for the city of Ventimiglia, where I opened Casa Buono, and where I am waiting for you at my table with my wife Valentina."
Albert Manso Miras
This year's finalist from the Iberian & Mediterranean region, Albert Manso Miras, was recently featured in Sheerluxe, where he shared tips on how to best prepare artichokes.
Miras, from Tickets in Barcelona, Spain said the region's mild climate makes the local El Prat artichoke sweeter and more tender than other varieties.
"My favourite way to cook artichokes is to simply remove the outer leaves and a little from the tip of the artichoke. Cut into thin slices and fry at 180°C until crisp. Drain on kitchen paper, finish with salt and pepper and accompany them with a sauce such as tzatziki. I also love to cook artichokes on a BBQ because of the incredible toasted and smoked flavour they absorb," he said.
In another Sheerluxe article, Miras shared his top tips for the much-loved Spanish dish, paella.
"A variant that I love to prepare is black paella with octopus and saffron aioli, which consists of preparing the paella in the traditional way, but then adding a little squid ink to give flavour and colour… Simple, different and delicious."
Miras' recipe for fricando (Catalan stew) was also spotlighted in Stylist magazine to help inspire readers to recreate Spanish flavours at home.
 
Four Hands: Alessandro Rapisarda & Luca Natalini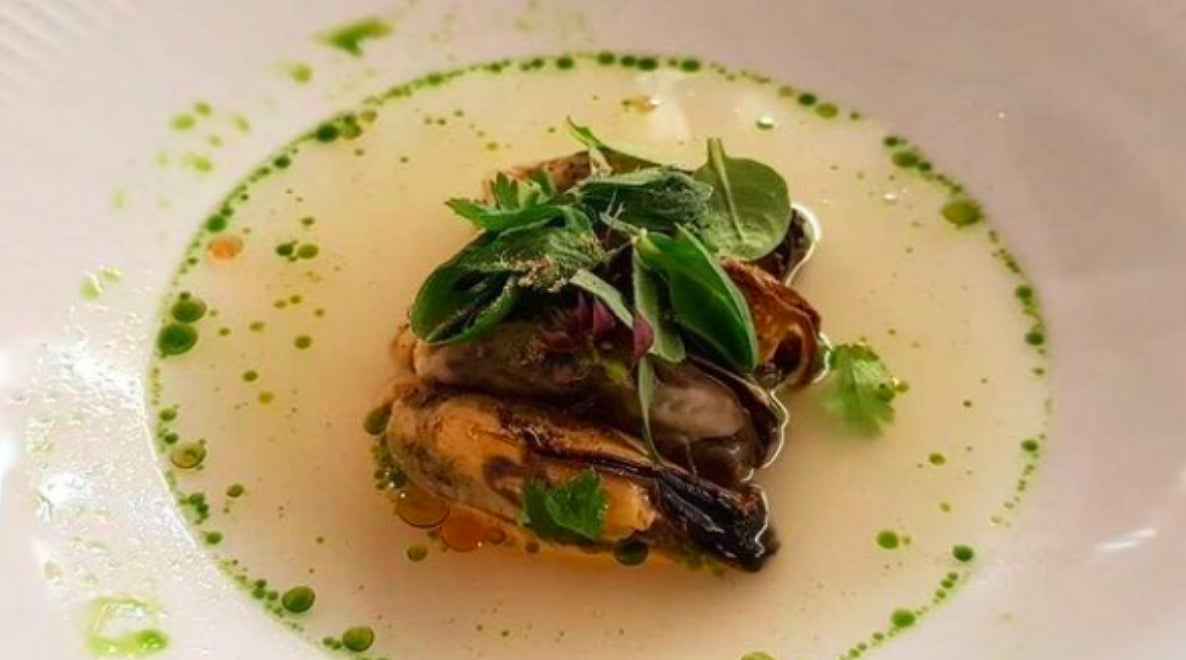 The bond between young chefs and their mentors often blossoms into friendship. Mentor/ mentee duo Alessandro Rapisarda and Luca Natalini, from this year's Italy & South East Europe Regional Final, recently reunited for a four hands dinner that paid homage to the wild mollusc of Portonovo.
A close relative to mussels, the wild mollusc of Portonovo has long enamoured Rapisarda — so much so that every Tuesday at his restaurant Casa Rapisarda, in Italy's Marche region, the chef creates a dinner menu (including starters and dessert) dedicated to the sea creature.
On 31 August, Natalini joined Rapisarda in the kitchen and together they curated a menu that included mollusc ice cream, mollusc risotto, and grilled mollusc with its emulsion.
Rapisarda was a 2016 finalist in the S.Pellegrino Young Chef Academy competition, where his dish, Risotto alla Marinara, featured a mollusc cream — naturally.