Words of Wisdom
S.Pellegrino Young Chef Academy mentors offer advice ahead of the Grand Finale.
The Grand Finale of S.Pellegrino Young Chef Academy Competition 2019-21 is fast approaching, with 12 regional finalists gearing up for the live cook-off in Milan on 28-30 October.
As well as marking the fourth edition of the competition, this year's long-awaited Grand Finale will also celebrate the reopening of the hospitality sector after an especially challenging and uncertain period — a truly global gathering of industry leaders and bright young stars.
Here, the esteemed chef mentors who have guided each of the finalists throughout their competition journey share some inspirational advice ahead of the big day.
S.Pellegrino Young Chef Academy Competition 2019-21: Finalists for the S.Pellegrino Young Chef Academy Award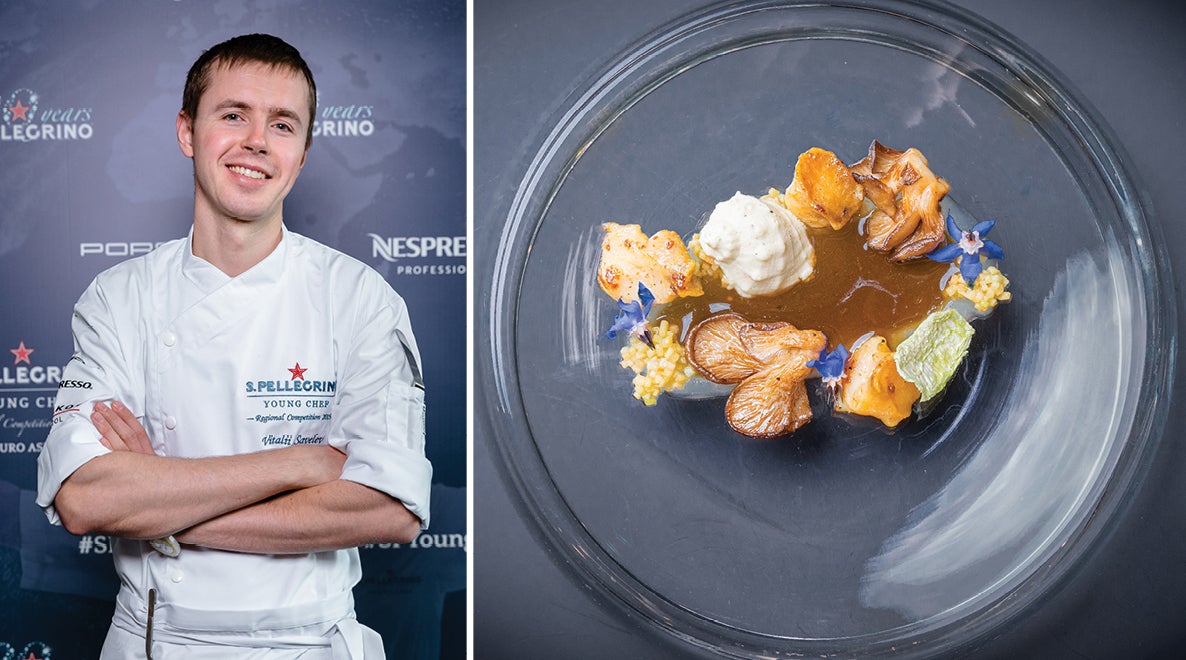 Vitalii Savelev from Twins Garden in Moscow, Russia was named the S.Pellegrino Young Chef for the Euro Asia region. His signature dish is Black Sea Rapa with Mushrooms Grown on Lemon Peels.
His mentor is Michelin-starred chef, Adrian Quetglas​​​, who now splits his time between culinary projects in Moscow and Mallorca. Quetglas said Savelev's maturity and confidence will put him in good stead at the Grand Finale.
"It is a pleasure for me to get to advise Vitalii and share my experience and knowledge with him.
"Taking part in a competition as important as this is a huge opportunity for any chef who wants to stand out in the field of avant-garde cuisine. The projection of this competition is really important and it allows younger chefs to achieve the importance they deserve. The initiative of valuing sustainability in the kitchen is indispensable if we want to keep enjoying the produce our planet gives us."

Chef Ivan Berezutskiy from Twins Garden will replace Adrian Quetglas as Savelev's mentor at the Grand Finale in Milan.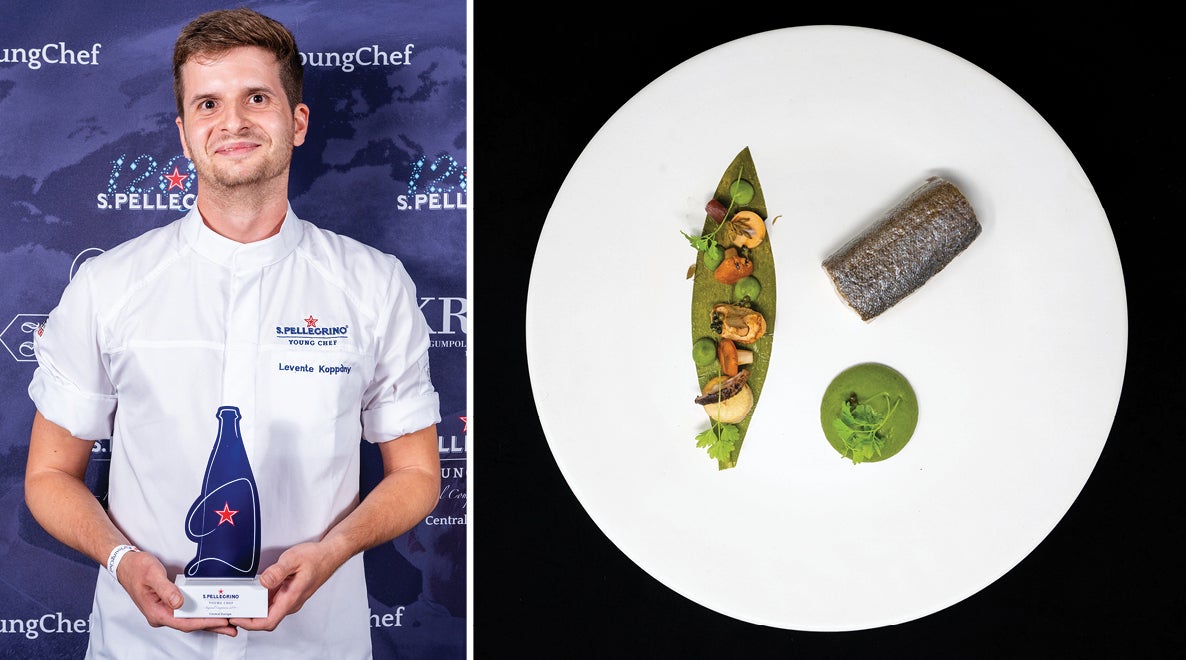 Levente Koppány, now based in London at the Turul Project, was named the S.Pellegrino Young Chef for the Central Europe region. His signature dish is Rainbow Trout with Chervil, Forest Mushrooms and Wild Garlic.
He is guided by Italian chef, Luigi Taglienti, who recently embarked on a new adventure as project chef de cuisine at Ristorante La Terrazza, at Hotel Splendido in Portofino.
In offering advice to Koppány, he reflects on his own experience as a young chef. "If I could go back, I would do it all again but without focusing purely on the study of the kitchen. "Cooking has always been my focus, my life mission, without it I could not live, but over time I realised that the relief valve is also important."
He added: "Talent is a gift that you don't know you have. It takes the right people and the right paths to understand it."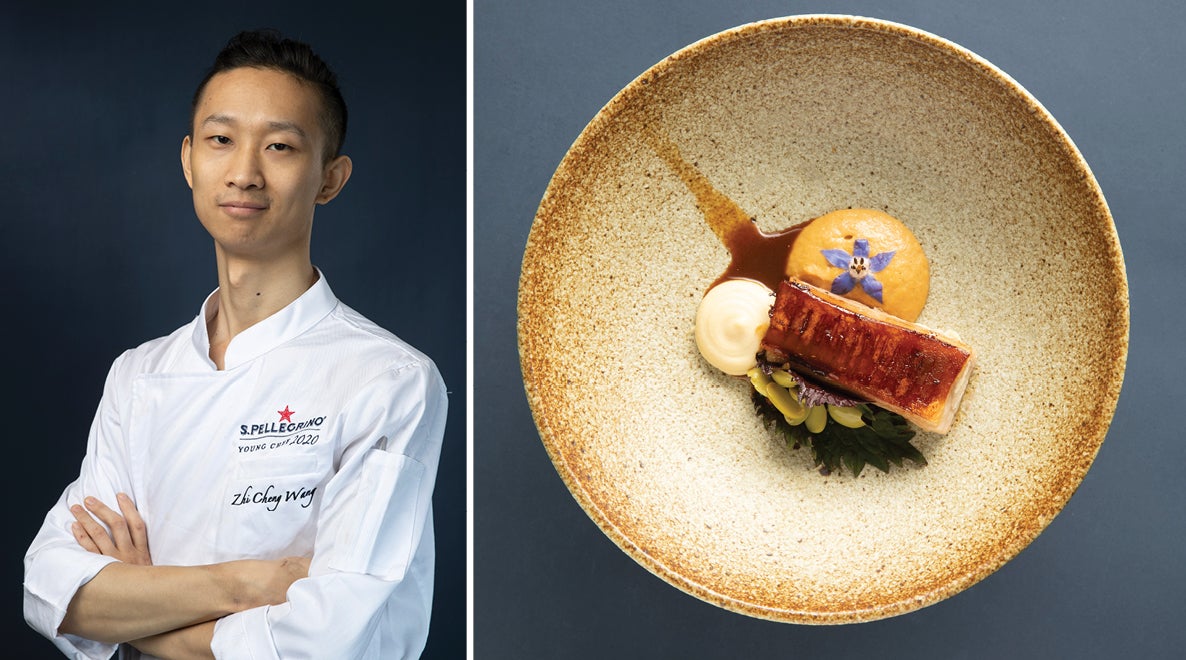 Victor/Zhi Cheng Wang from Table Black in Shanghai, China was named the S.Pellegrino Young Chef for the Greater China region. His signature dish is What is Soy in China.
His mentor, chef Zhenxiang Dong, is a giant in the world of Chinese gastronomy with his famous Da Dong Roast Duck restaurants.
"The S.Pellegrino Young Chef Academy is not just a skills competition," Dong said. "Chefs have to demonstrate that they are well-rounded. In a way, the participants are as much artists as they are chefs, and their dishes should be able to tell a story or reflect their personal philosophy, just like a work of art. I hope to help Victor create dishes that reflect regionality, seasonality, and outstanding cooking."
He added: "Being a chef is a profession that requires you to look to both the past and the future at the same time. To look to the past is to respect tradition; and to look to the future is to find creativity and innovation."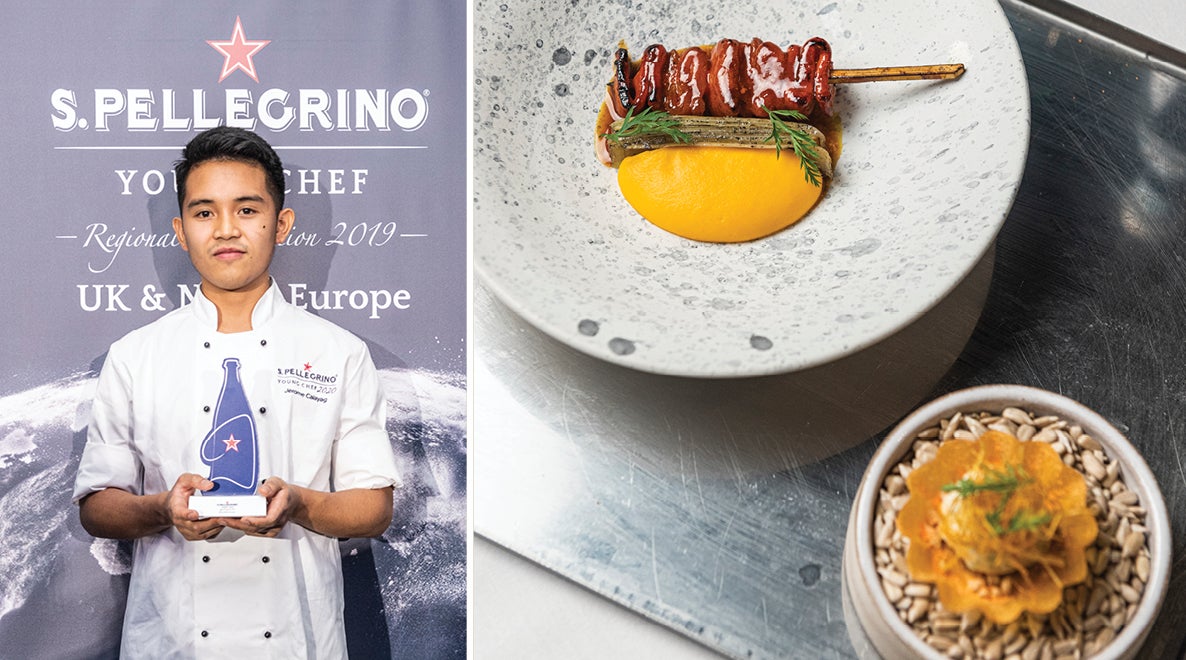 Jerome Ianmark Calayag from Portal restaurant in Stockholm, Sweden was named the S.Pellegrino Young Chef for the UK and North Europe region.
He is guided by chef David Ljungqvist, with whom he shares the kitchen at Portal. The two chefs have worked together to convey an important message with Calayag's signature dish, Humble Vegetables.
"Competitions are changing, highlighting the importance of sustainability and responsibility on a global level. Inviting young chefs into these competitions is a great way to spread that knowledge.
"Jerome and I work so well together because we share the same philosophy around food. We love plant-based food and work in very close collaboration with our organic farms."
Nevertheless, his final piece of advice is: "Be kind to yourself – it's just food."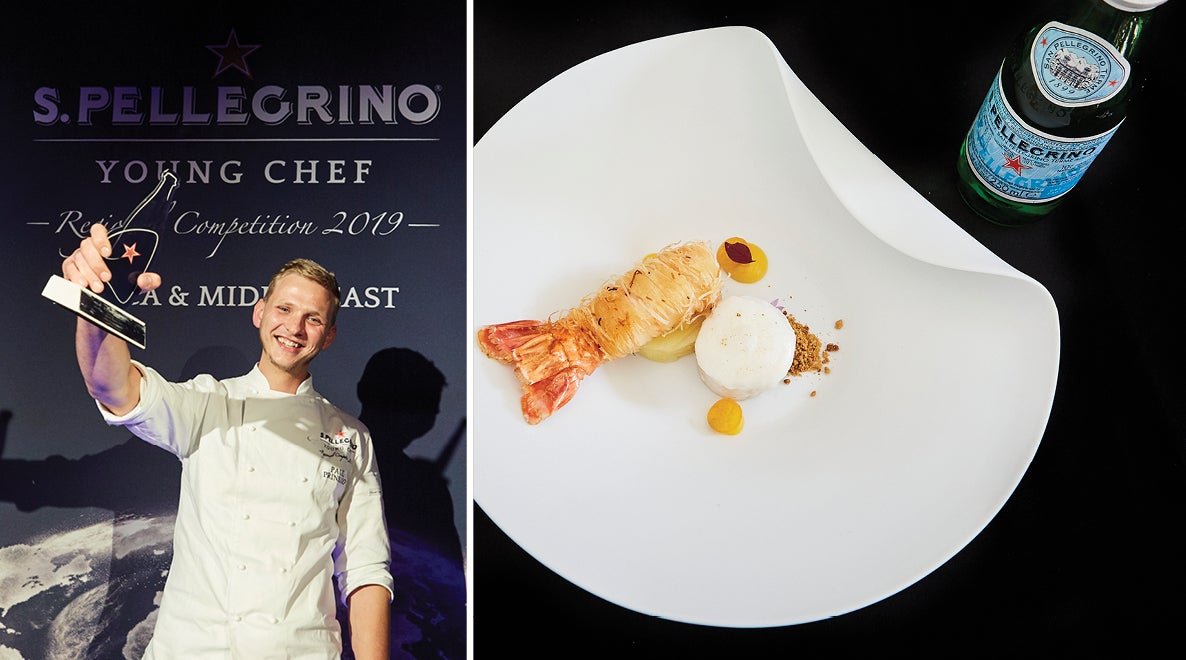 Paul Prinsloo from Gåte at Quoin Rock in Stellenbosch, South Africa was named the S.Pellegrino Young Chef for the Africa and Middle East region.
His mentor, chef Gregory Czarnecki​, believes creativity and consistency are the keys to success.
Reflecting on his career, he said: "If you love what you do you never find it too hard to achieve. Yes, it's a long path and long hours, but I was determined and I listened to the advice of my mentors, and even now I still use their valuable lessons."
As a mentor, he has helped Prinsloo fine-tune his signature dish, Bouillabaisse 2.0.
"My job is to make sure of his consistency and timing... So we will be doing and redoing the dish until I'm happy with the result. Even the most insignificant details can make a difference on the day, so I will be here to remind him."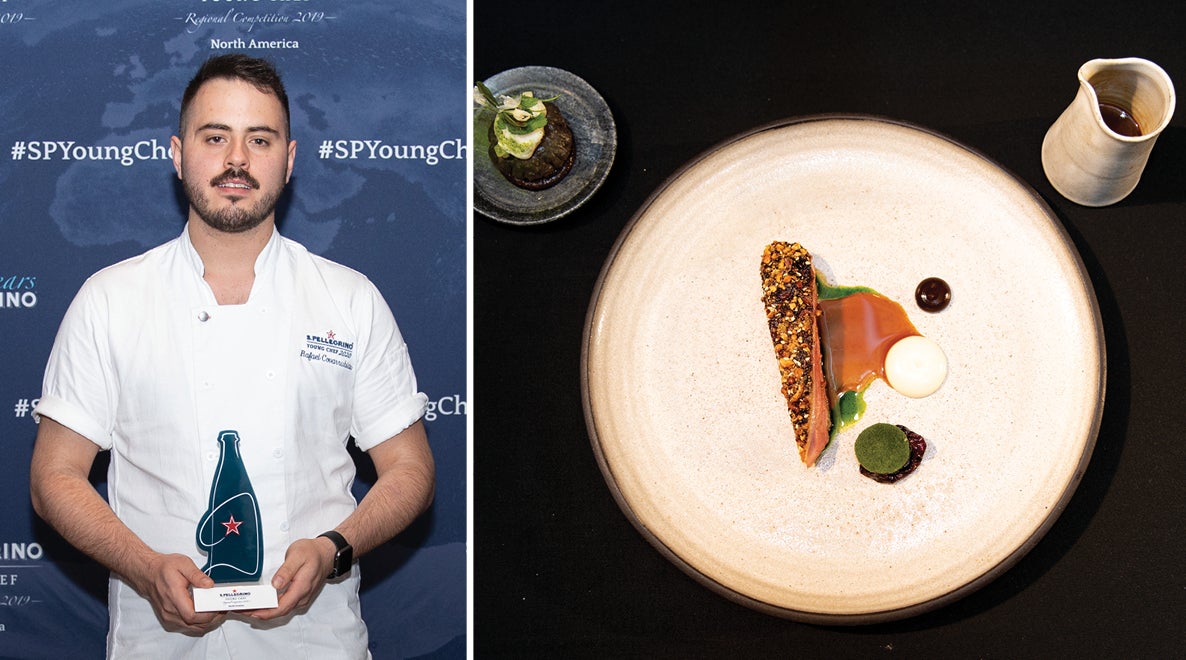 Rafael Covarrubias from Hexagon restaurant in Oakville, Canada was named the S.Pellegrino Young Chef for the North America region. His signature dish is Mole Spiced Muscovy Duck, Preserved Prune and Winter Roots.
He is mentored by celebrated Canadian chef, Connie DeSousa, who made a name for herself by mastering nose-to-tail butchery and challenging the social norms of women in the professional kitchen.
DeSousa believes competitions such as the S.Pellegrino Young Chef Academy are a critical building block for young chefs to expand their careers.
"I love competing, as a young culinarian and now in my professional career. Competitions challenge you, bring you out of your element and allow you to grow as a chef. SPYCA is an amazing platform and competition for young chefs which gives them the opportunity to not only showcase themselves on an international platform but also allows them to network with their peers all over the world," she said.
DeSousa has also shared a few tricks with Covarrubias from her years of competing, and has coached him on public speaking skills.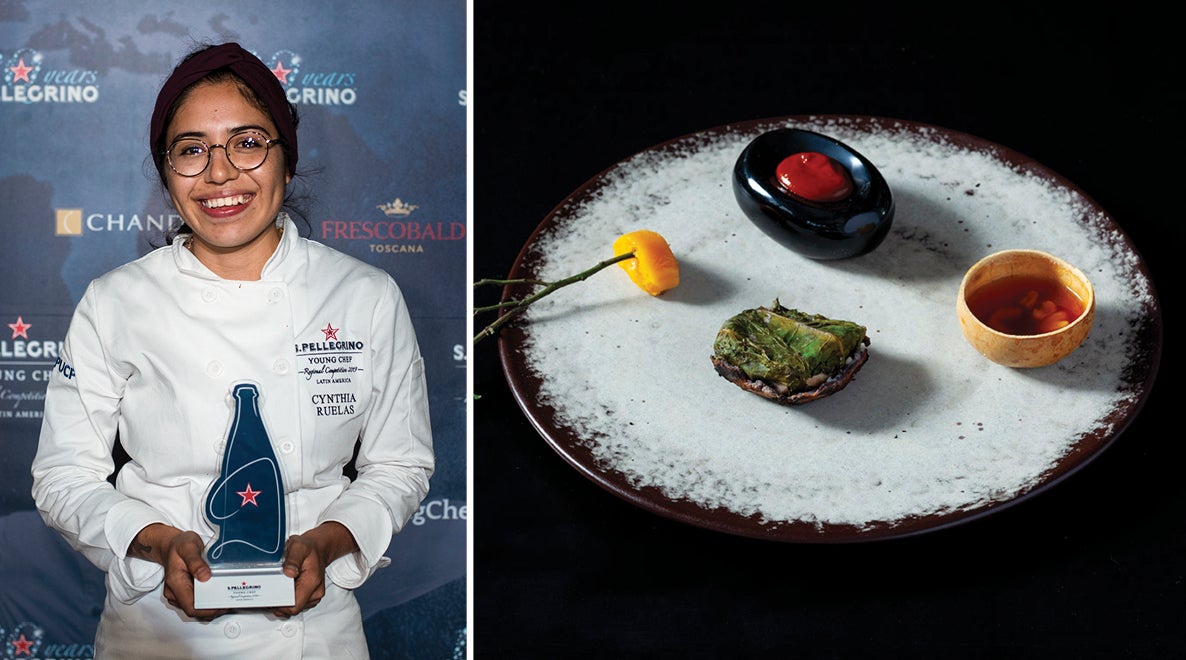 Cynthia Xrysw Ruelas Diaz from Xokol restaurant in Guadalajara, Mexico was named the S.Pellegrino Young Chef for the Latin America region. Her signature dish is Milpa y Mar.
Her mentor is Elena Reygadas from Rosetta restaurant in Mexico City, which is lauded as one of the best in the city with a vibrant and fresh approach to Mexican and international cuisine.
In the lead-up to the Grand Finale Reygadas has challenged the young chef by taking her out of her comfort zone.
"Making her think outside the box, but without losing her identity," she explained. "But I don't just want to challenge her. I also want to support her and respect her essence. The best mentor is the one who guides us and, at the same time, gives us total freedom."
While Reygadas believes the world of gastronomy is constantly evolving, she encourages young chefs to follow their instincts.
"Do not follow the fashion of the moment. Trust yourself. Don't let anyone abuse you or mistreat you. Experiment. Learn from tradition. Question it. Travel. Always try new things," she said.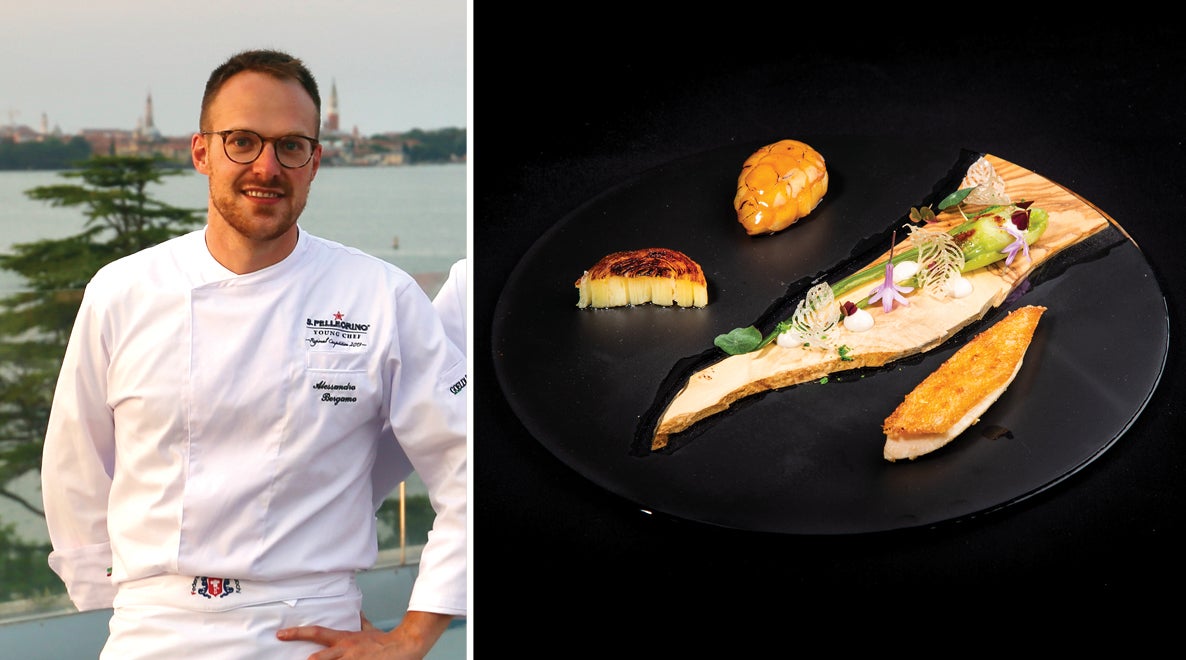 Alessandro Bergamo from Cracco restaurant in Milan, Italy was named the S.Pellegrino Young Chef for the Italy and South East Europe region. His signature dish is Better an Egg Today or a Chicken Tomorrow?
Chef Antonia Klugmann from L'Argine a Vencò restaurant is his mentor. Named Identità Golose's Chef of the Year in 2020, Klugmann chose to pursue her love of food over a career as a lawyer and advises young chefs to follow their dreams, but to also reflect on their choices.
"What I always say to the boys and girls who work with me, is to question their choices. Time passes quickly, in the kitchen even more so. It is very important to constantly ask yourself if you have taken the correct path so as not to find yourself 15 years later, older and unhappy," she said.
Klugmann believes the S.Pellegrino Young Chef Academy competition provides an important element in the training of every chef. "The comparison with others must serve as an exchange and verification. Because throughout our career this is the only way we will have to relate to our colleagues," she said.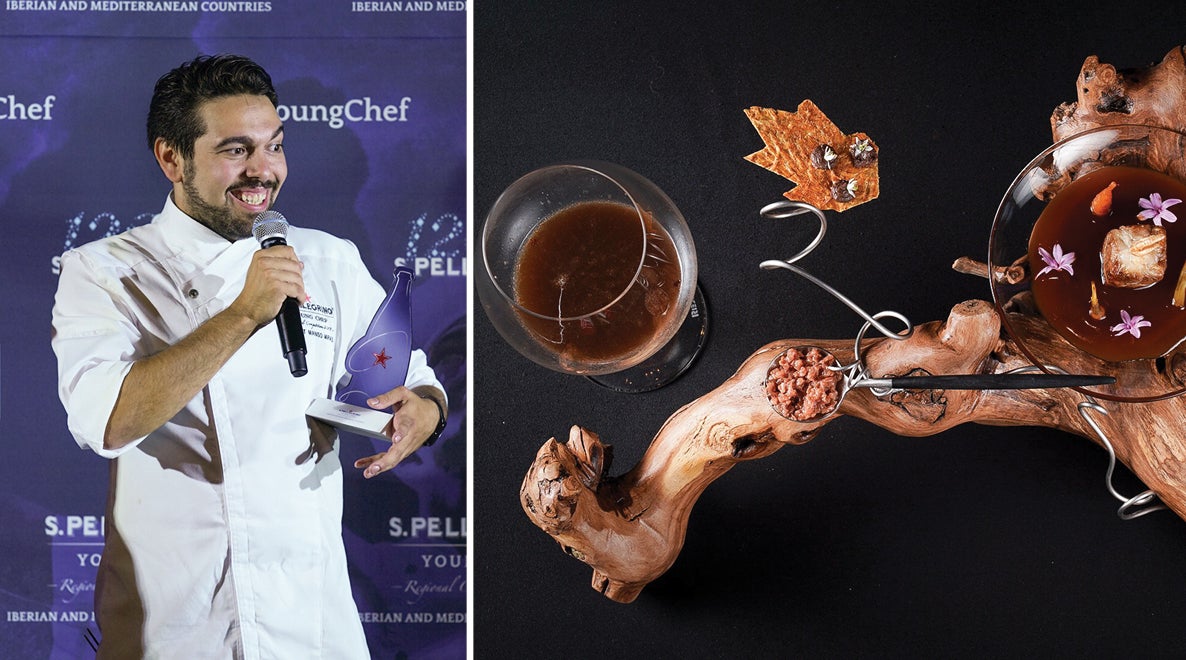 Albert Manso Miras from Tickets bar in Barcelona, Spain was named the S.Pellegrino Young Chef for the Iberian & Mediterranean region. His signature dish is Codorniz y Vino (quail and wine).
His mentor, celebrated chef Henrique Sa Pessoa from Alma restaurant in Lisbon, Portugal believes humility and originality are important factors to success in the world of gastronomy.
"Stay humble, stay true to yourself, believe in yourself, work hard, and try to be as original as you can be according to your background and experience," he said.
On the competition he said: "Competitions like this are very important because they showcase what the future of the industry will be, and [they] also allow young chefs to express their creativity."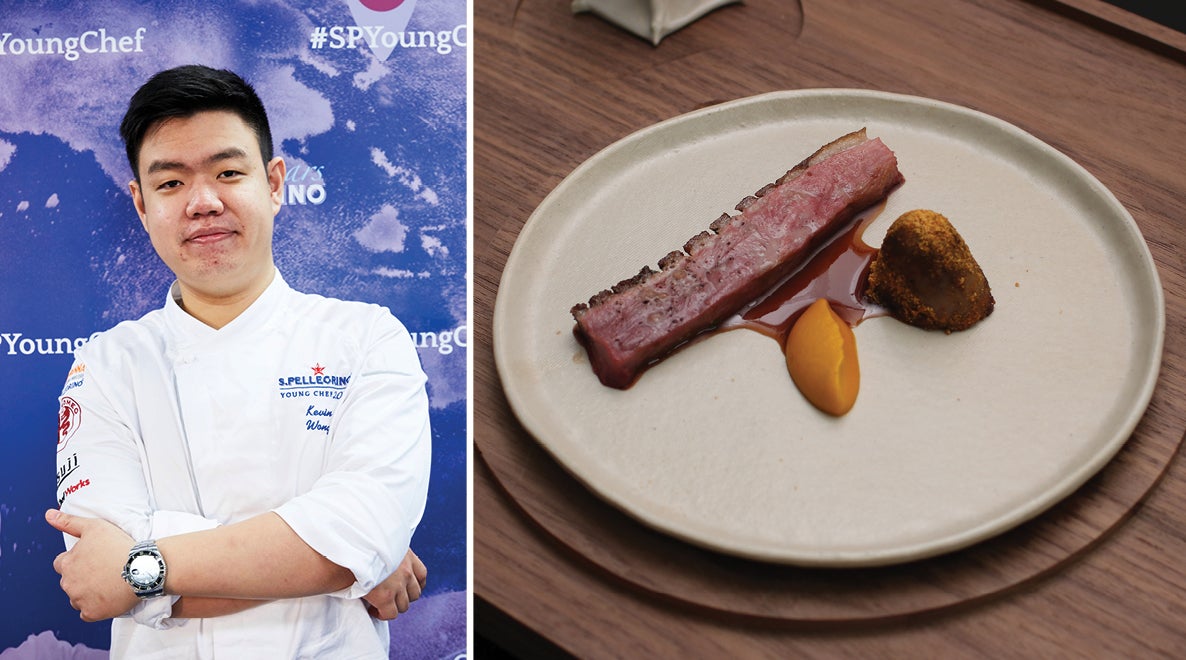 Kevin Wong from Meta Restaurant in Singapore was named the S.Pellegrino Young Chef for the Asia region. His signature dish is Celebration of a Duck.
Wong's mentor is none other than chef Julien Royer from Odette in Singapore, which is consistently ranked among Asia's 50 Best Restaurants, taking the top gong in 2019 and 2020 (and second place in 2021).
"I think competitions are exciting opportunities for young chefs to challenge themselves," he said. "The experience is very different from cooking in a kitchen… They take responsibility for the whole process, whether it's the story behind the dish, sourcing for ingredients or the techniques used; it is a great platform to demonstrate what they are capable of."
Thinking back on his time in the kitchen, Royer imparts some pearls of wisdom for young chefs: "This is a very demanding industry, nonetheless I have felt incredibly lucky throughout my journey; it has been amazing every step of the way. We are on a continuous journey of discovery together, devoting ourselves to growing and innovating, cooking with our hearts. The challenge we have set for ourselves is to do better than the day before and strive for perfection."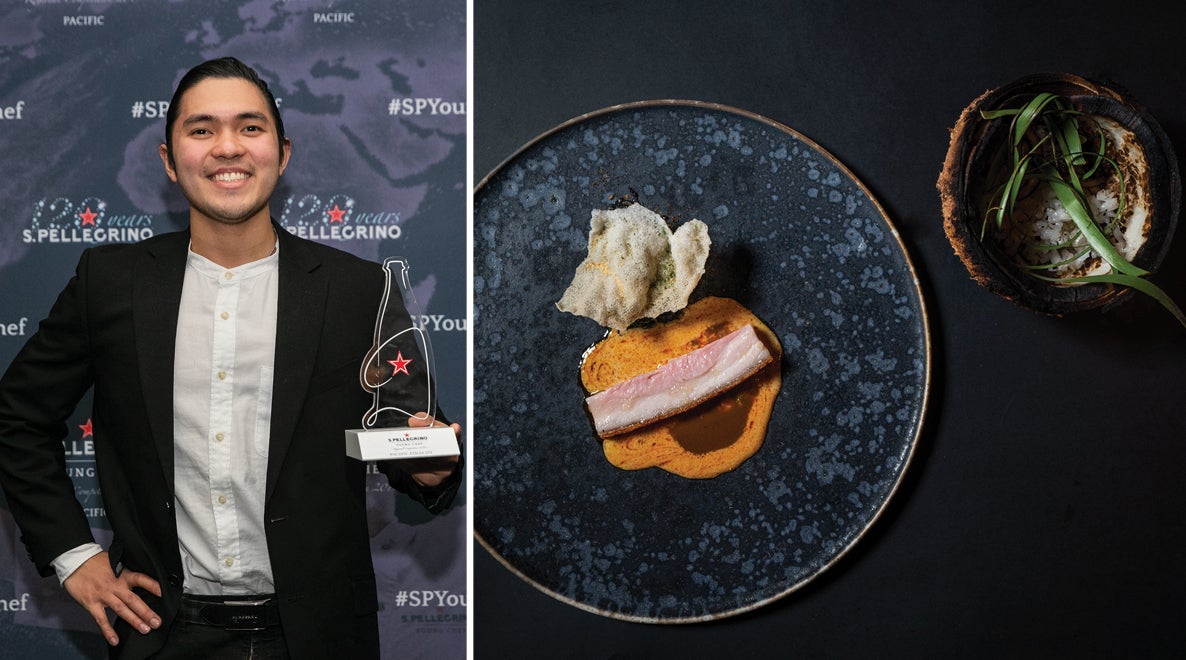 Jose Lorenzo Morales from Alsa Bakers in Melbourne, Australia was named the S.Pellegrino Young Chef for the Pacific region. His signature dish is Analogy.
Awarded chef Peter Gilmore from Quay restaurant in Sydney has mentored Morales ahead of the Grand Finale and cautions all young chefs to work hard and keep an open mind.
"My advice to any young chef is that it is a long road; it's not a short journey to becoming a chef," he said. "It's about hard work, an open mind and passion. Learn as much as you can about the basics and the classics. Be in touch with your ingredients and respect them. Find what it is that speaks to you as a chef and then you can start creating your own style to find your own voice."
Gilmore has served as a competition mentor in previous years and, despite helming one of Australia's most celebrated restaurants, says this provides greater meaning to his work.
"Personally, any time I get to inspire and impart knowledge to the younger generations, it gives more meaning to my work and reminds me of where we come from and where we are going, and how we, as an industry, can best move forward."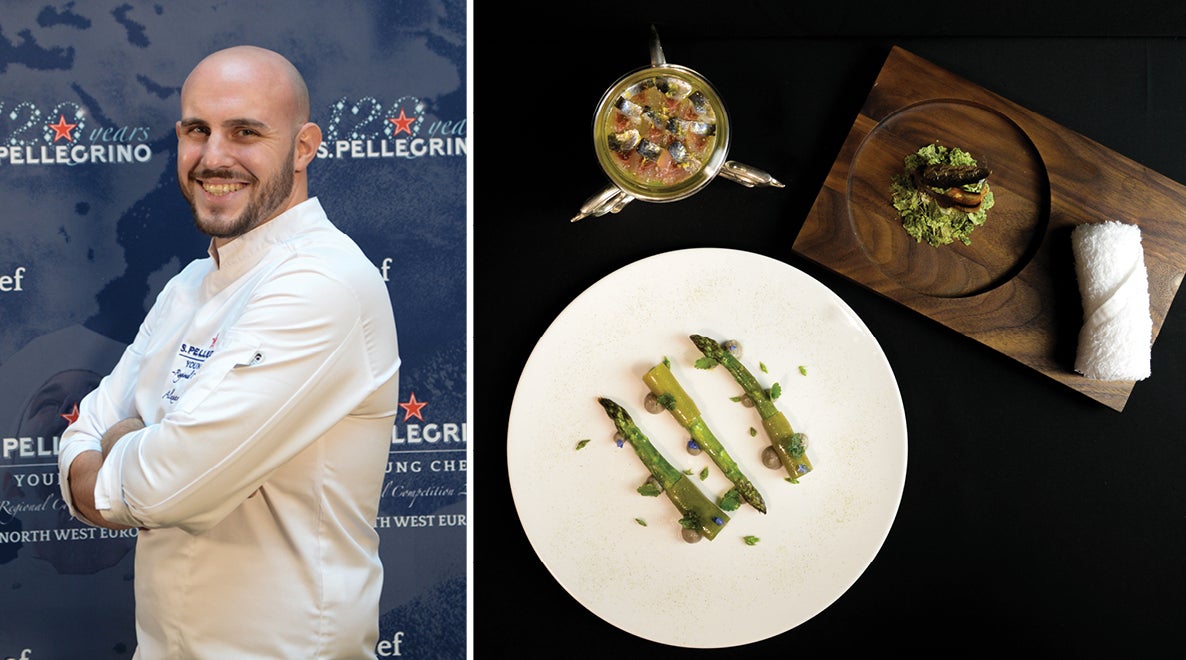 Alexandre Alves Pereira from La Dame de Pic – Le 1920 at the Four Seasons Hotel in Megève, France was named the S.Pellegrino Young Chef for the North West Europe region. His signature dish is Green Asparagus, Sardines, Ground Ivy.
His mentor is acclaimed chef Anne-Sophie Pic​ from La Maison Pic, who is one of just seven women in the world with three Michelin stars. She attributes her success to determination and risk taking — and encourages young chefs to do the same.
"When I started I was the self-taught, 'daughter of'. I had a lot of pressure on my shoulders and I felt paralysed at the thought of doing something because I was afraid of doing it wrong," she said. "But I quickly realised that if I didn't make my own way, I was going to suffer things. It's very important to find your own way."
She added: "Talent is a form of risk-taking. It takes some form of sincerity to be a die-hard. Talent is cultivated. When you are passionate, you can develop talent more or less, but questioning yourself is the key."