S.Pellegrino Young Chef at Asia's 50 Best Restaurants
2018 winner Fujio prepares a multi-course lunch for special guests as part of Asia's 50 Best Restaurants celebrations.
The winner of S.Pellegrino Young Chef 2018, Yasuhiro Fujio, spoke about the trials and triumphs of mentorship at a special lunch at 8 1/2 Otto e Mezzo Bombana as part of Asia's 50 best Restaurants in Macao.
As preparations gathered pace for the 2019-2020 Young Chef competition, he appeared alongside his mentor for the competition, Luca Fantin of Il Ristorante Luca Fantin in Tokyo, as well as head chef at Bombana, Antimo Maria Merone, and Umberto Bombana himself.
The event held on the 26th of March, prior to the evening's Asia's 50 Best Restaurants Award ceremony, was the perfect occasion for Fujio, Fantin and Bombana to discuss some of the key learnings from their S.Pellegrino Young Chef experience. Fantin participated in the competition in 2018 as Fujio's mentor, whereas Bombana was mentor to North-East Asia finalist of the same year. 
As guests enjoyed the specially prepared menu, including Fujio's own course of sawara fish with fukinoto wild vegetable shoots and green tea, he expressed his appreciation for the mentorship programme with Fantin, although everything did not go to plan immediately.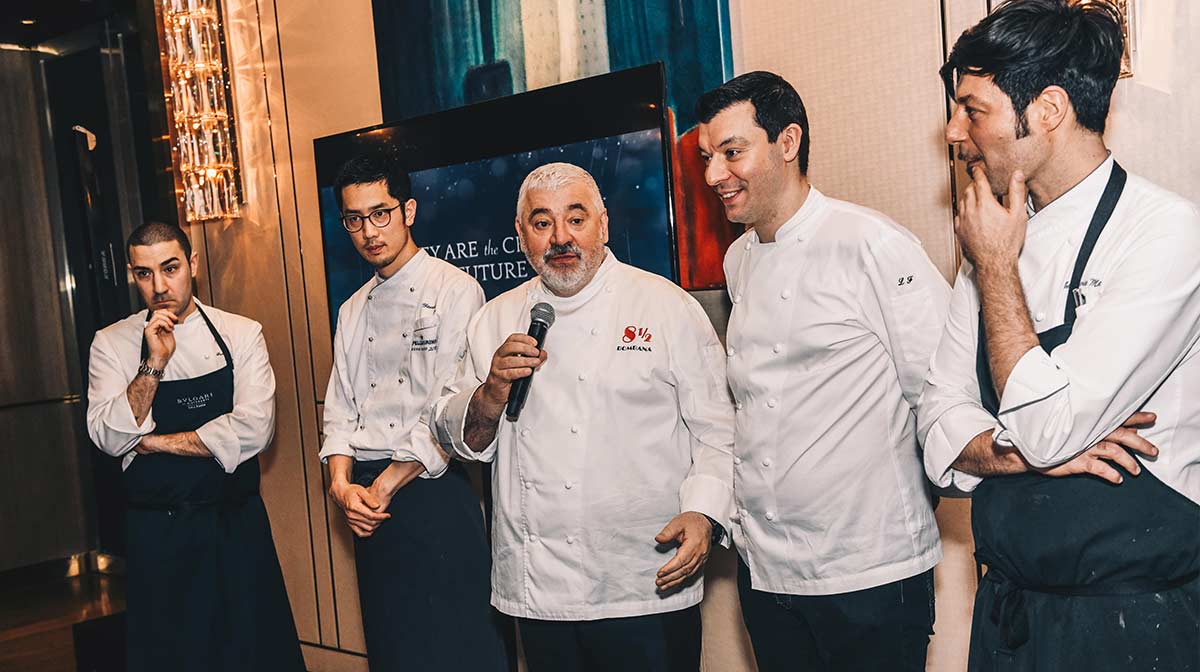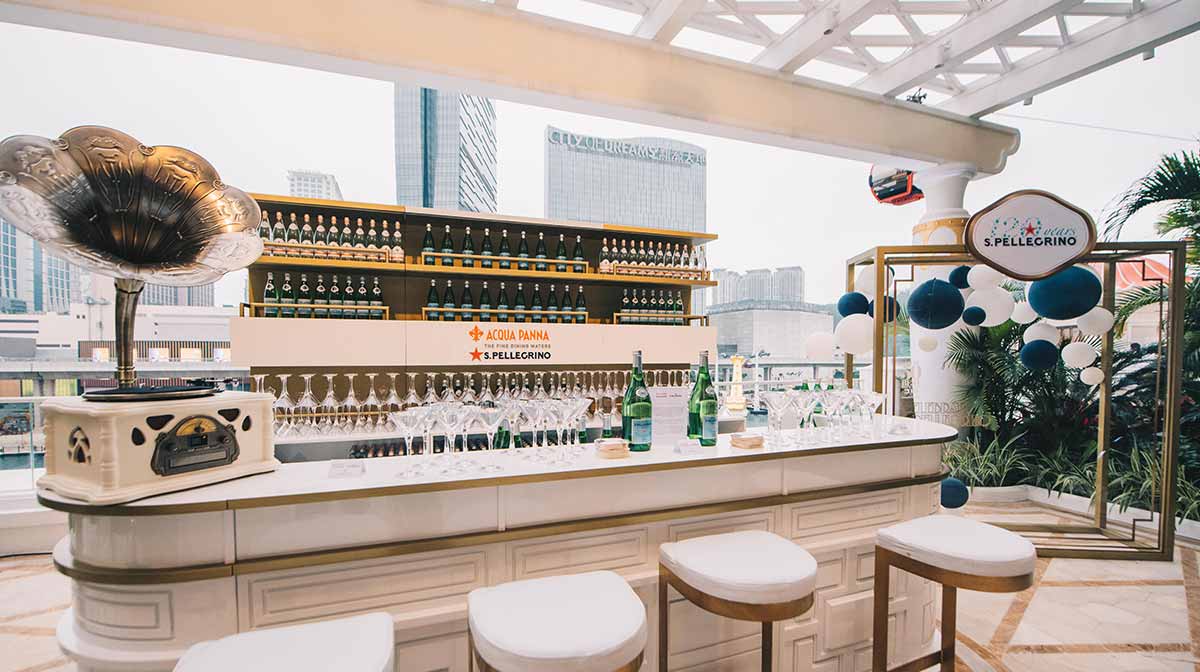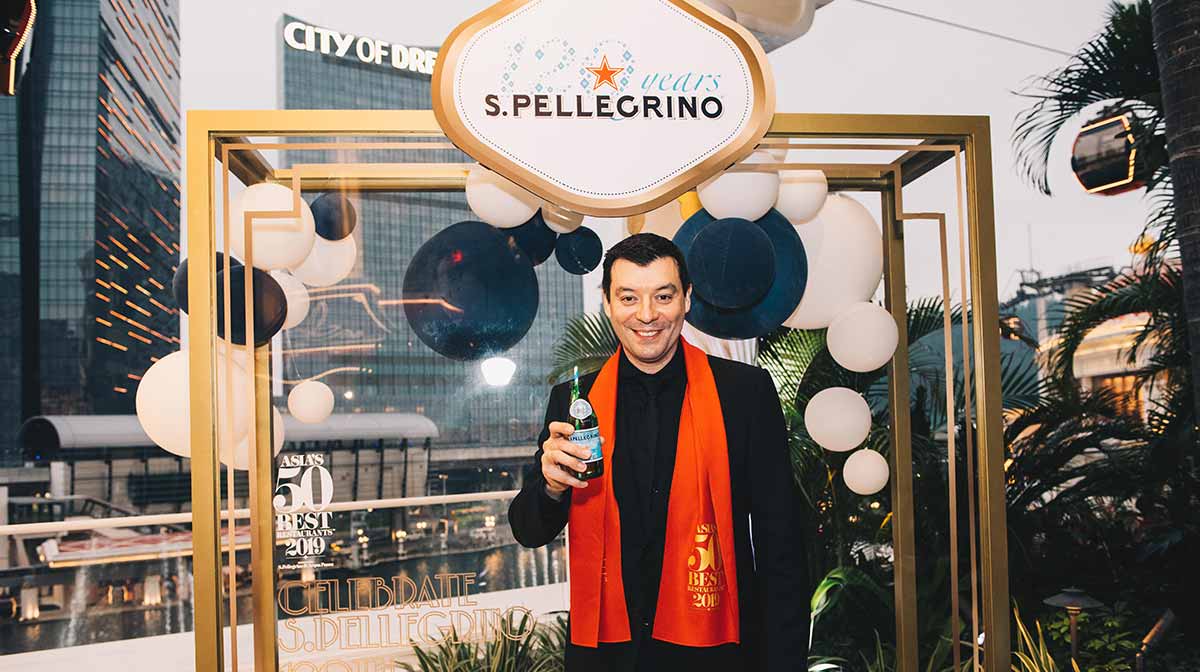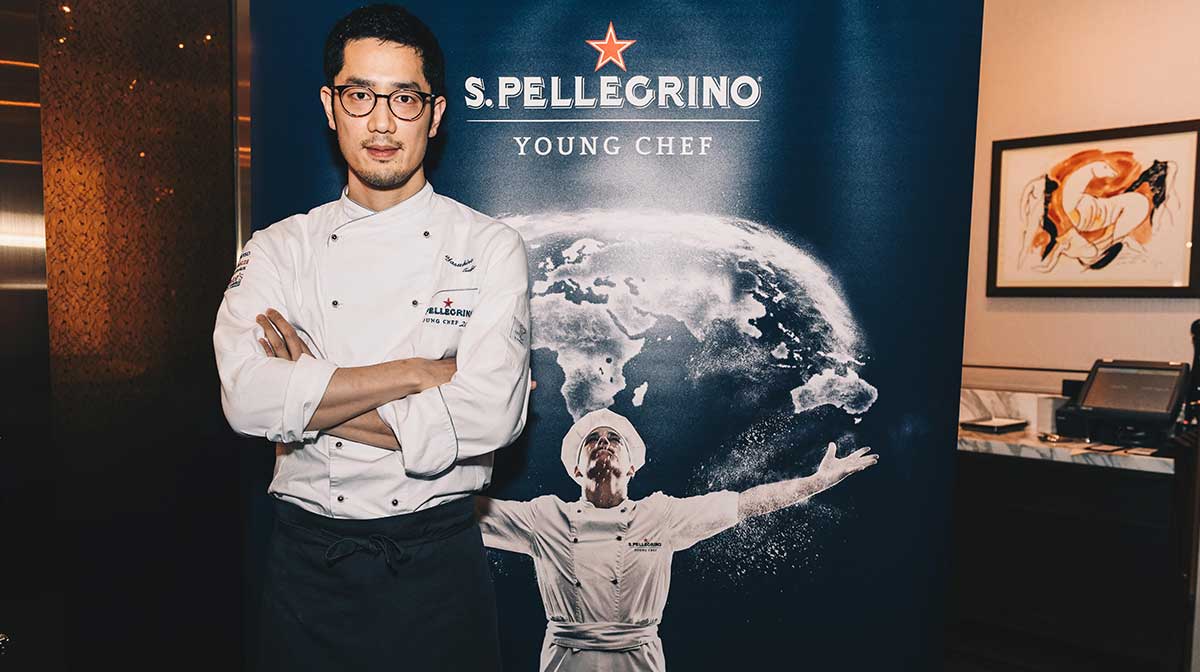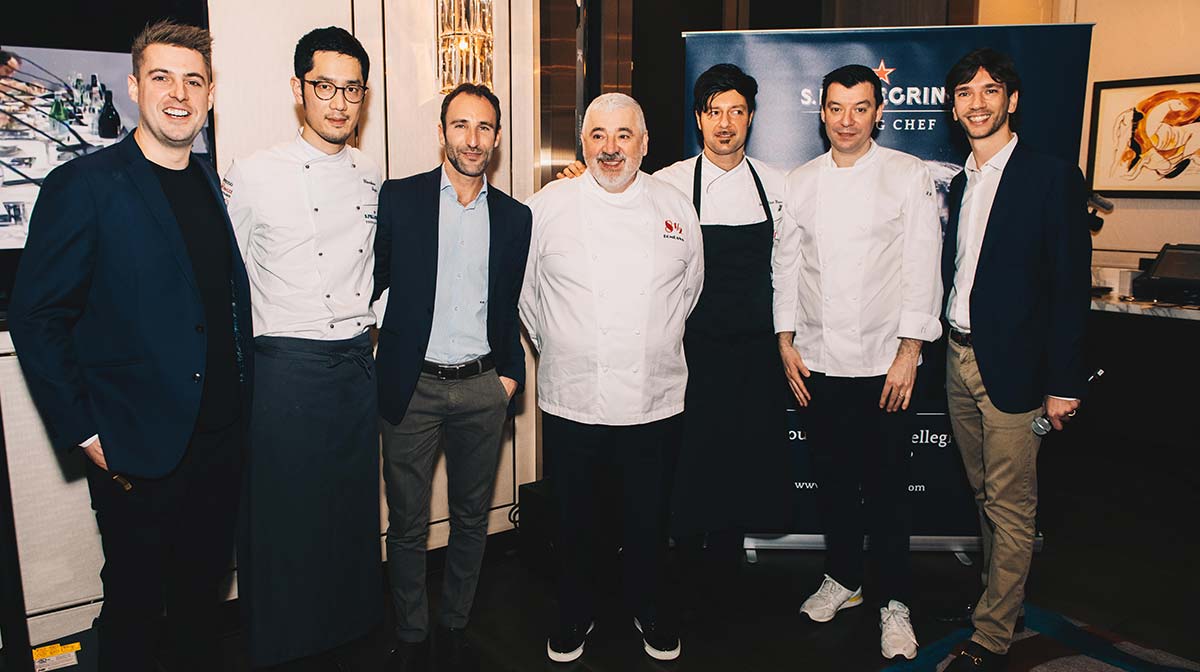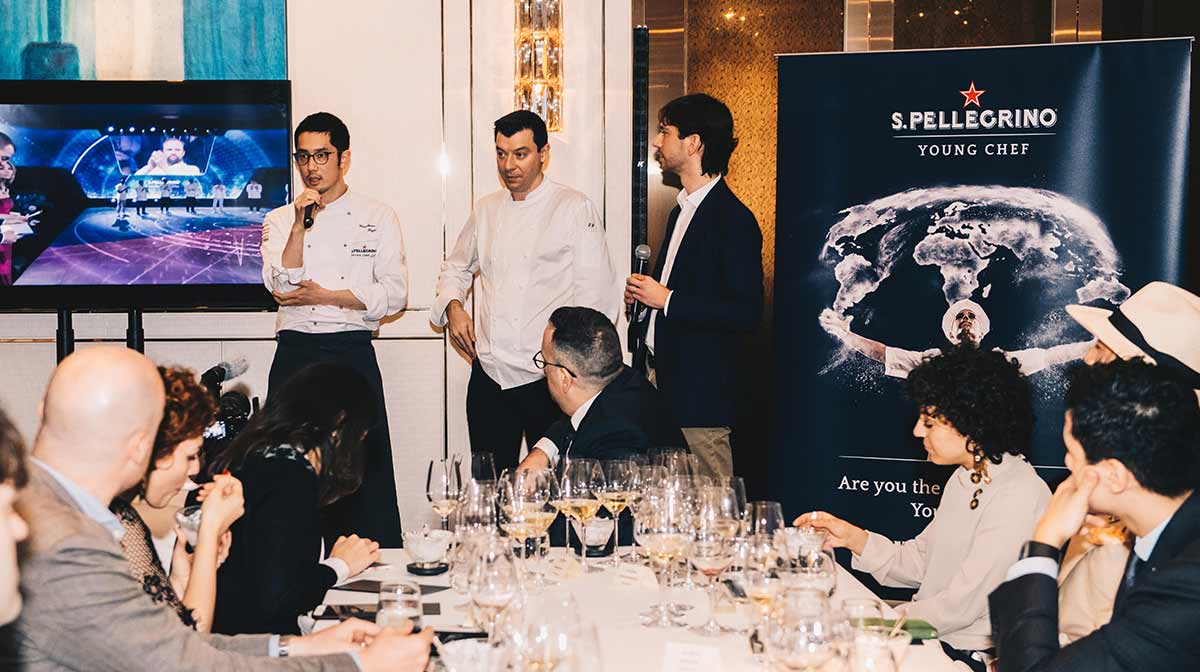 "Sometimes we had different ideas, and it didn't go very well," he joked. "He is Italian and his mentality is a bit Japanese, and I am Japanese but my mentality is a bit European. So we didn't get along very well at the beginning. But we gradually came to understand each other more. At the end, we made lots of improvements of my dish from the semi-final."
Fujio's dish for the competition, 'Across The Sea', was an expression of ayu, a sweet, freshwater fish from Japan that was grilled, smoked and skewered on twigs, alongside a broth of 'river water' made with melon, cucumber and fresh tomatoes. "I used ayu because it represents the seasonality of Japan. It represents how we've been living together with nature," he said.
Fantin, who cooked a dish of risotto with white asparagus and sea urchin for the lunch, told of his input into Fujio's winning dish. "The competition was in Milan, and he's a Japanese chef with some French background, but for me it was very important that he represent his own country. The dish was so nice and I'm so happy he won. I was more happy than him. He was maybe too tense, but I was tense too. But it was a very good experience for me."
The lunch at 8 1/2 Otto e Mezzo Bombana in Macau brought together chefs, industry thought leaders and journalists from all over Asia and beyond. Umberto Bombana prepared an exquisite confit abalone carpaccio with sweet pepper and semi-dried tomato, and royal oscietra caviar, while head chef Antimo Maria Merone presented a succulent dish of 'mayura' signature sirloin over oak charcoal with blue artichokes in different textures. To finish, the newly crowned 'Asia's Best Pastry Chef 2019' Fabrizio Fiorani of Il Ristorante Luca Fantin treated the guests with a milk desert called simply 'Latte'.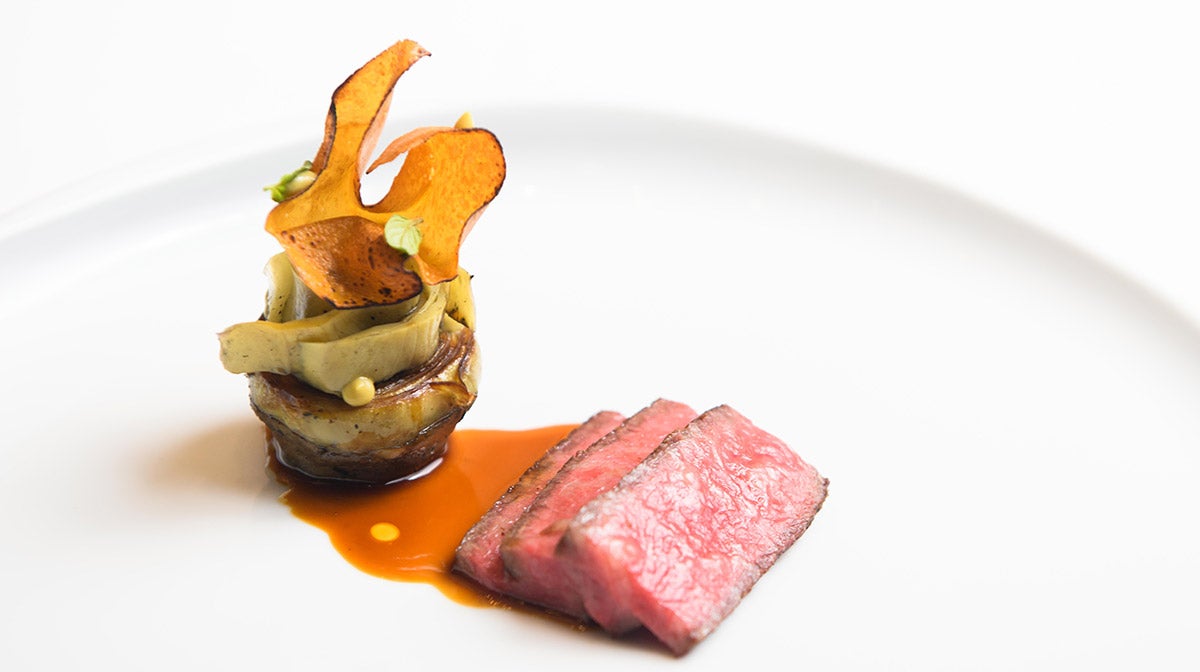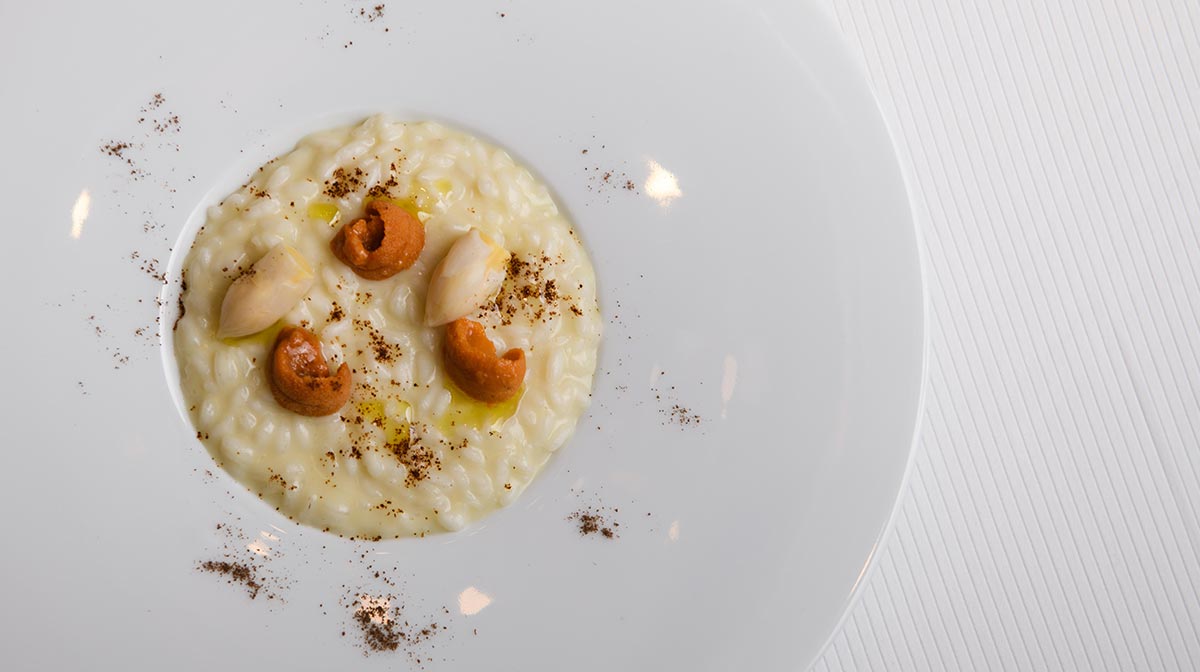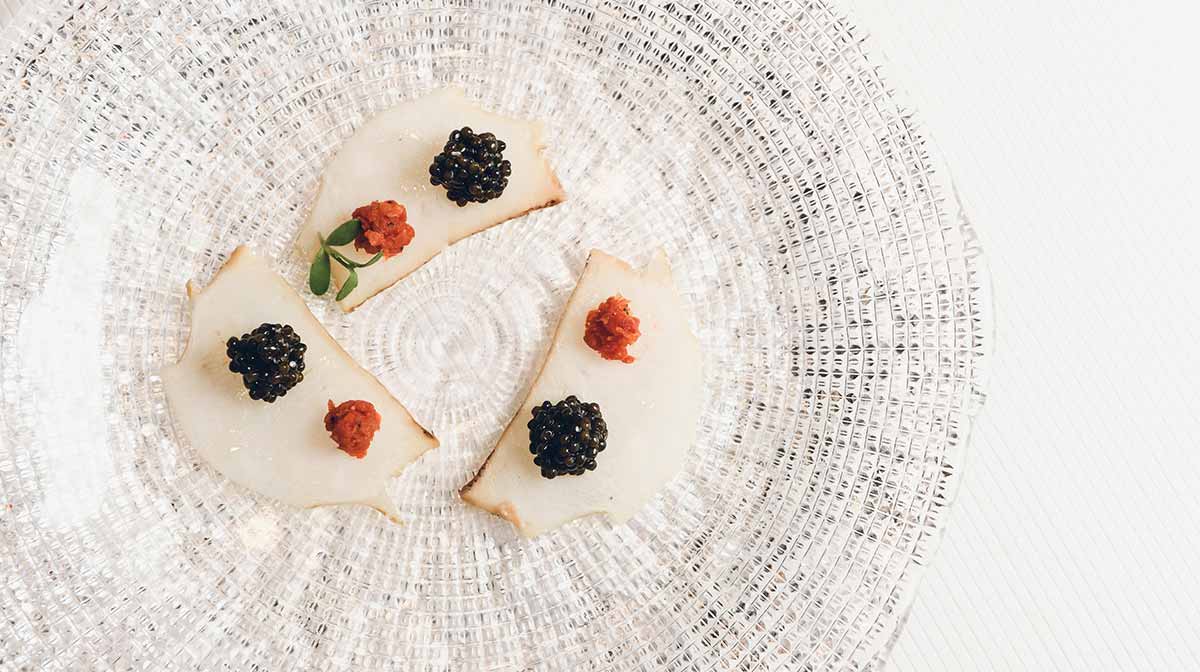 For Fujio, it was yet another invaluable experience since his emphatic triumph in a competition that is all about nurturing the next generation of talent. "I met so many different people that I never imagined, many chefs and journalists, many people that have influenced my way of thinking," he said. "It was a really great experience for me and I'd really like to thank the S.Pellegrino team for that."
Read more about S.Pellegrino Young Chef and S.Pellegrino's belief in nurturing and supporting young culinary talent, and follow all the exciting developments in the competition as they happen on S.Pellegrino's Instagram and Facebook pages with #SPYoungChef