Meet the S.Pellegrino Young Chef Academy Competition 2022-23 grand finalists
These are the 15 talented young chefs who will battle it out for the S.Pellegrino Young Chef Academy Award this year.
All of the regional finals for the S.Pellegrino Young Chef Academy Competition 2022-23 are now complete. After 15 hard-fought cook-offs around the world, we now have our list of the grand finalists who will battle it out for the ultimate prize at the Grand Finale in Milan, 4-5 October 2023.
Each finalist will have a mentor, a revered and experienced chef to help guide them through the journey, and hopefully all the way to the top of the podium.
Let's learn a little more about each of the finalists, their signature dishes and who will be mentoring them on this culinary adventure of a lifetime.
LatAm

Erick Bautista from Mexico, who works at the Huniik restaurant in Mérida will represent the Latin America & Caribbean region with his signature dish, 'Oaxaca su tierra y sus manos.'
"I am not from Oaxaca by birth but my family is, that is my heritage. Here I show the value I give to the land of Oaxaca. It all began with artisanal hands who are also searching for a livelihood through the land," he says of the dish.
His mentor for the Grand Finale will be Mexican chef Lula Martin del Campo, who was also a local juror at the Regional Final.
West Europe

Raul Garcia, representing Switzerland, will compete as the winner of the West Europe Regional Final. The young chef from two-Michelin-starred Focus Atelier in Vitznau will cook his signature dish, 'Pike perch, mussels, artichoke, vin jaune, and barigoule nage.'
"With this dish, I want to transfer all my passion and love to the detail, from the first step to the last arrangement of the flower. How many thoughts have gone into this dish? How to use everything from an animal. How can I best transmit my emotions to the guest? The filigree and delicacy of the dish. But in the end, it's the taste that counts, that's my priority," he says.
His mentor will be Guy Ravet of Esprit par Guy Ravet in Vevey, Switzerland.
Central Europe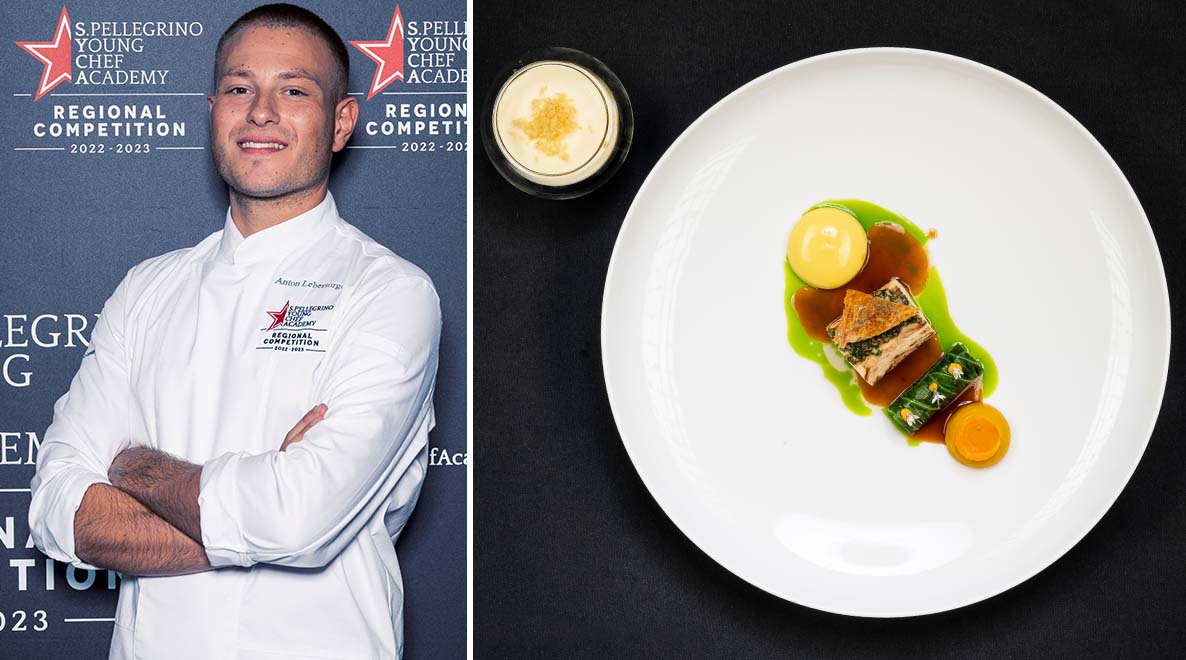 Anton Lebersorger from Germany will represent the Central Europe region with his signature dish, 'Bresse chicken, carrot from "Schmiedener Feld", kimchi, and Thai béarnaise.'
The young chef from the Goldberg Restaurant & Winelounge in Fellbach is also in the running for the Acqua Panna Connection in Gastronomy Award, a prize that will be announced ahead of the Grand Finale.
"This dish is my handwriting, it is all the experiences I have collected over the years in every kitchen I worked, starting from what my mother cooked for me when I was a child," he says.
His mentor will be chef Daniel Gottschlich of two-star Ox & Klee in Cologne.
UK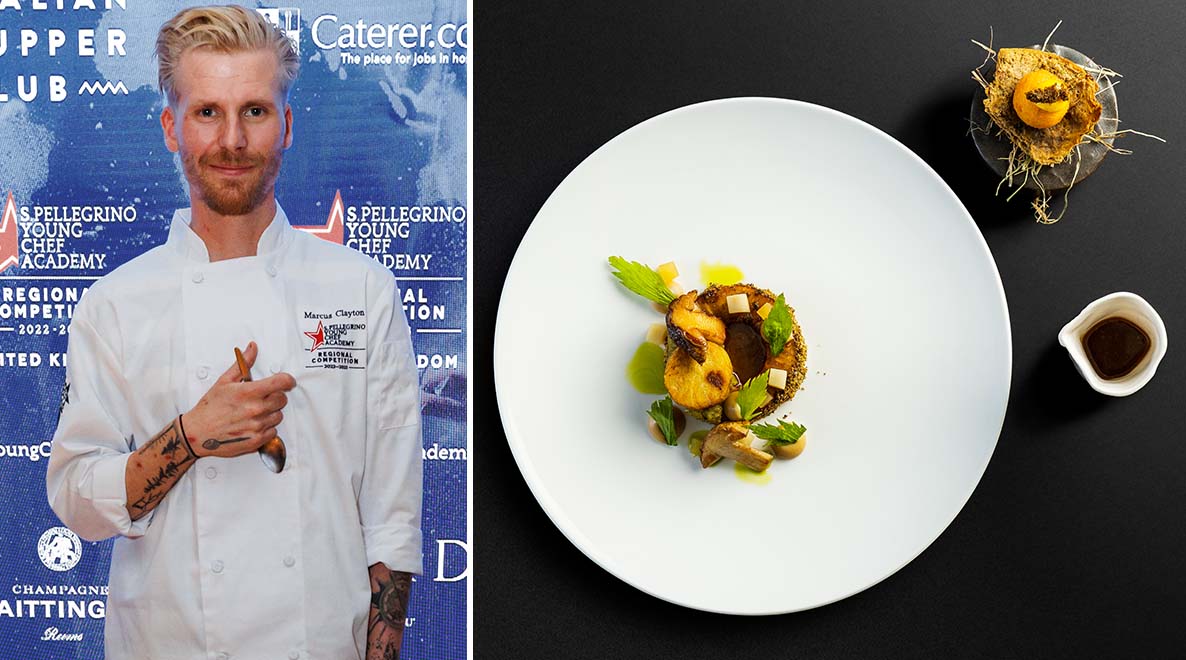 Marcus Clayton from the Hide and Fox restaurant in Kent, England will represent the UK at the Grand Finale with his plant-forward signature dish of celeriac, apple and mushroom.
"This is the dish that I first wrote down four years ago when I was planning to do my first ever pop-up, which unfortunately for one reason or another I never got round to doing. I chose the flavours of celeriac and apple because I think the combination is delicious. I'd like to express how delicious vegetables can be," he says.
His mentor will be Lisa Goodwin-Allen of Lancashire's one-Michelin-star Northcote restaurant, who was also a juror at the Regional Final.
Pacific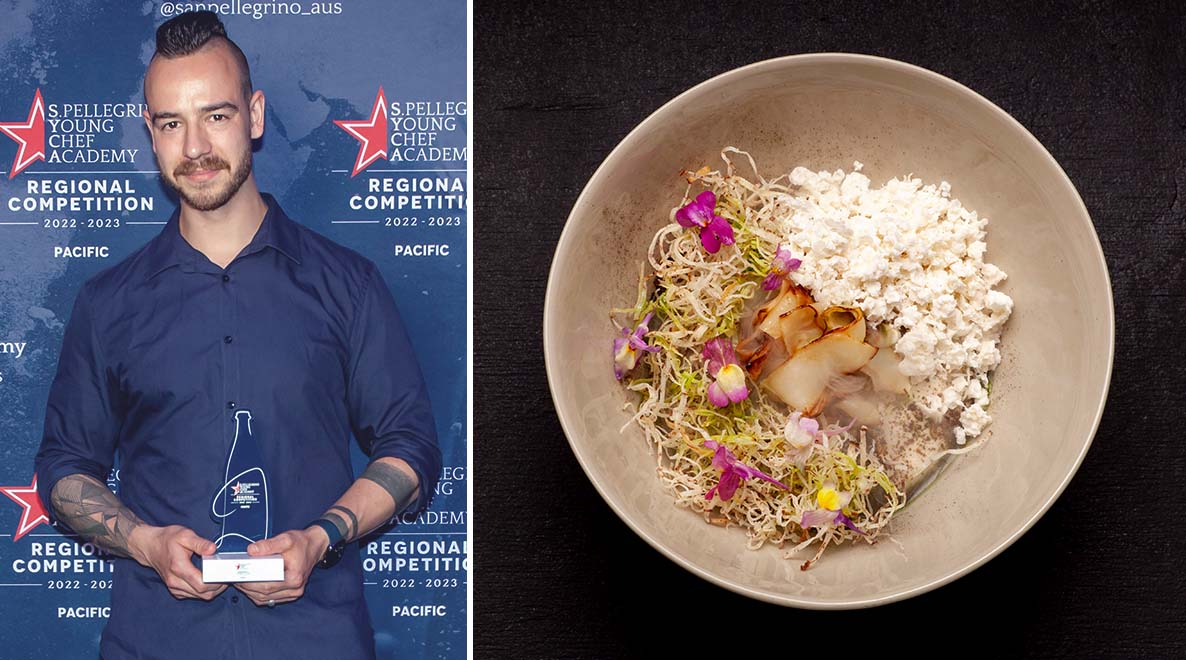 Robin Wagner from Magill Estate Restaurant in Adelaide, Australia will compete for the Pacific region. The young chef, representing Australia, will cook his signature dish of smoked celeriac, Granny Smith apple and crispy taro at the Grand Finale.
"My passion and mindset when creating new dishes is to create something remarkable, to accept the challenge and always being out of the comfort zone," he says. "I am personally not vegan or vegetarian, however I believe fruits and vegetables deserve the same respect during preparation as proteins. My guiding principles in creating this dish were to, first, create a play of different temperatures, textures, and flavours and, secondly, have a clear line, structure, and complexity."
Local juror Peter Gilmore will again take the role of mentor, having also mentored in the 2016 and 2021 competition Grand Finales.
Canada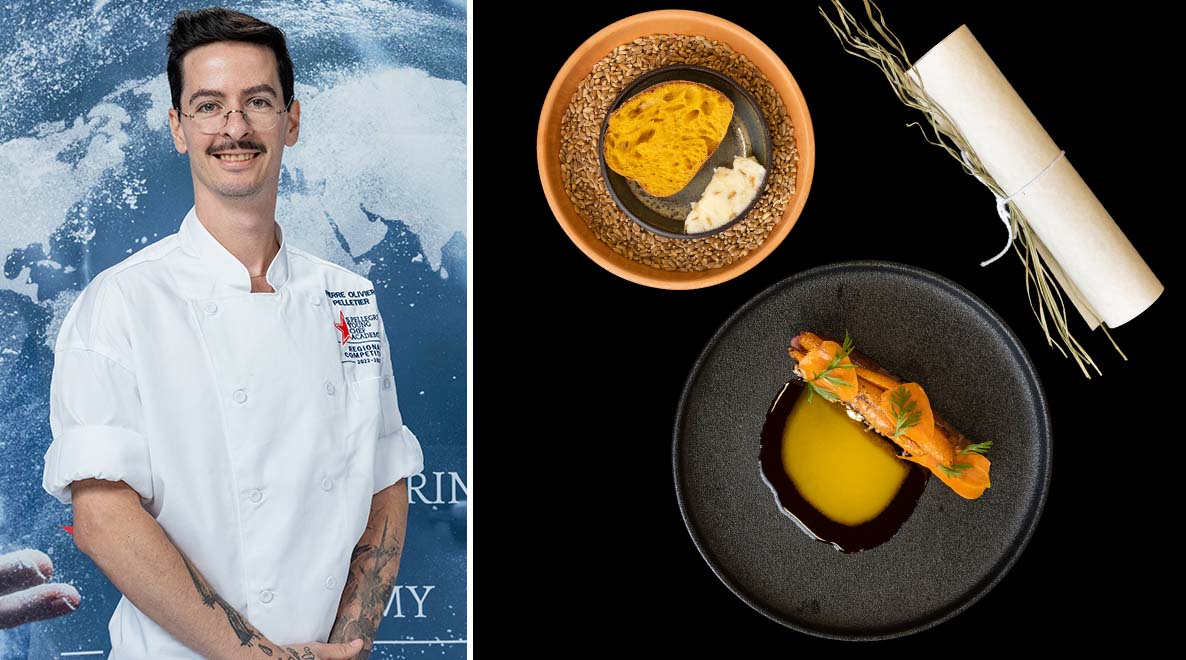 Pierre-Olivier Pelletier will compete for the Canada region, with his signature dish, 'Young aged and smoked duck with sweet grass, yellow birch syrup lacquer with crispy cereal, carothene dressing, roasted cereal gravy, and "verge d'or."'
The chef from Kebec Club Privé in Quebec will now cook the dish again at the Grand Finale, with local juror Suzanne Barr as his mentor.
Speaking about his winning dish, he says: "I invented this plate in honour of the hard work of my father and my mother. My father always worked in the cereal world. I also put carrot because when I was young my mother had a big garden with a lot of carrots. I didn't really like them at the time; now it's one of my favourite vegetables. Also, duck is my favourite animal protein."
USA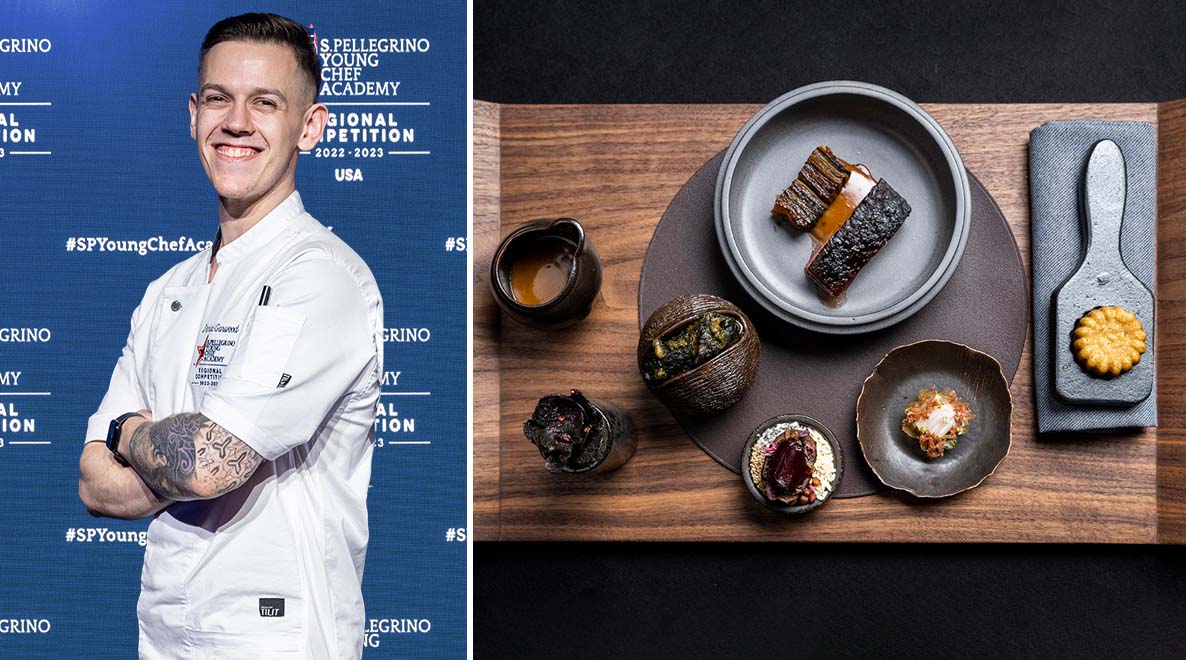 Daniel Garwood will represent the US at the Grand Finale in Milan with his Korean-inspired signature dish, 'Aged duck and persimmon in tak cheongju with banchan through the eyes of a traveller.'
The young chef from two-Michelin-star Atomix in New York City will be mentored by local juror and James Beard Award-winning chef Nina Compton.
Speaking about his creation, Garwood says: "This dish is a story and reflection of my life as a chef. Typically, banchan (Korean side dish) are a variety of small dishes accompanying a main dish, generally reflecting the area they come from. Each banchan will reflect a moment in my life through places that I have travelled, as well as beliefs found along the way, whilst maintaining my rules and ethics of clean and fair food that's locally sourced in a sustainable way."
China's Mainland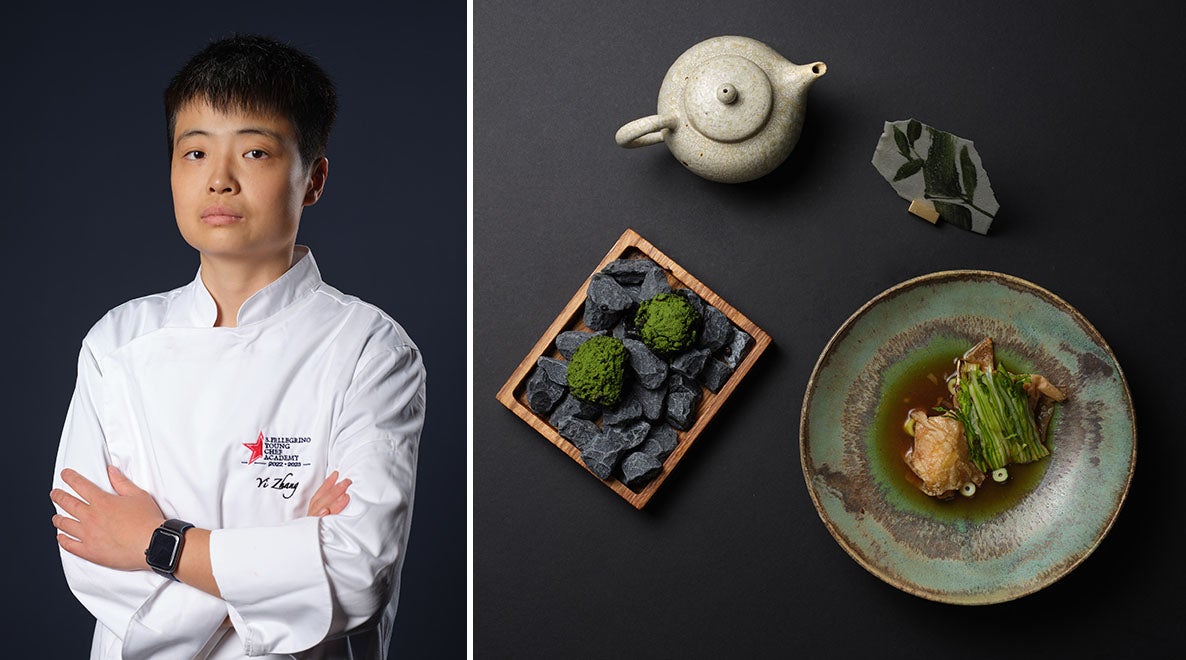 Yi Zhang, who was working at the The River House restaurant in Guangzhou in the province of Guangdong at the time of the Regional final, will represent China's Mainland region at the Grand Finale. She has now moved to France and works at the Toyo Restaurant in Paris.
At the Grand Finale the young chef will cook her signature dish, 'A trip to Guangxi,' a vegetarian dish inspired by her travels.
"I want to [commemorate] my first trip to Guangxi, a mountainous region with rich cultural resources. Bamboo is an important material there. I went to several villages deep in the mountains. The weather makes moss grow everywhere. People there are poor and still using self-made charcoals for cooking and to stay warm, so the smell of smoke hung in the air. But what touched me is [their] kindness. The flavour of my dish is based on a famous noodle in Guangxi, [called] 'old friend', and I use some fermented ingredients which are also common in Guangxi cuisine," she says.
Her mentor for the Grand Finale will be Stefano Bacchelli of two-Michelin-starred Da Vittorio Shanghai, where Zhang has also previously staged.
North Europe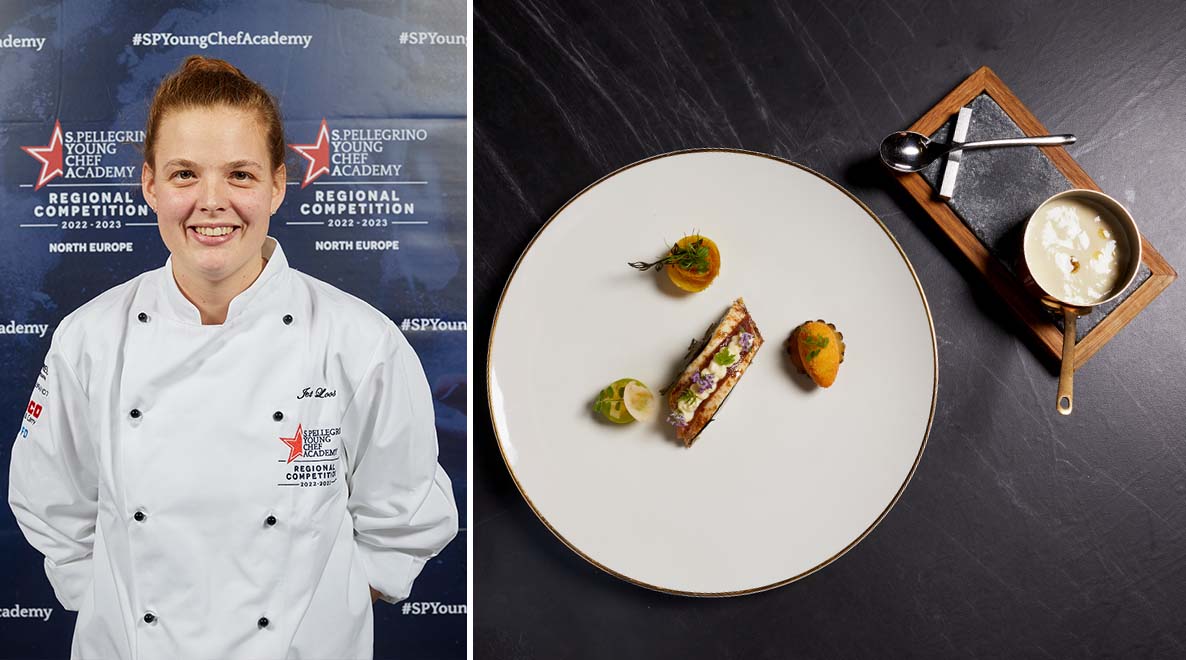 Jet Loos, representing the Netherlands, will compete as the winner of the North Europe Regional Final with her signature dish, 'Flavours of the sea' at the Grand Finale in Milan.
The young chef will be mentored at the final by Dick Middleweerd, chef-owner of the two-Michelin-star De Treeswijkhoeve restaurant in Waalre, Netherlands, where she currently cooks.
Speaking of her personal philosophy, she says: "I truly believe that the most important element is to have passion for food and cooking. Having passion in what you do will help to drive you to work harder every day. For me, I have a passion for good, 'clean' cooking."
Asia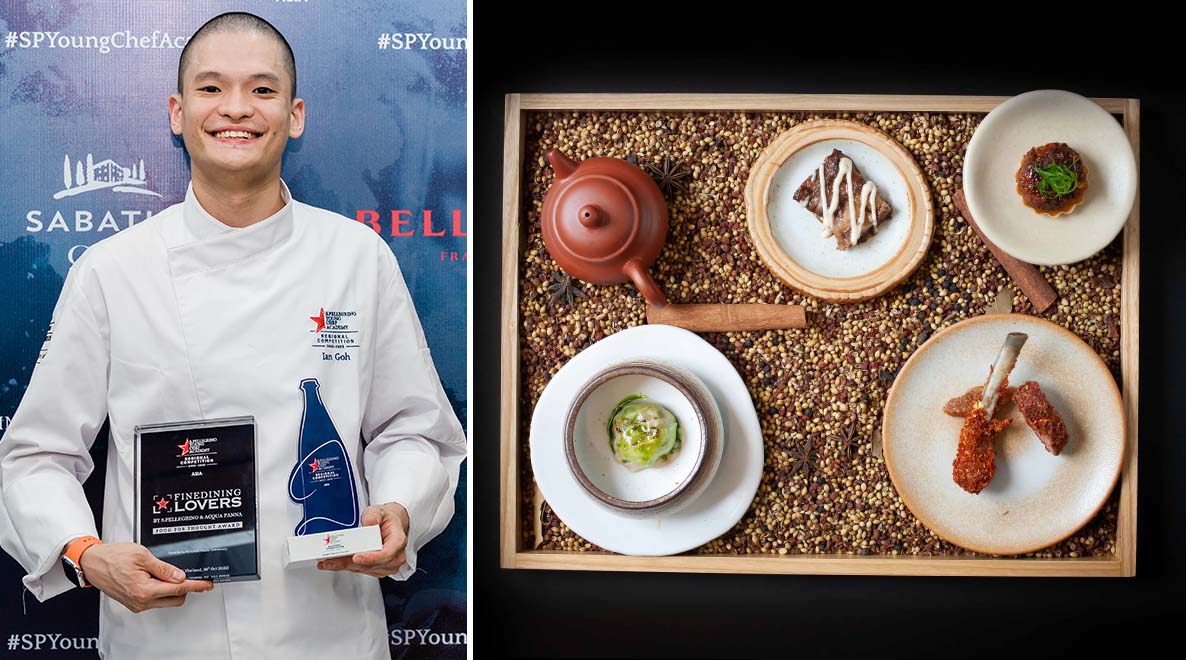 Ian Goh from Naeum restaurant in Singapore will represent the Asia region with his signature dish, 'Heritage lamb'.
Speaking about the dish, Goh says: "This dish began with my love of lamb, and the hope to highlight my Hainanese heritage. Lamb has been a staple of the Hainanese diet (i.e. Dongshan lamb) and it is featured [here] alongside ingredients and techniques that link the East with the West. Taking inspiration from the Spice Route, also known as the Maritime Silk Roads, I have utilised spices such as cumin, fennel, Szechuan peppercorns and ginger, all of which were known and used in antiquity and traded in Asia."
Goh's mentor for the Grand Finale will be Dave Pynt, from revered Singapore barbecue restaurant, Burnt Ends.
Southeast Europe & Mediterranean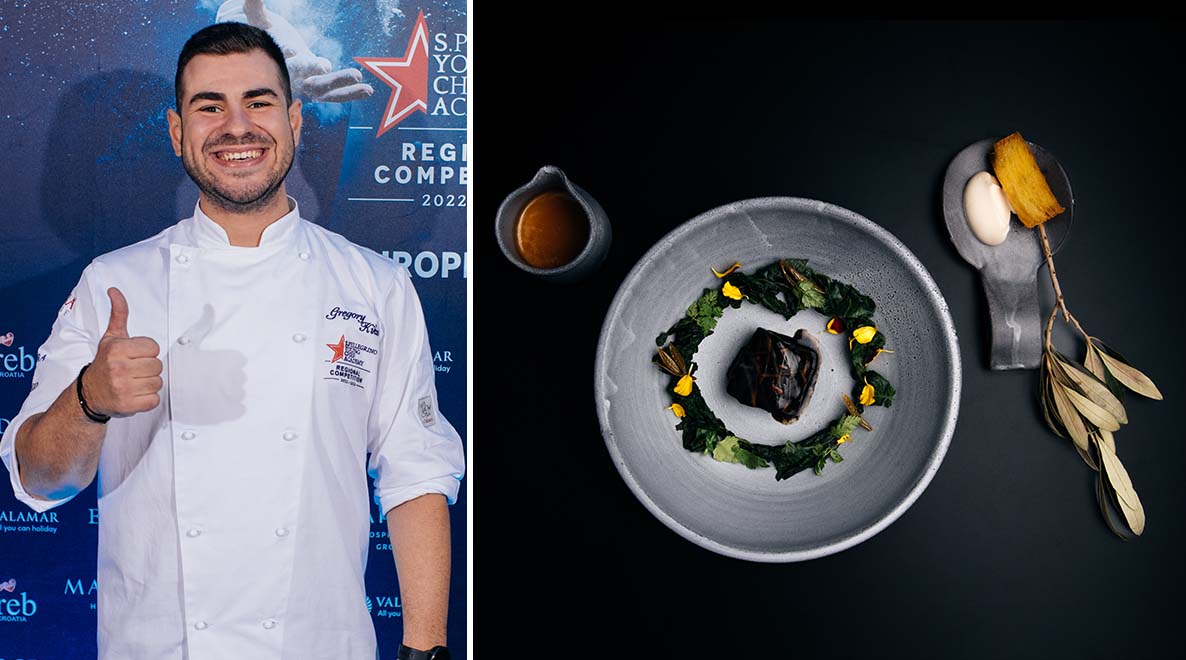 Grigoris Kikis from Greece will compete at the Grand Finale as the winner of the Southeast Europe and Mediterranean Regional Final. He is also a finalist for the Fine Dining Lovers Food for Thought Award.
There, the young chef from Hervé Restaurant in Athens will cook his signature dish, 'The story of cod,' under the watchful eye of mentor Georgianna Hiliadaki, of Opso in London amongst others.
"I wanted to give a modern twist to a traditional Greek recipe and products that are a part of every table in Greece," says Kikis. "The goal was to showcase Greek gastronomic culture through a combination of tradition and modernity. Wanting to highlight the quality of Greek products, I chose to include ingredients found all over Greece. The message I wanted to convey was that complexity can occur through simple things and that we should get inspired by our roots and history."
Iberian Countries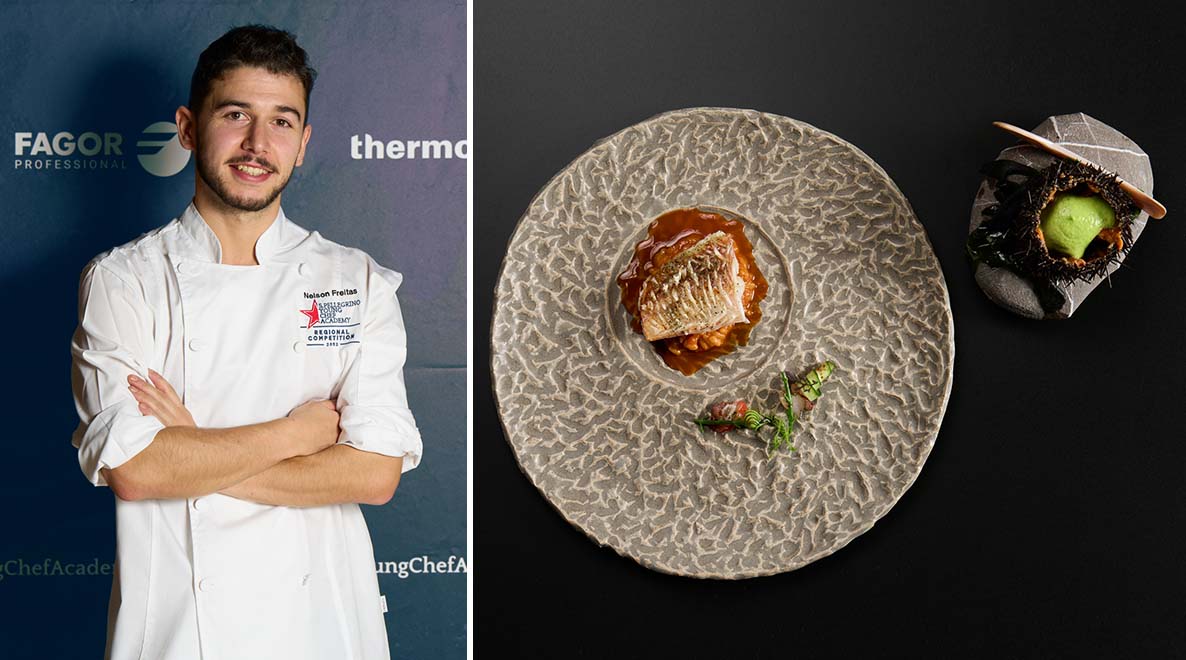 Nelson Freitas, representing Portugal, will compete for the Iberian Countries at the Grand Finale, with his signature dish of crispy red mullet, sea urchin and homemade black garlic.
The young chef, who currently cooks at Michelin-starred Fifty Seconds in Lisbon, will be mentored by Filipe Carvalho, the restaurant's Executive Chef.
"My favourite part of my childhood was the sea so that was my main inspiration. I really want to transmit the ocean to everyone who tries the dish... I want everyone to feel that flavour, that memory," says Freitas of the dish.
Africa, Middle East and South Asia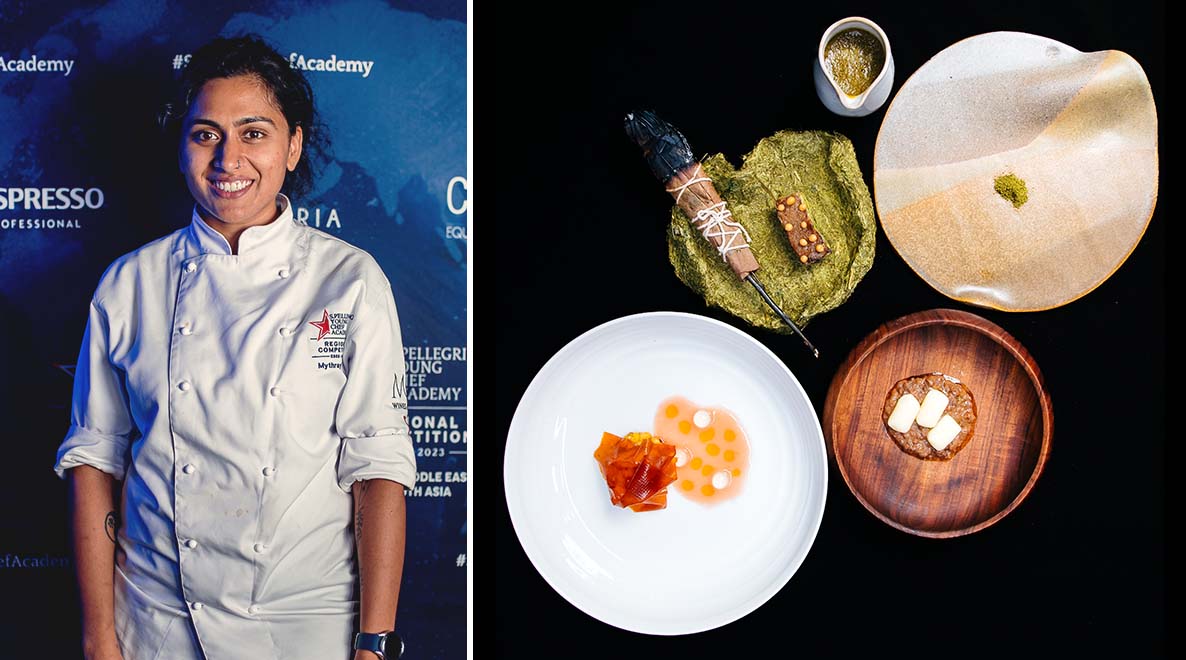 Mythrayie Iyer, from India, will represent the Africa, Middle East and South Asia region at the Grand Finale, again cooking her signature dish, 'Barter – Evolution of Indian cooking through the age of exploration.'
There, the young chef from FarmLore restaurant in Bangalore will be ably mentored by Johnson Ebenezer, FarmLore's chef-patron, who also mentored her at the Regional Final.
"The history of hunting and gathering food was practised to enable us to meet needs for survival. Terroir determined what grew best across various seasons and influenced our dining practices. Ingredients were bartered from all over the country yet some remain native to the Indian subcontinent. With a strong marine position, a strategic approach to introduce new world ingredients was conducted in the 15th century by Vasco da Gama. These ingredients are now staples in the Indian cuisine we know," she says of the inspiration behind her dish.
Italy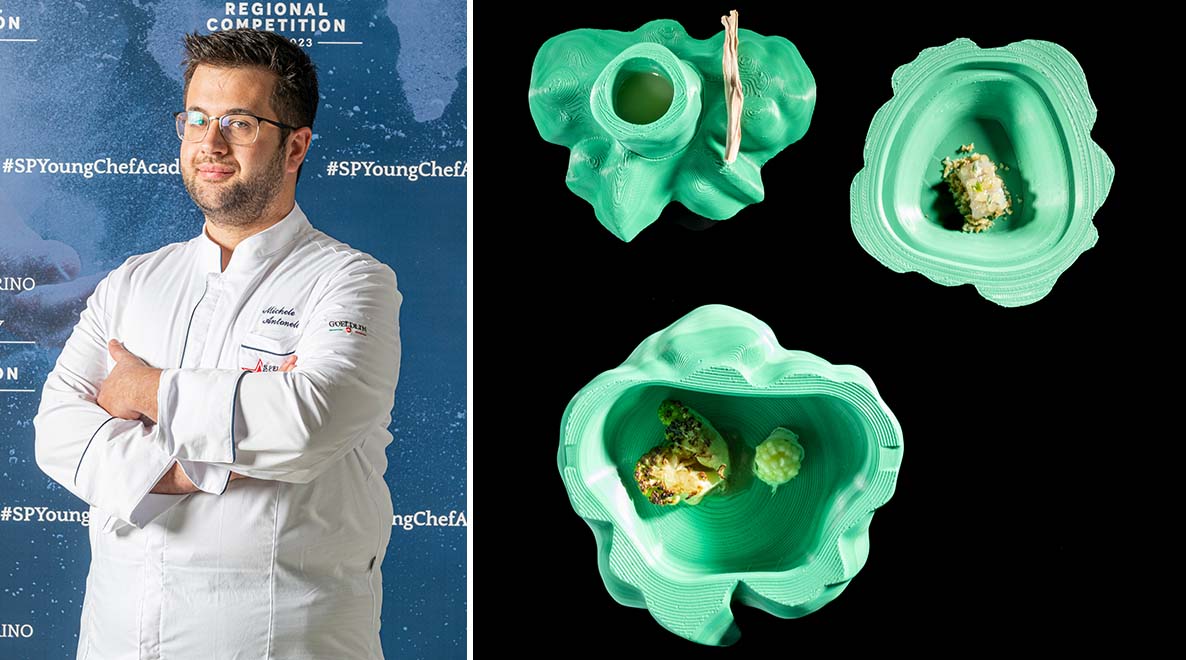 Michele Antonelli, from GastroBi restaurant in Villa Musone, Ancona, will represent Italy at the Grand Finale in Milan.
The young chef will cook his signature dish Gira il cavolfiore ('Spin the cauliflower'), one that he says is designed to highlight the need to tackle food waste.
"This dish revolves around the use of the main part of the ingredients and 'scraps.' Nothing is thrown away, rather at the end of each preparation what's left is used as a base for another recipe. This is to raise chefs' consciousness of food waste and consequently the human resources used for the production of raw ingredients," he says.
His mentor will be local juror Andrea Aprea, who has an eponymous Michelin-starred restaurant in Milan.
France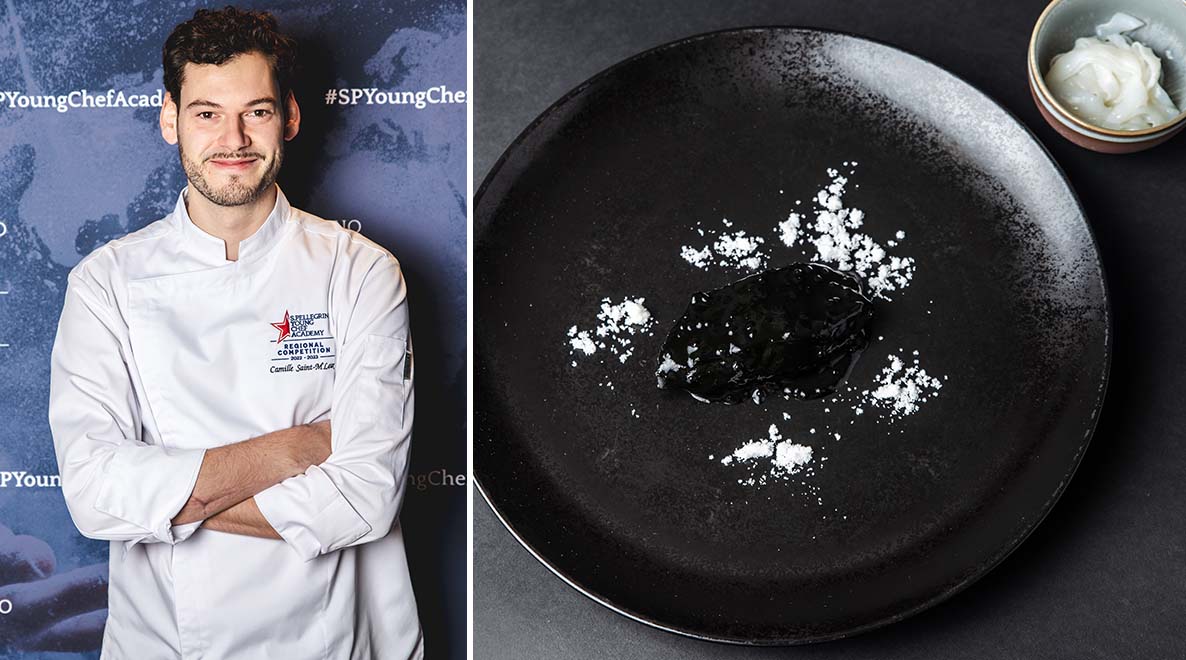 Finally, Camille Saint-M'leux will represent France, with his signature dish of charcoal Châteauneuf beef, cuttlefish fat and smoked herring eggs.
Speaking of the dish, the young chef from La Villa 93 restaurant in Montreuil said it represented "two opposed universes: a 'meaty' one from the Châteauneuf farm beef and an iodised one from the cuttlefish and herring eggs."
His mentor for the final push will be chef Christophe Bacquié, a winner of the Meilleur Ouvrier de France.