Jerome Ianmark Calayag Wins the S.Pellegrino Young Chef Academy Award
Winners announced during a live-streamed Award Ceremony in Milan.
On the evening of 30 October finalists, mentors and the Grand Jury gathered at Milan's prestigious Palazzo del Senato for the long-awaited S.Pellegrino Young Chef Academy Competion 2019-21 Award Ceremony.
After three intense days of cooking, learning and networking, the excitement in the room was palpable. And after much anticipation, Jerome Ianmark Calayag from the UK and Northern Europe region was announced as the winner of the fourth edition of the S.Pellegrino Young Chef Academy Competition.
Guided by his mentor, chef David Ljungqvist, with whom he shares the kitchen at Portal restaurant in Stockholm, Calayag wowed the Grand Jury with his plant-based signature dish, Humble Vegetables, which was packed with complex flavours and textures. Ljungqvist even described the dish as "a slap in the face, but with gentle hands".
Upon receiving the award Calayag, overcome with emotion, thanked the Grand Jury, the Academy, and his mentor. "Chef David is more than just a mentor in the kitchen, he is my mentor in life. He makes me a better person," he said.
Calayag's food philosophy is centred around sustainability and he worked with local Nordic growers to source ingredients for his dish. "Chefs and restaurants can affect this world greatly by 'going local' and supporting sustainable initiatives. I want to contribute balance to the world and hope to make a difference by cooking delicious, vegetable-driven food in a sustainable manner.
"My dish is a way of showcasing what you can do with humble vegetables and how delicious they can be. It also represents me: who I've become as a person and chef, and what I believe in," he said.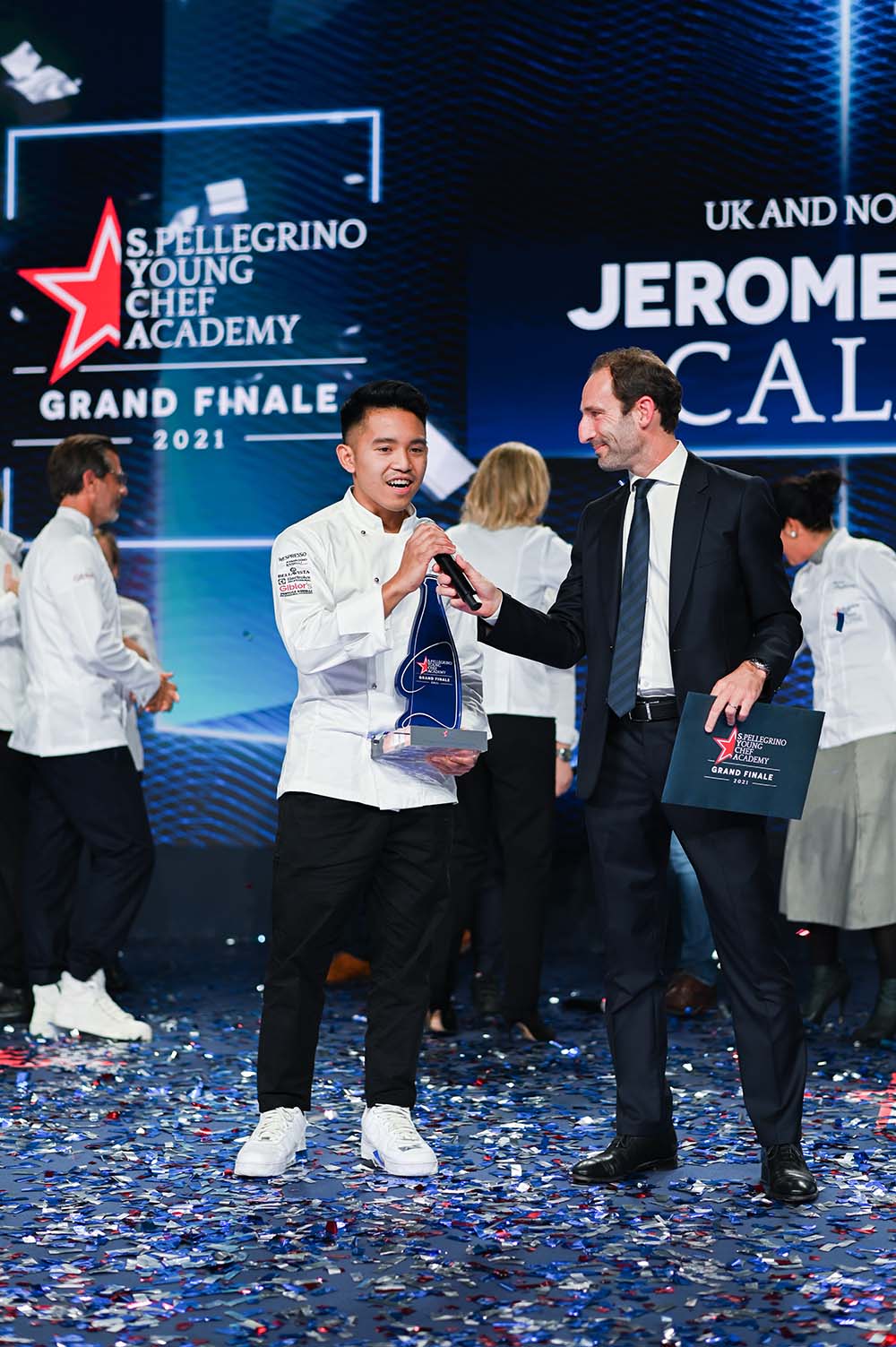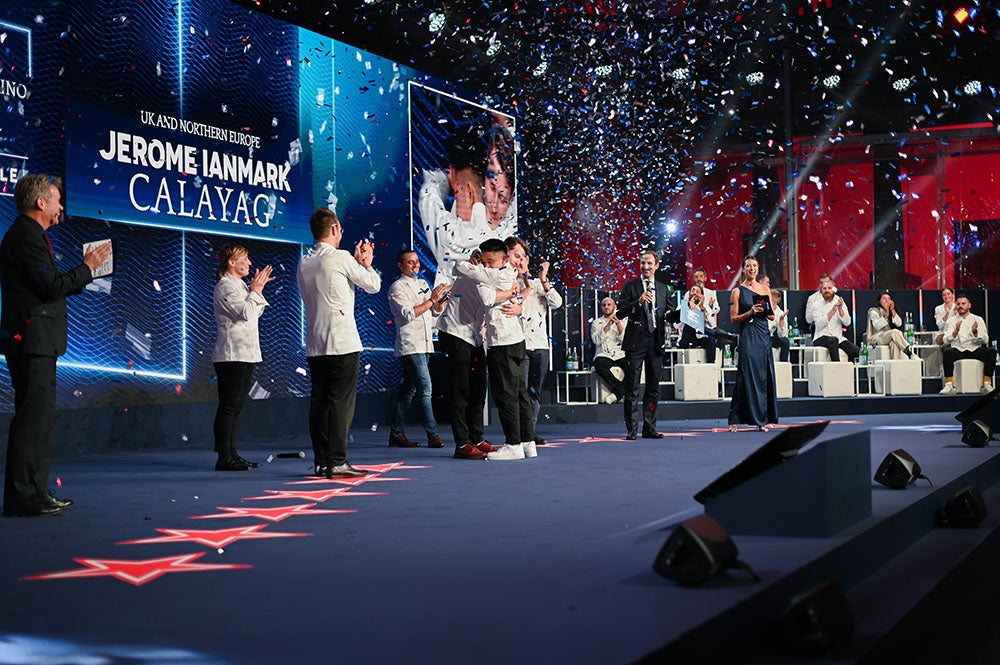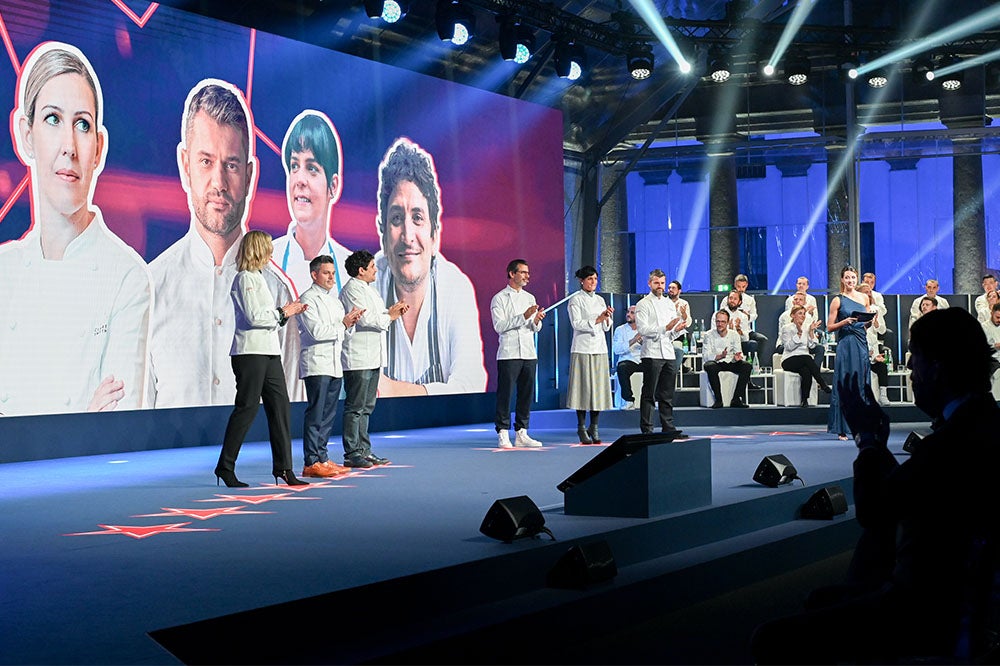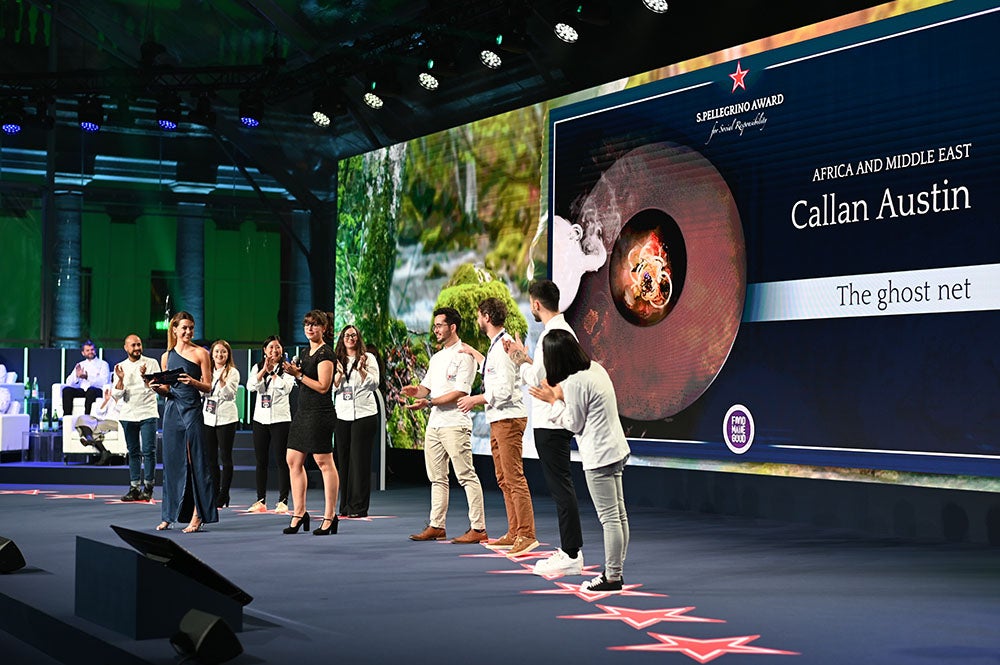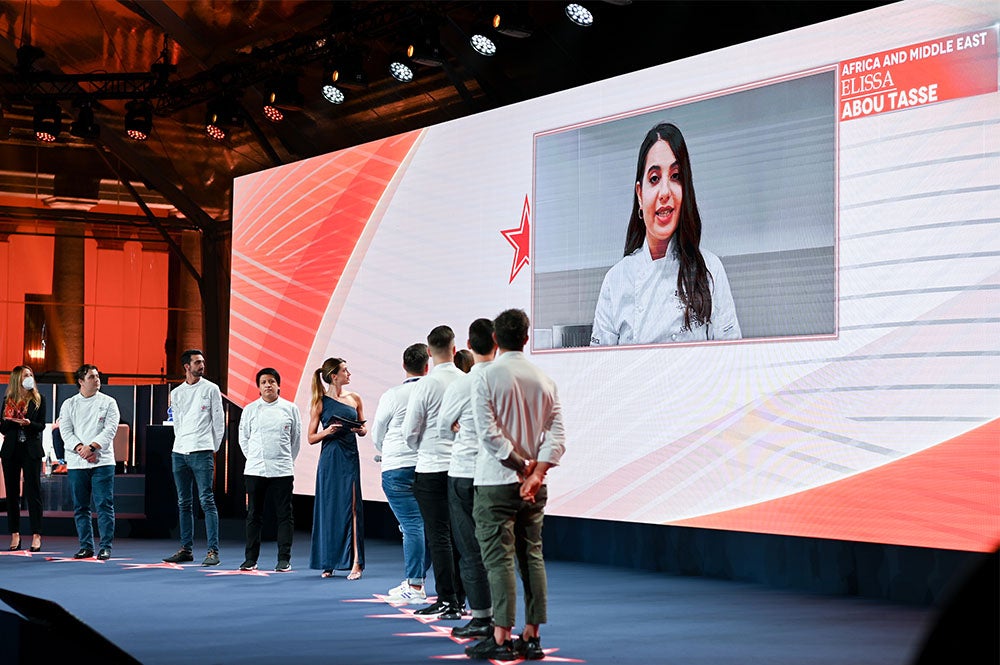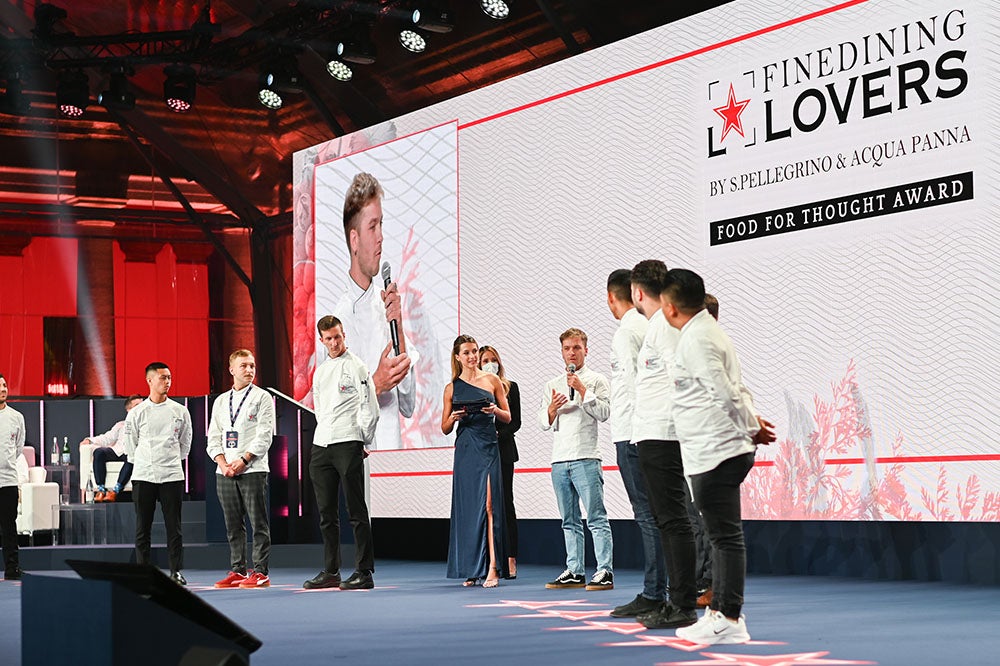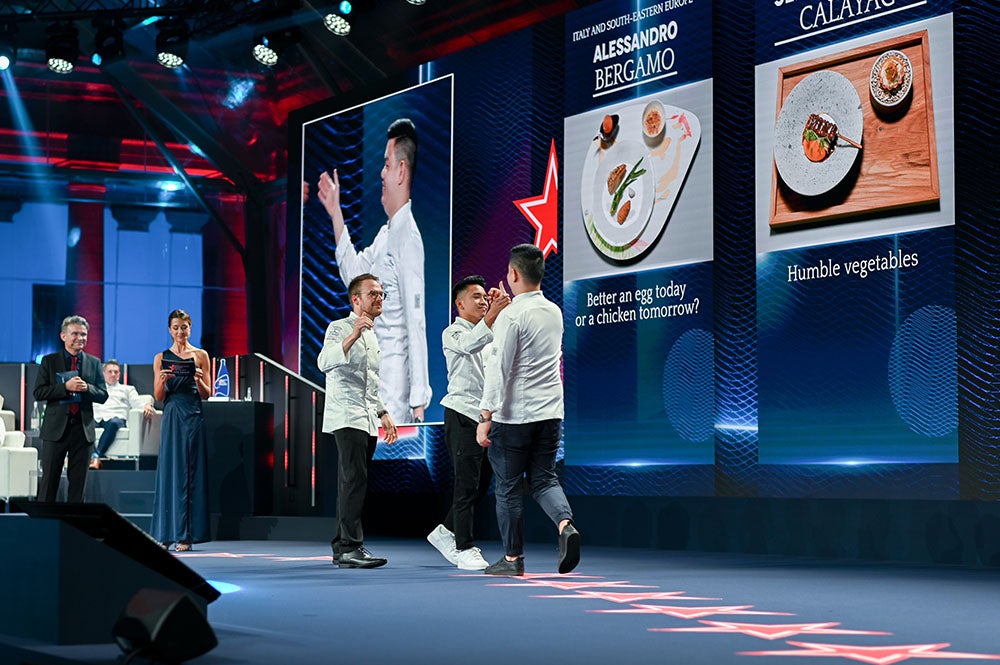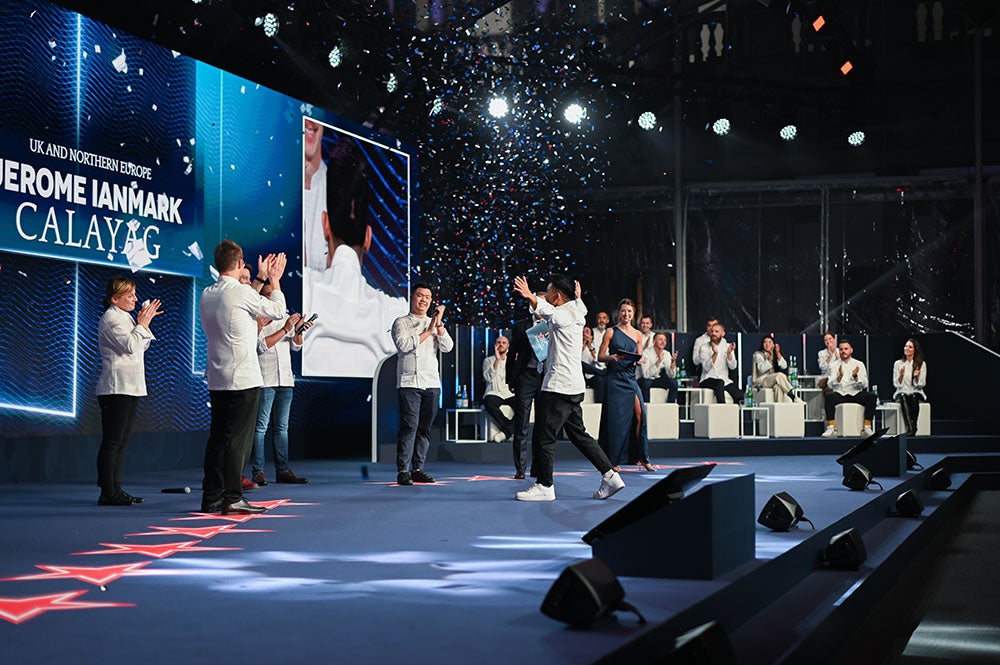 Special Awards
As well as announcing the winner of the Competition 2019-21, three special awards were also granted: the S.Pellegrino Award for Social Responsibility, the Acqua Panna Award for Connection in Gastronomy, and the Fine Dining Lovers Food for Thought Award.
The S.Pellegrino Award for Social Responsibility embodies the principle that food is best when it's the result of socially-responsible practices.
Finalists in this category addressed issues such as climate change, biodiversity and collaboration in their signature dishes, often paying tribute to traditional cuisines and making room on the plate for sustainable options.
Voted for by Food Made Good, the winner of the S.Pellegrino Award for Social Responsibility is Callan Austin from the Africa & Middle East region, with his signature dish The Ghost Net, which featured fish that the chef caught himself.
Next up, the Acqua Panna Award for Connection in Gastronomy recognised the emerging concept of chefs without borders and judged finalists on their ability to connect different cultures on a plate.
Amid a tight race, Elissa Abou Tasse from the Africa & Middle East region was named the winner for her signature dish, Adam's Garden.
"Adam's Garden shines a spotlight on recreating history and cultures, highlighting many neglected techniques or essential elements, such as fire," she said.
Following this, Andrea Ravasio from the Iberian & Mediterranean region was named the winner of the Fine Dining Lovers Food for Thought Award, which recognised the chef who best managed to transmit their personal philosophy through their signature dish. Fine Dining Lovers readers voted for Ravasio's El Domingo del Campesino dish, which celebrated the local produce of the Canary Islands.
Following the Award Ceremony, guests of the Grand Finale were treated to a Gala Dinner where Massimo Bottura and his team of chefs presented a vibrant, five-course meal themed around music and culture.   
Congratulations to all of this year's winners and finalists.
Grand Finale 2021: Day 3
The Brain Food forum saw top chefs discuss taste and creativity.
 
Day three of the Grand Finale of S.Pellegrino Young Chef Academy Competition 2019-21 in Milan kicked off with the inaugural Brain Food forum, curated by Fine Dining Lovers.
Former winners of the S.Pellegrino Young Chef Academy Competition, Mark Moriarty (UK & Ireland region, 2015) and Mitch Lienhard (USA, 2016) opened the forum by reflecting on their personal and professional journeys since winning the competition, and encouraged this year's finalists to seize the opportunity. While Moriarty described the competition as his "proudest achievement to date", Lienhard said "win or lose you have the opportunity to access some of the best chefs in the world, so take advantage of it."
Fine Dining Lovers Editor-in-Chief Ryan King then moderated a series of talks themed around 'Taste & Creativity' with Italian culinary mastermind Massimo Bottura, celebrated Peruvian chef Virgilio Martinez, and the top chefs of the 2021 Grand Jury, who shared their experiences and answered questions from the live audience and the S.Pellegrino Young Chef Academy community.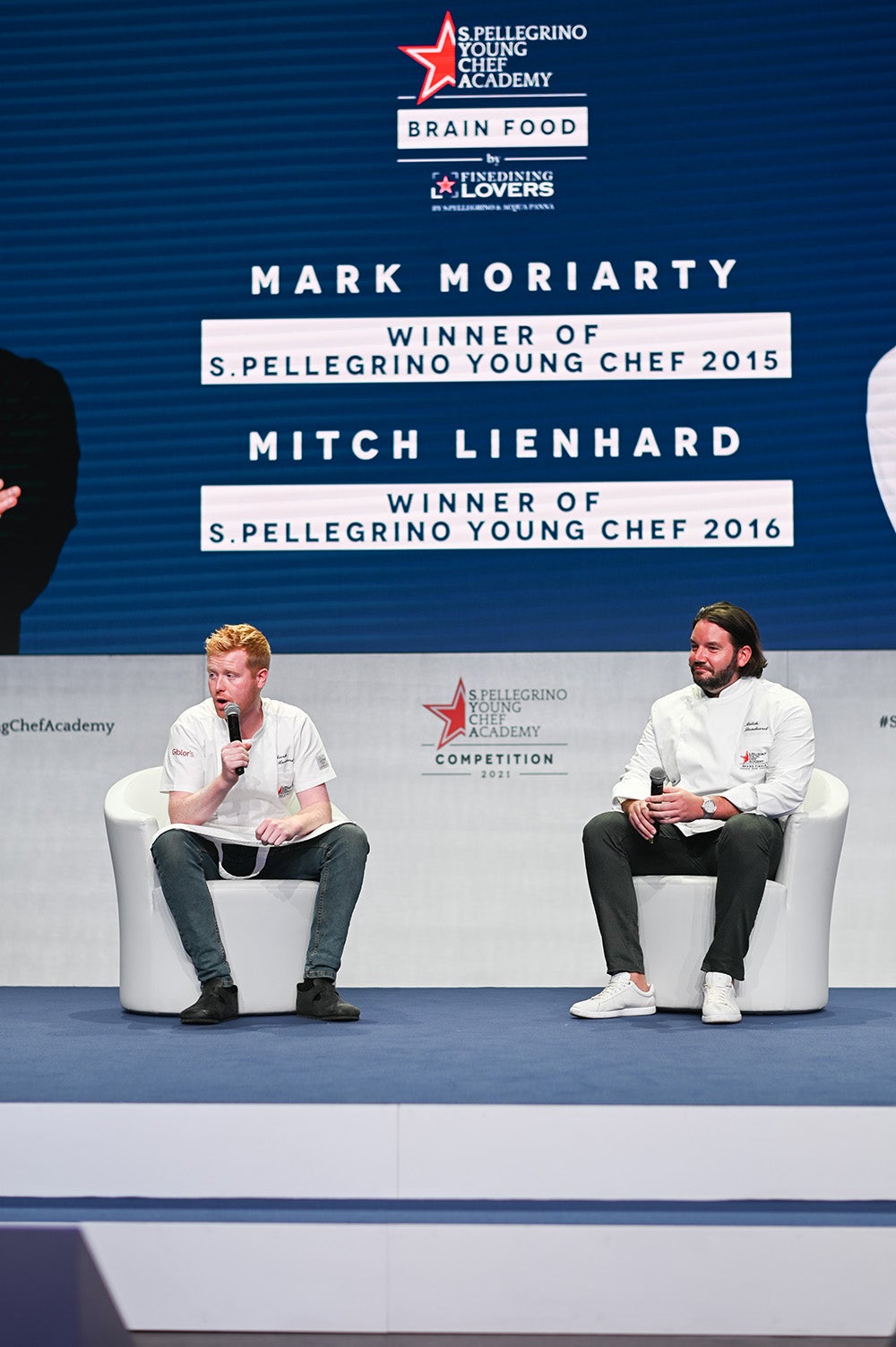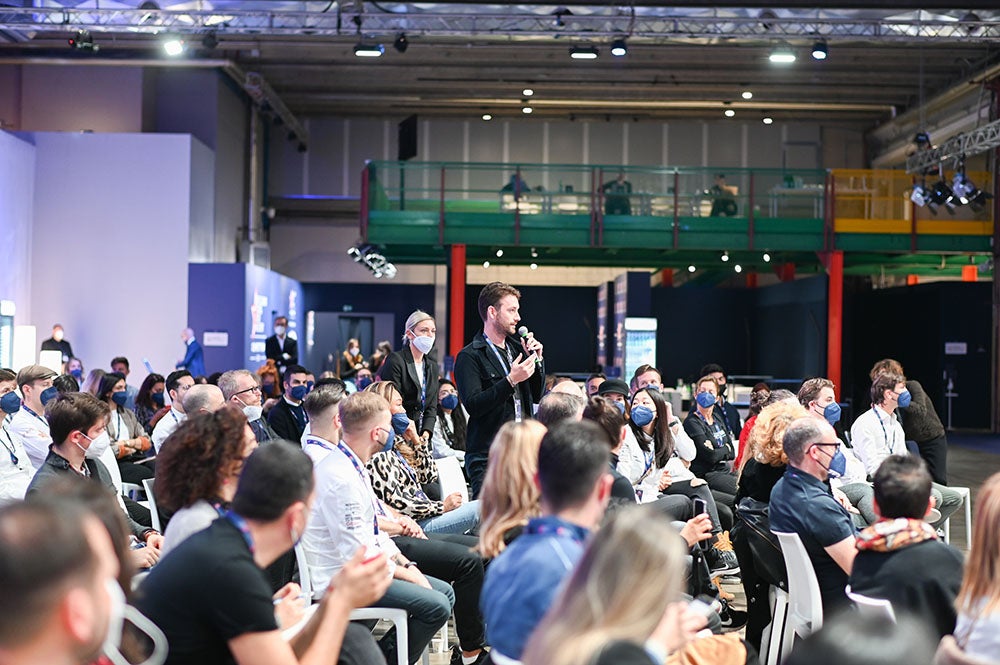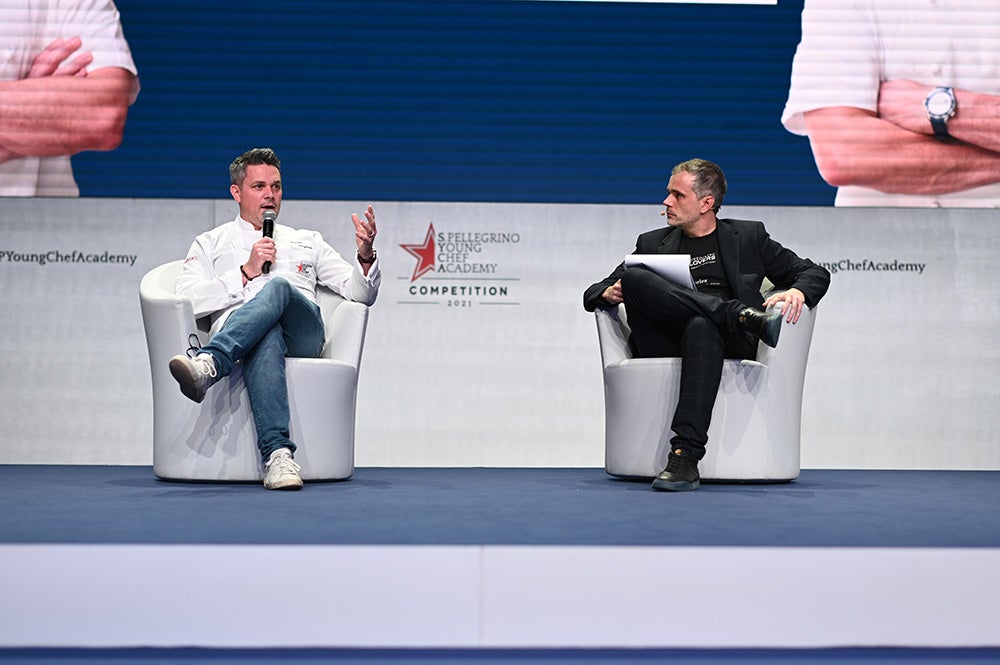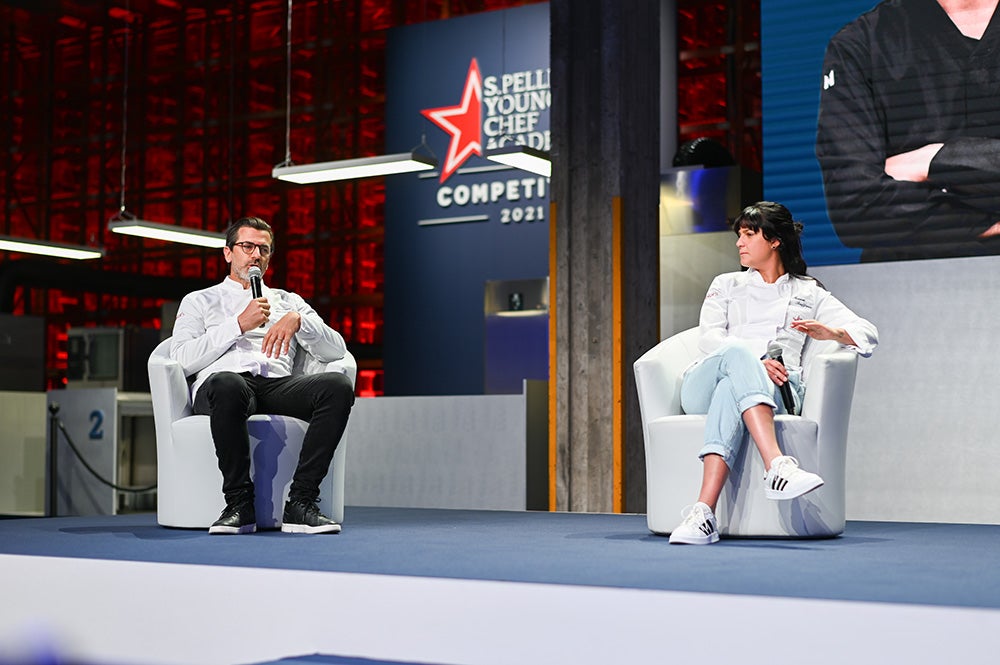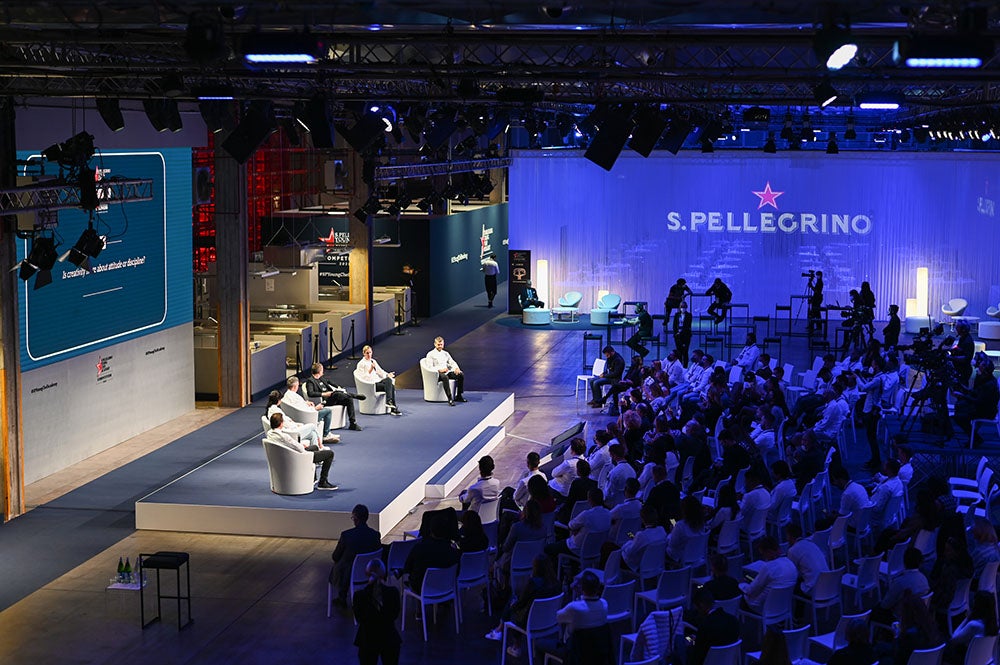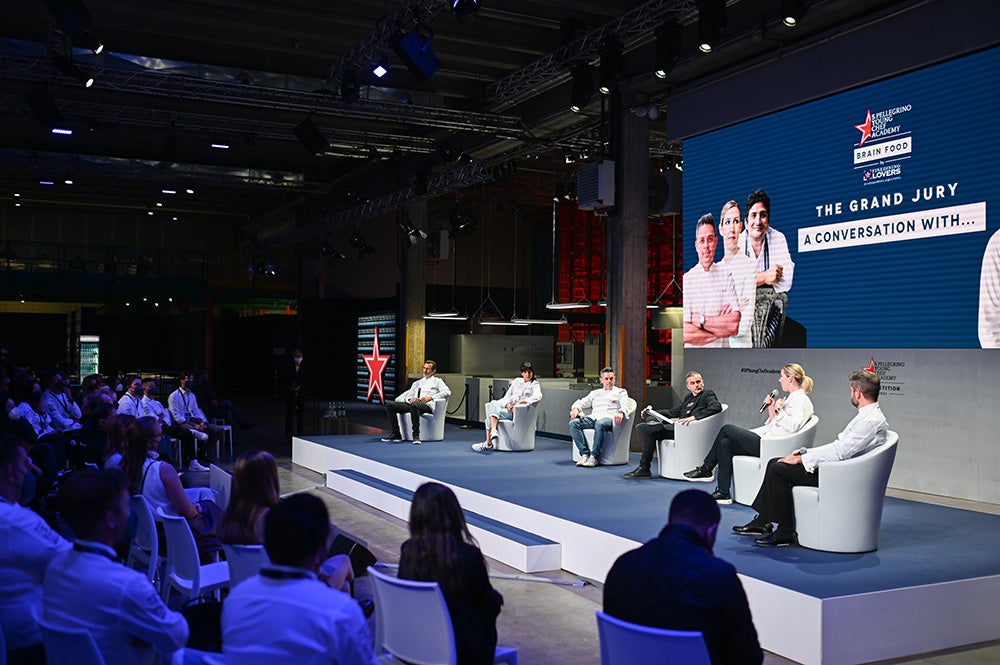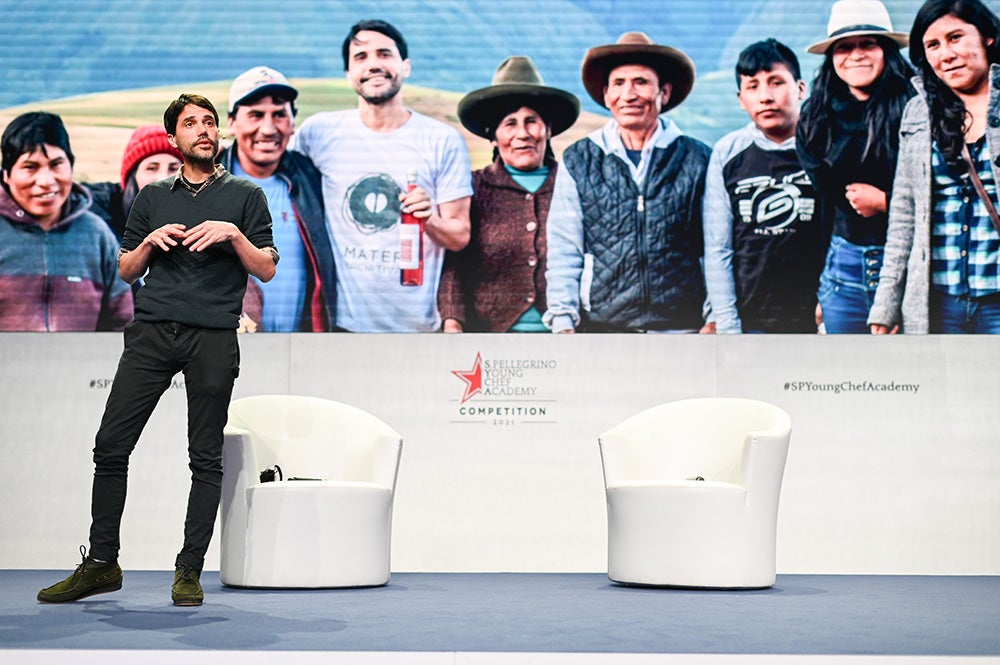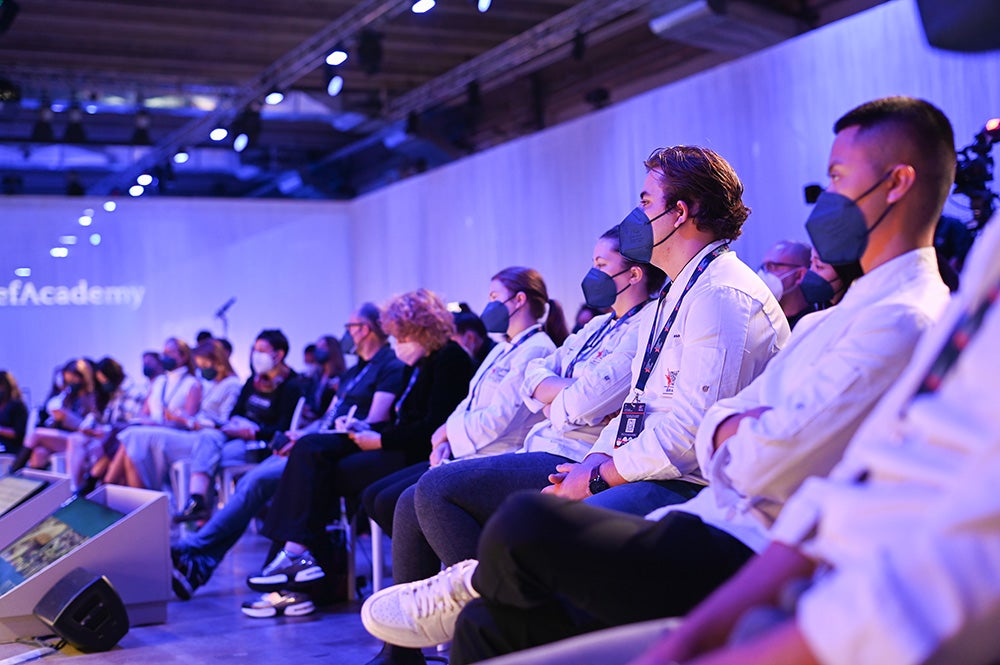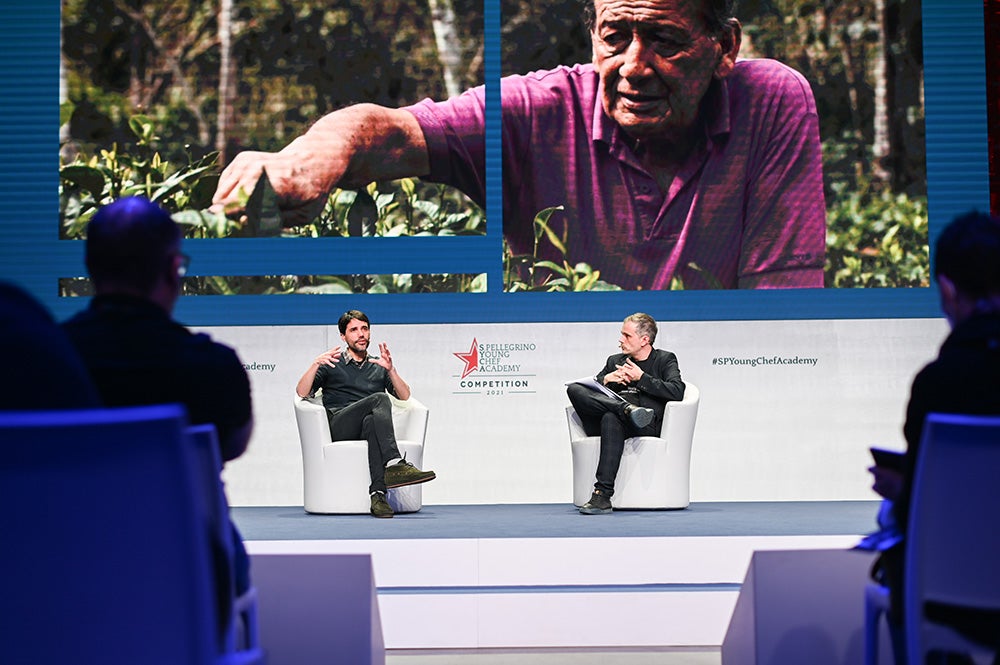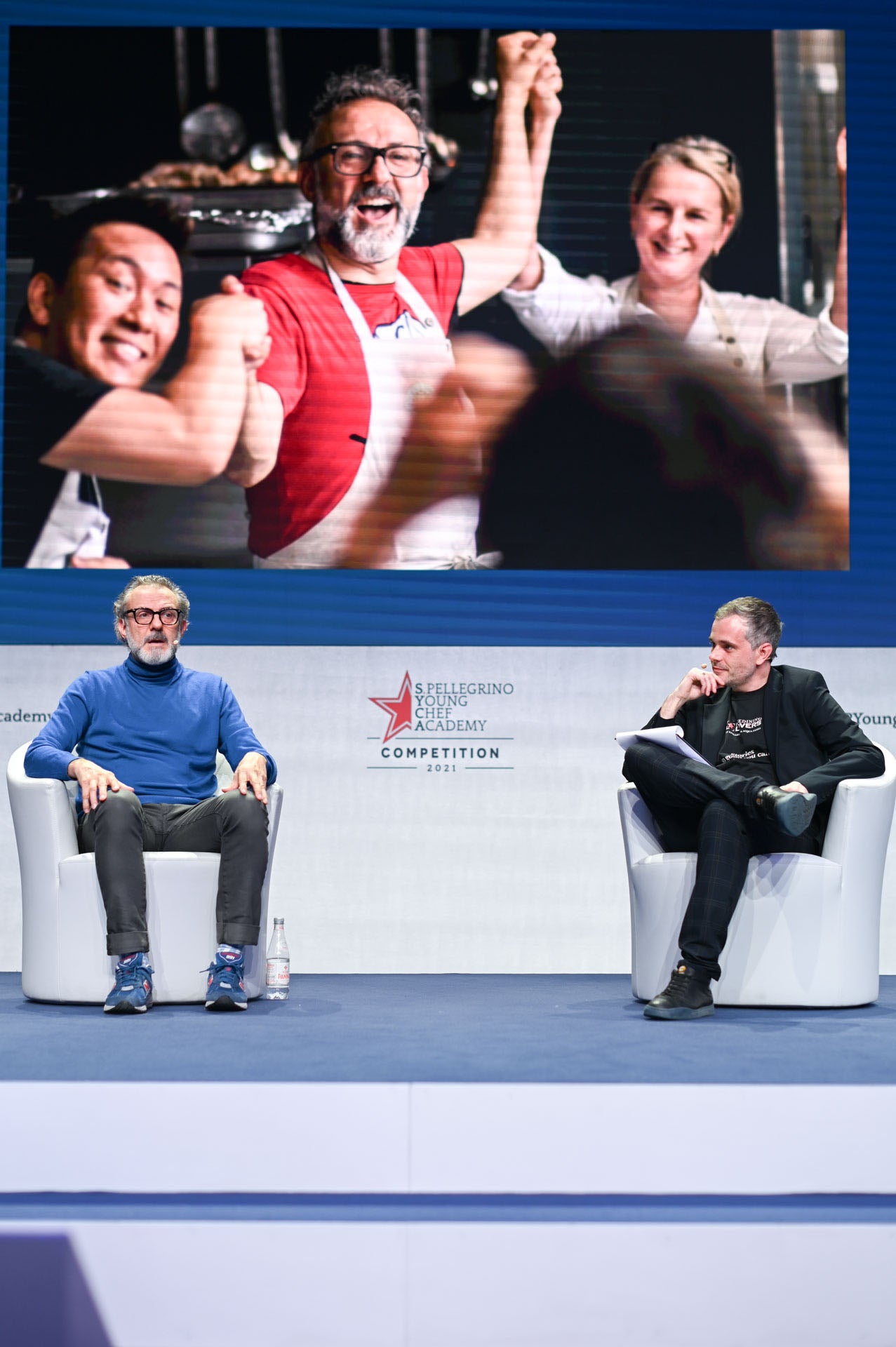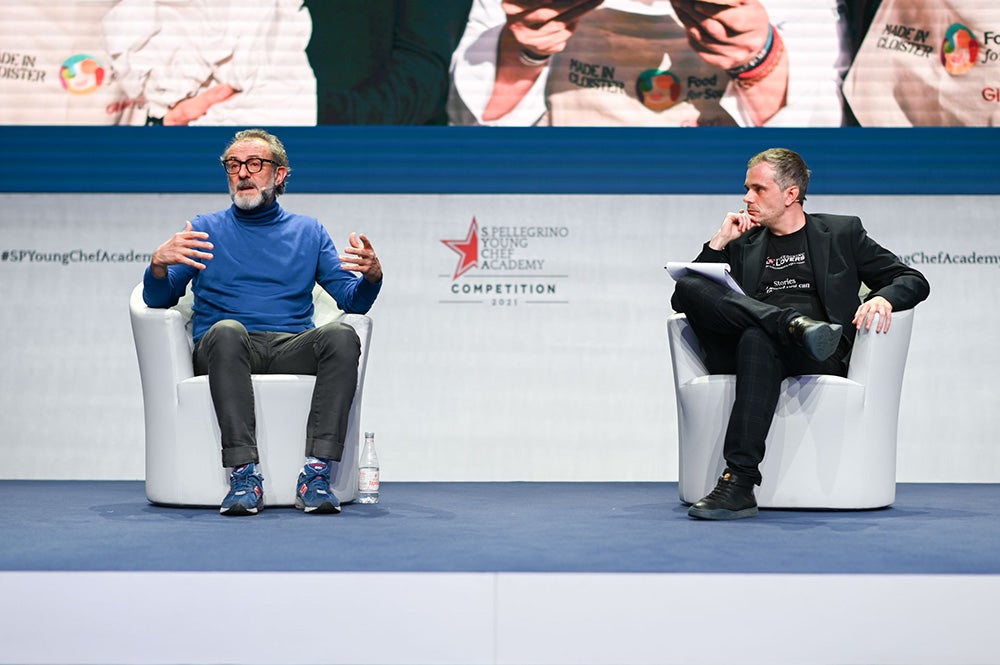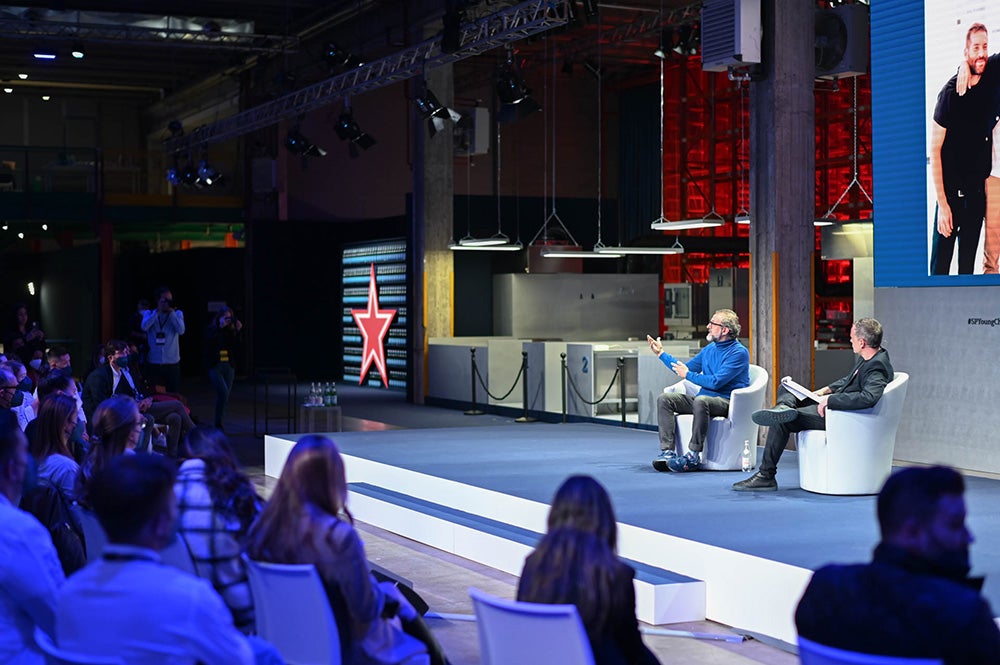 During an interactive panel session, the Grand Jury discussed whether creativity can be taught, how to encourage it among their teams, and their personal motivations during the pandemic.
"Creativity can't be taught or learnt, it needs to be discovered as part of a team," said Andreas Caminada.
Clare Smyth added that creativity is not just about the plate, but must also be used to build a successful business – especially critical during tough periods like the past 18 months.
As a leader in the kitchen, Manu Buffara said it's important to give young chefs "the tools to help them write their own stories" and discover their personal expressions of creativity.
Enrico Bartolini believes creativity is blend of attitude and discipline, while Gavin Kaysen stressed the importance of curiosity. He also commented on the inspiring levels of creativity on show throughout this year's Competition — a sentiment that was echoed by all members of the Grand Jury.
In a dedicated Q&A, Virgilio Martinez shared how his drive for taste led to the creation of Mater Iniciativa, a project undertaken to catalogue and rediscover ingredients and techniques within the local communities of the Andes and the Amazon. He also revealed details of new restaurant openings in Moscow and Tokyo.
"We have to see the world in different ways," he said. "A chef should not be restricted to the kitchen… Expand your knowledge and work with different people from different disciplines."
Massimo Bottura then took to the stage to discuss his mission to tackle food waste through his non-profit organisation, Food for Soul.

With a series of community hubs and social kitchens, known as Refettorio, across the globe, Food for Soul repurposes surplus food to support social inclusion and feed those in need.
In signature style, the flamboyant Italian chef shared stories from his childhood that have inspired the vision behind Food for Soul as well as anecdotes about the organisation's humble beginnings.
Like Martinez, he encouraged young chefs to keep their minds open to new and unexpected opportunities. "Taste is something you develop throughout your entire life," he said. "Travel with your eyes and ears open to absorb culture, but never forget where you come from."
Bottura closed the Forum with a special announcement: the launch of a Culinary Ambassadorship and Internship Program with Food for Soul that will be exclusively available to Academy members. More information can be found here.
On the evening of 30 October, the winner of the S.Pellegrino Young Chef Academy Competition 2019-21 will be announced during a live-streamed Award Ceremony. See below for details on how to tune in live.
Grand Finale 2021: Day 2
Day two of the Grand Finale saw the chefs cooking-off.
Day two of the Grand Finale of S.Pellegrino Young Chef Academy Competition 2019-21 in Milan saw the chefs finally get to bring all their hard work to fruition, as they took to the kitchens to cook their signature dishes for the Grand Jury.
Over the course of two intense sessions, the 10 finalists were able to cook and present their dishes to the jury of top international chefs – Andreas Caminada, Clare Smyth, Enrico Bartolini, Gavin Kaysen, Manu Buffara, and Mauro Colagreco – whilst an excited audience looked on, taking in the sights (and tempting smells) of the action.
Unfortunately, due to Covid restrictions, two finalists and their mentors – Jose Lorenzo Morales and Peter Gilmore from the Pacific region, and Victor Wang Zhicheng and Dong Zhenxiang from Greater China – plus jury member Pim Techamuanvivit were unable to make it to Europe. However, Morales, Wang and Techamuanvivit recorded special video messages expressing their regret at not being able to make it and wishing the best of luck to all involved.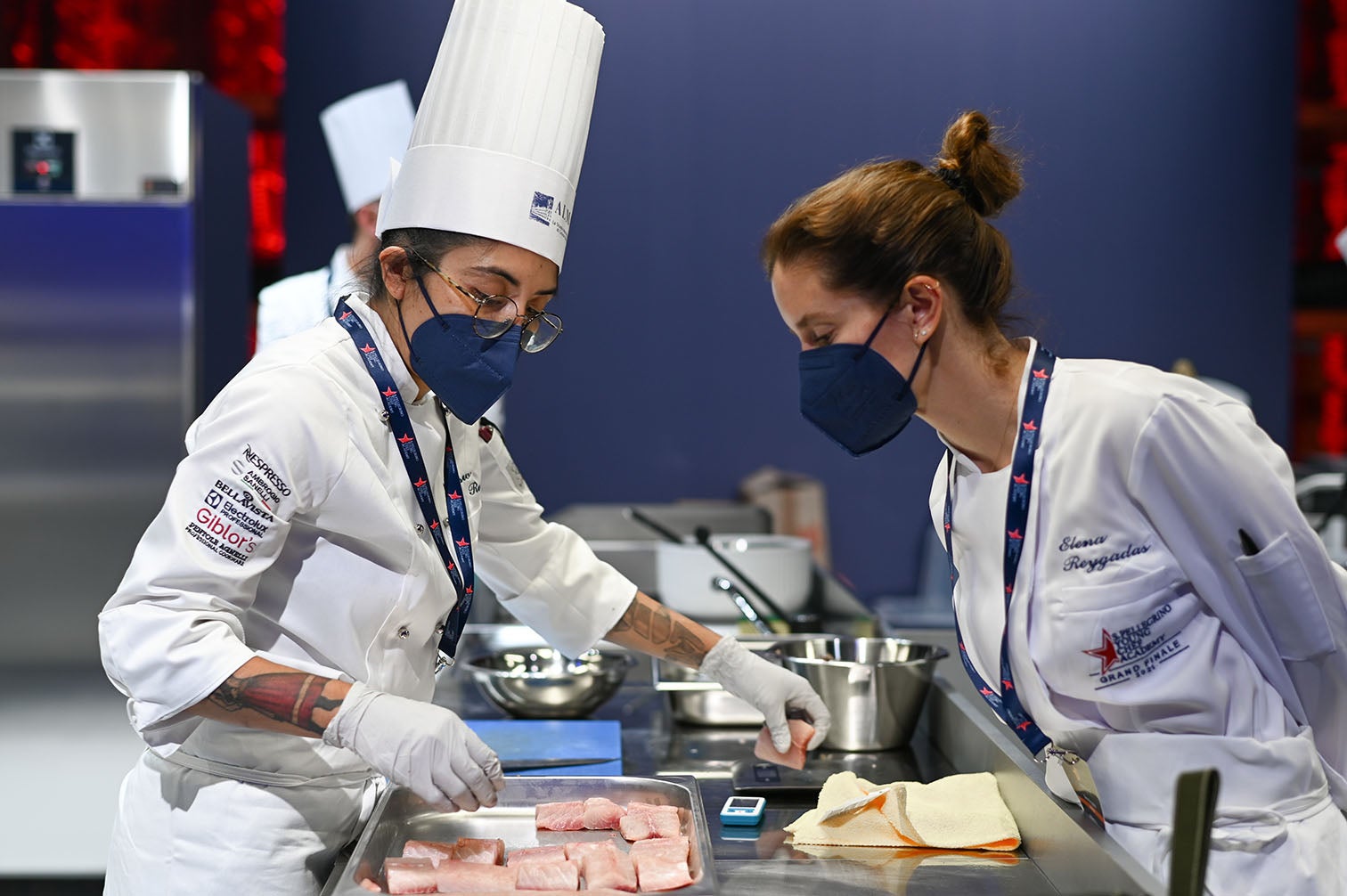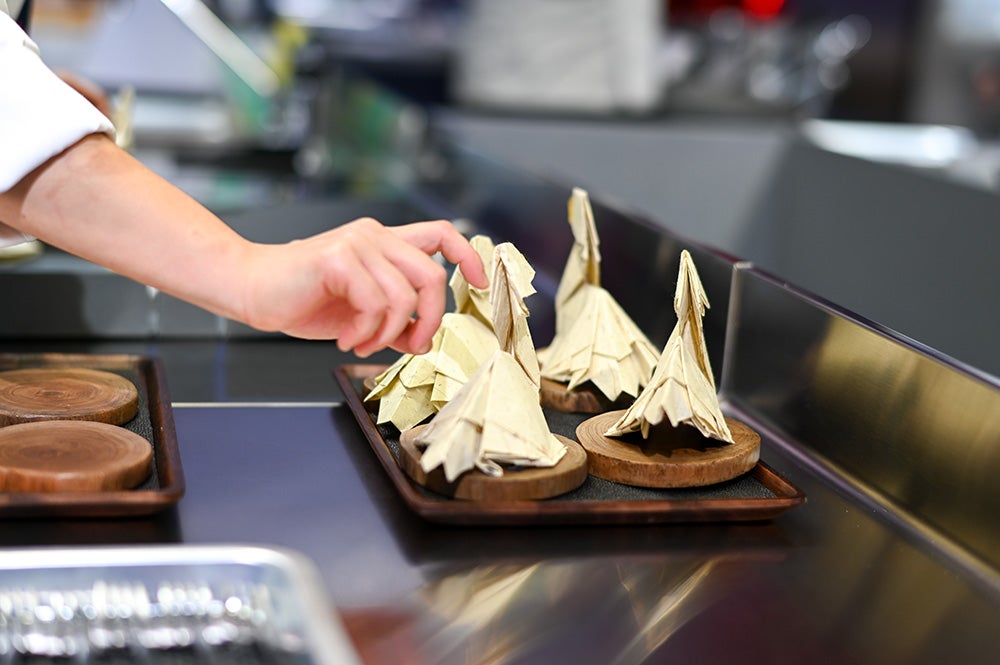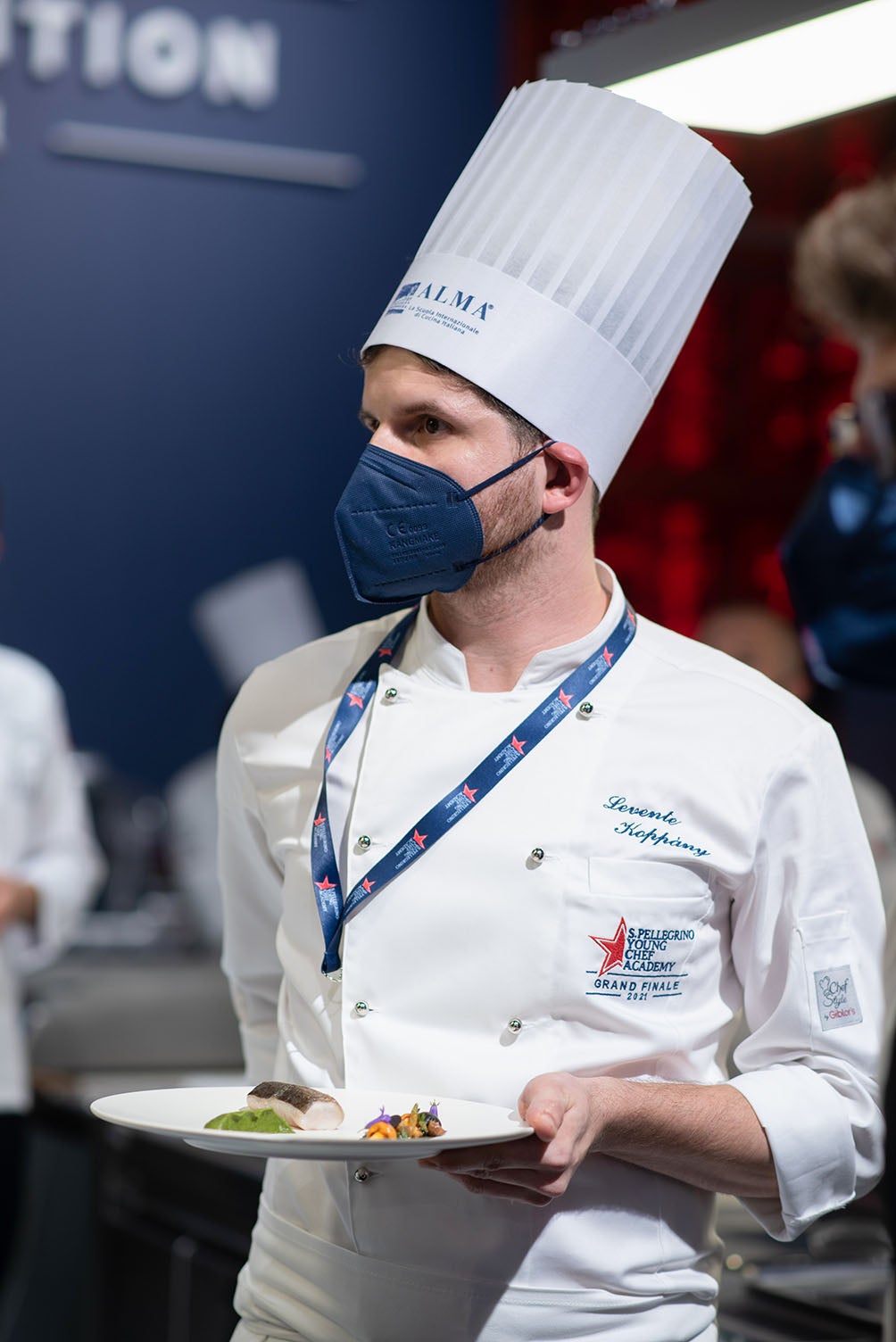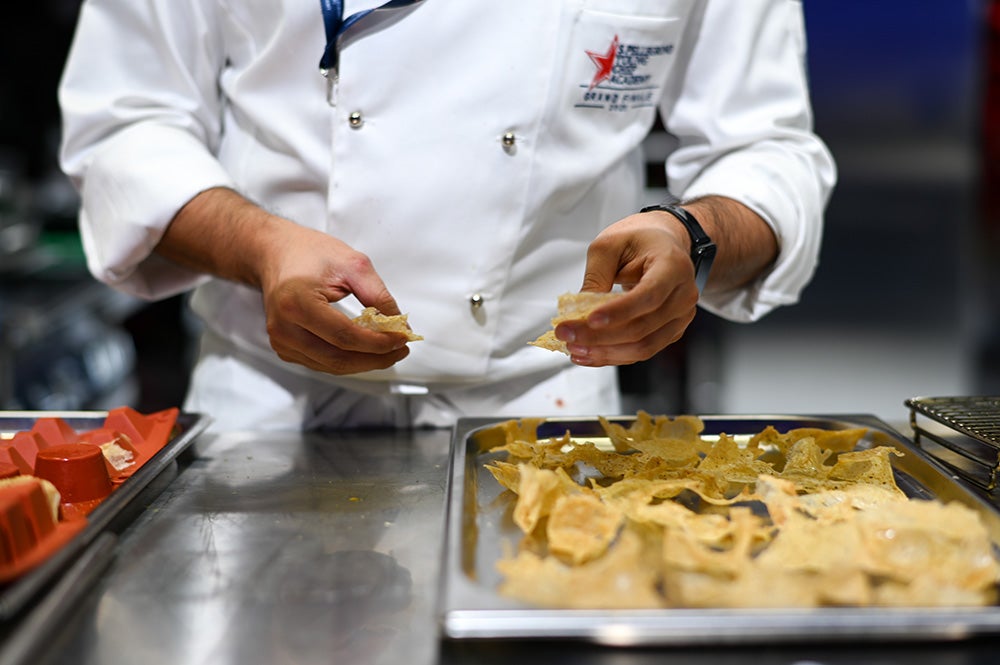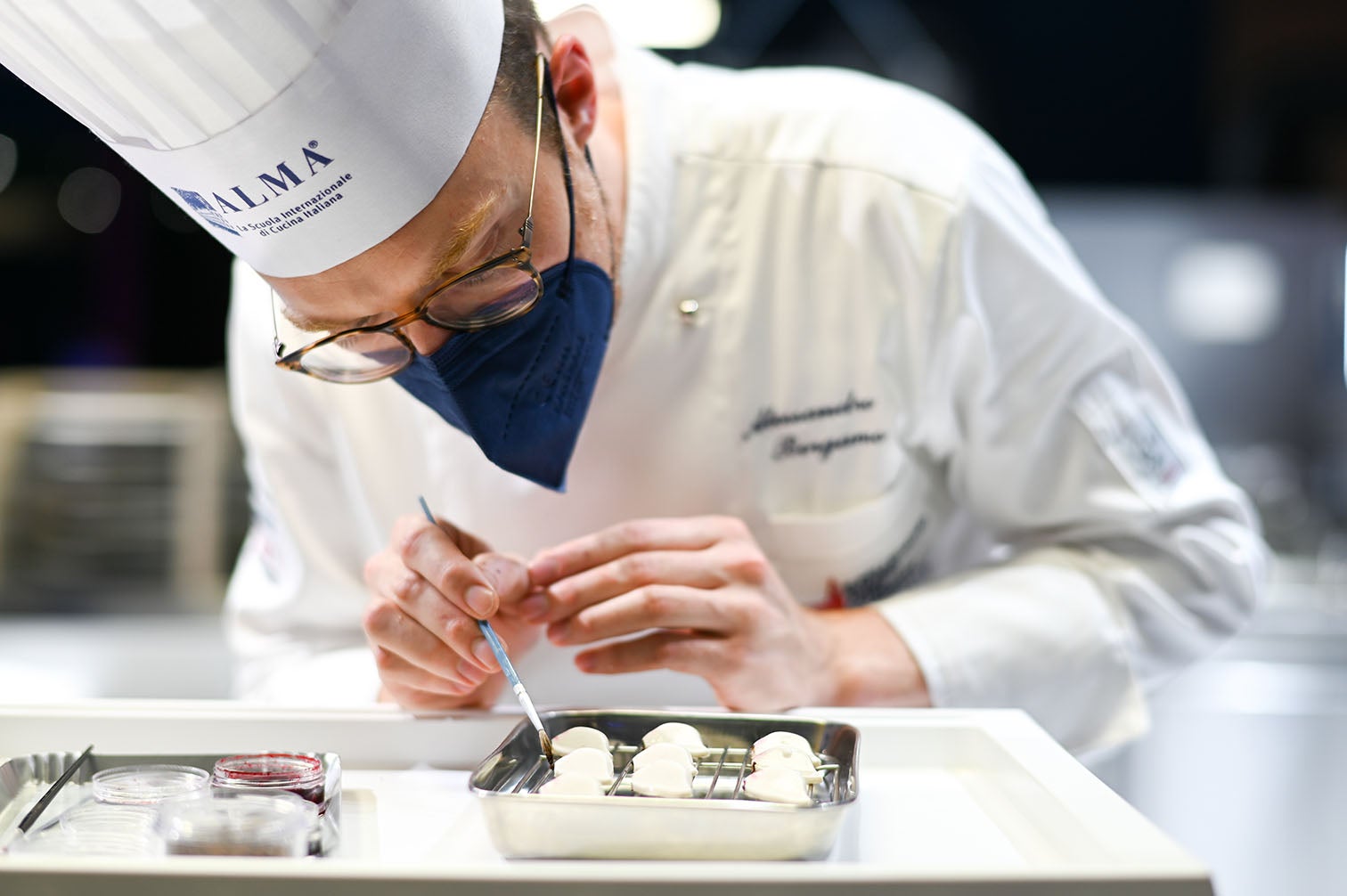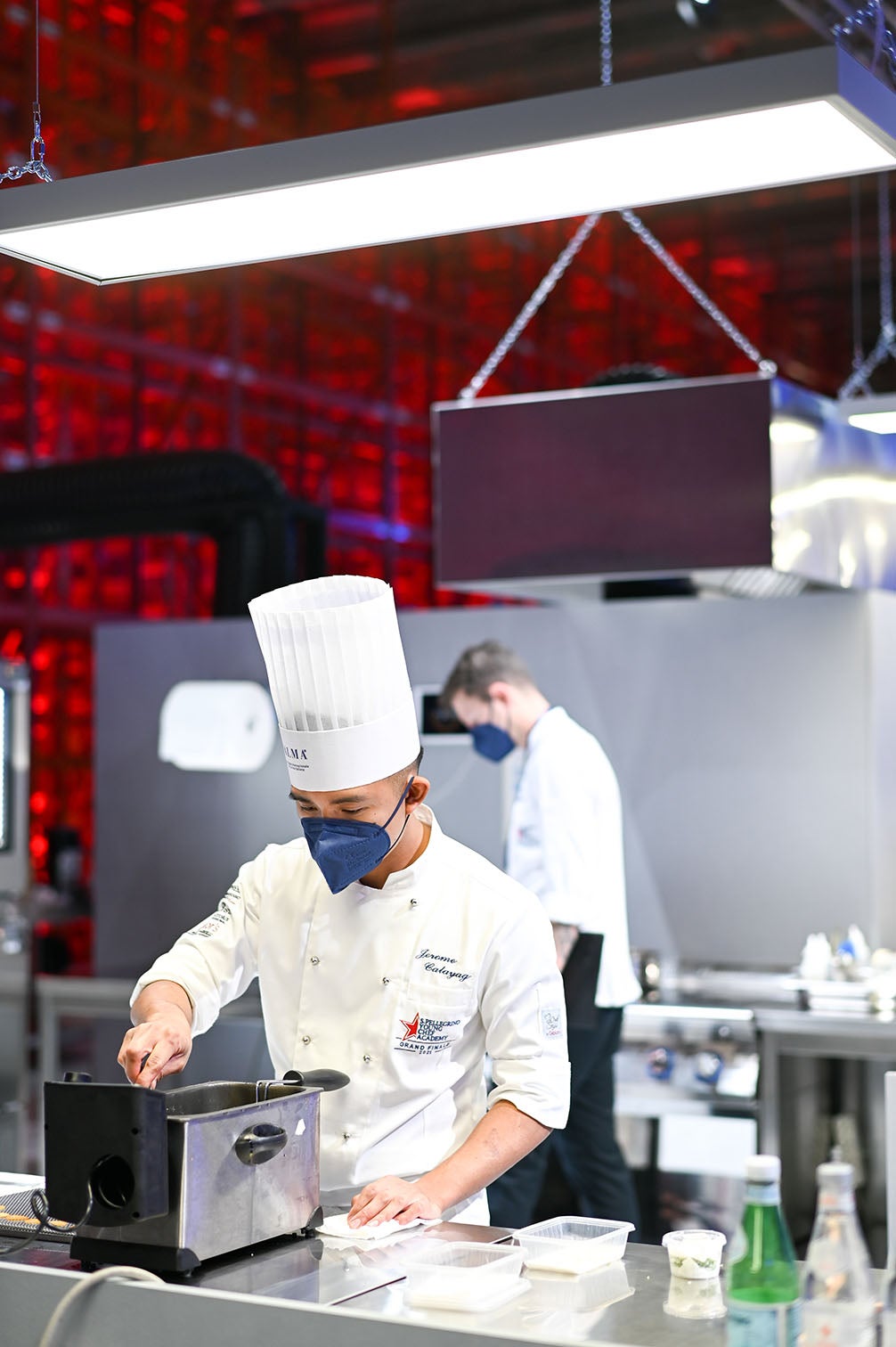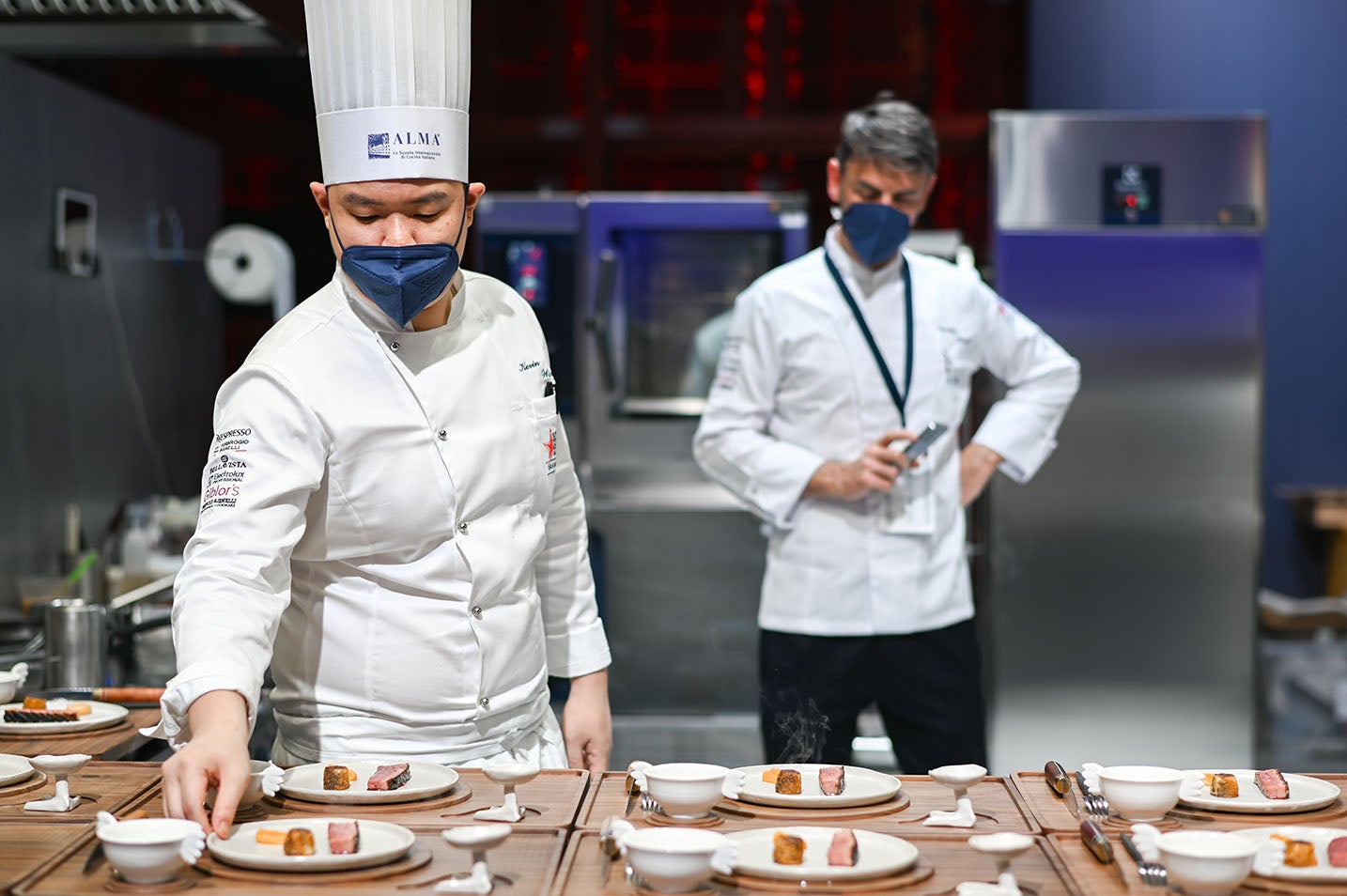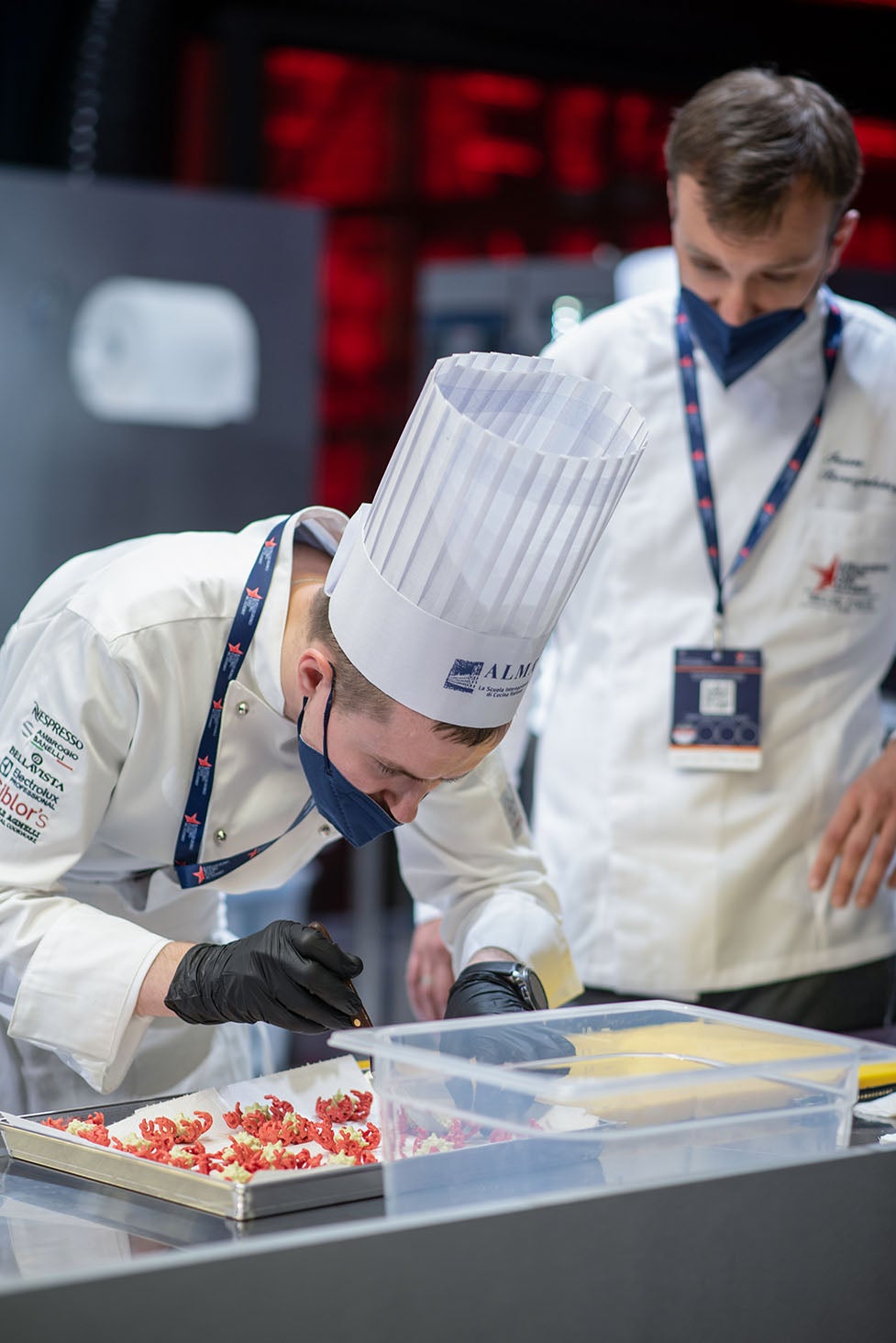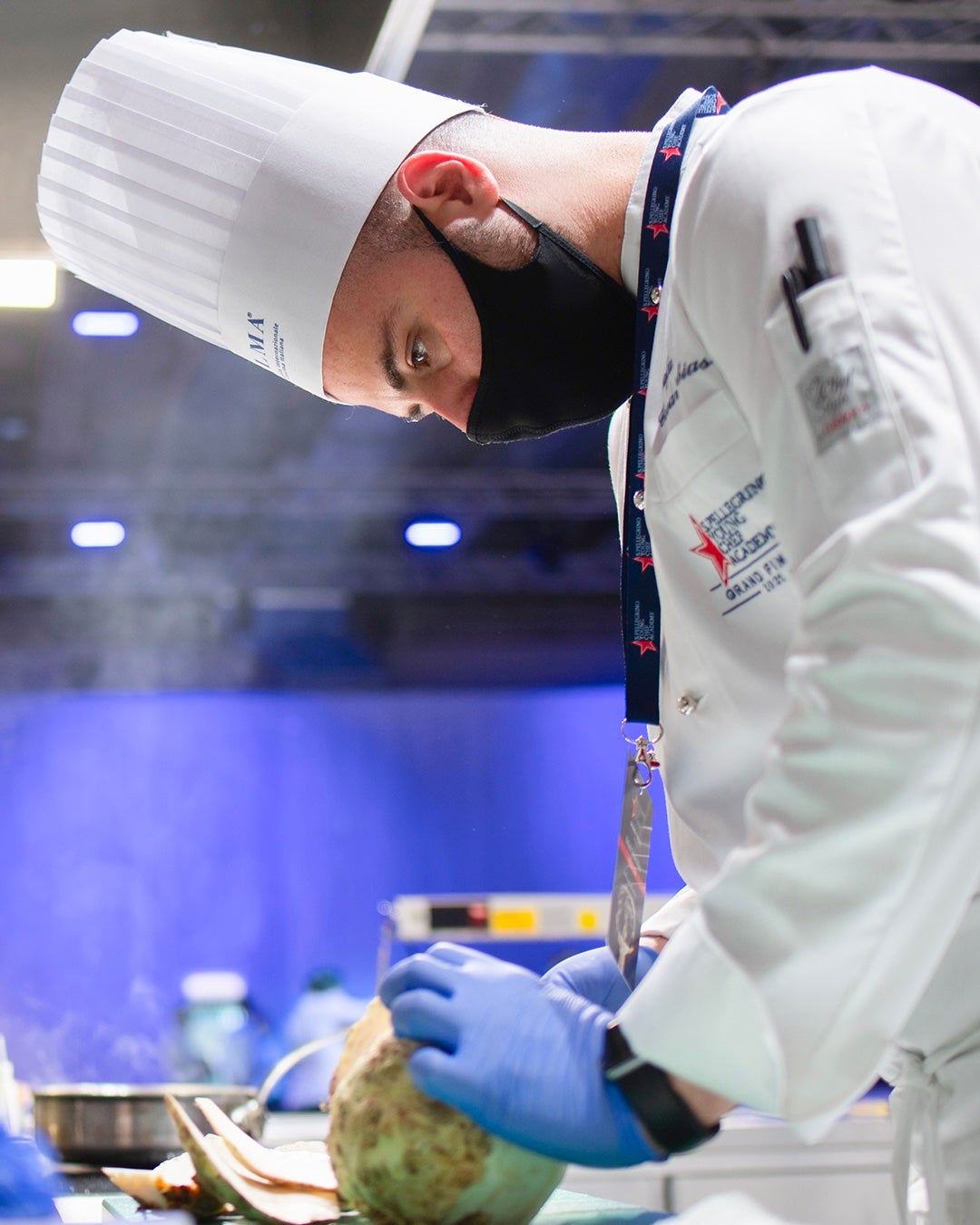 As the event unfolded in the arena, plate after spectacular plate emerged from the kitchens, with a noticeably impressed Grand Jury expressing their joy at the "incredibly successful" cooking on show. Kicking off the action was chef Vitalii Savelev (Euro Asia), followed by Alexandre Alves Pereira, Levente Koppany (Central Europe), Rafael Covarrubias (North America), and Paul Prinsloo (Africa and Middle East).
In the afternoon/early evening session, the high quality continued as chefs Cynthia Xrysw Ruelas Diaz (Latin America), Alessandro Bergamo (Italy and South Eastern Europe), Kevin Wong Tat Mun (Asia), Jerome Ianmark, Calayag (UK and Northern Europe), and Albert Manso Miras (Iberian and Mediterranean Countries) prepared their dishes for the jury.
"It's nice to see how motivated and dedicated these young people are, it's amazing to see what comes to the plate, it's great for our industry", was the message from the jury.
Now all await announcement of the winner of Competition, which will be revealed on 30 October.
Women's Leadership at the Grand Finale of S.Pellegrino Young Chef Academy Competition 2019-21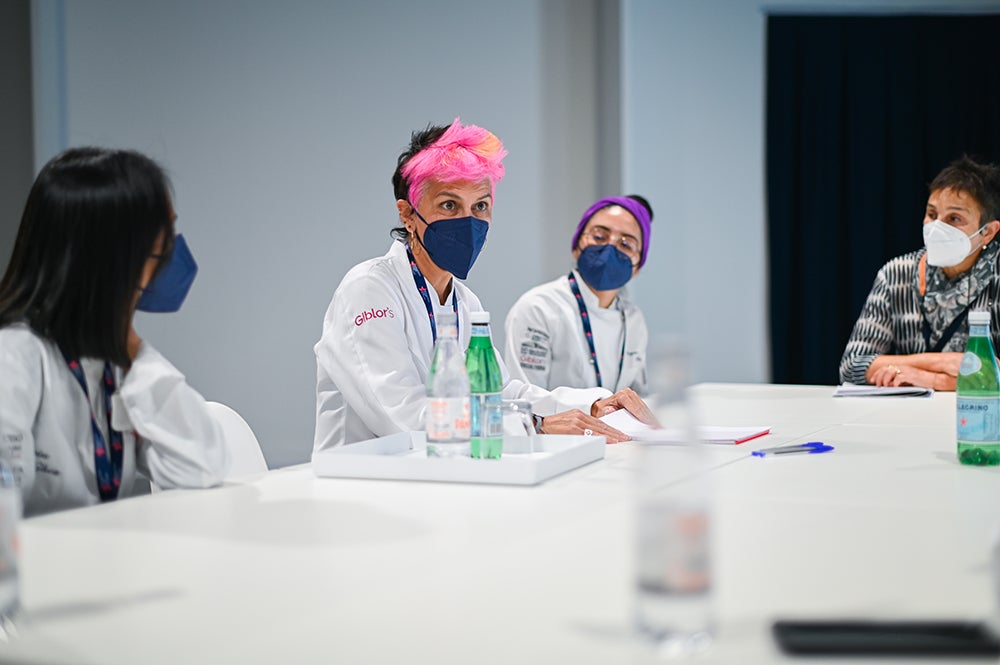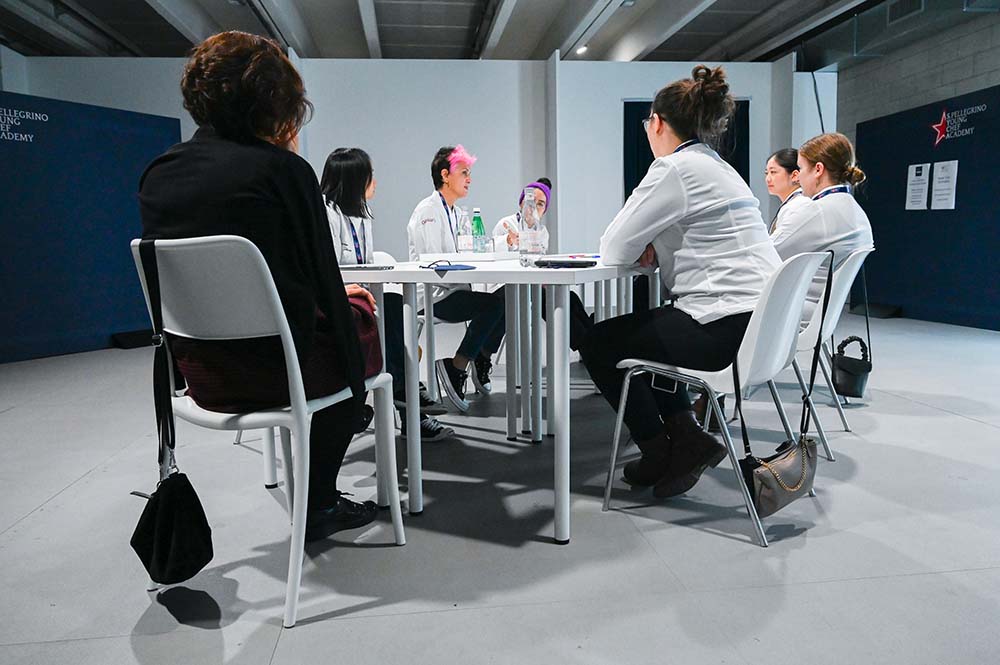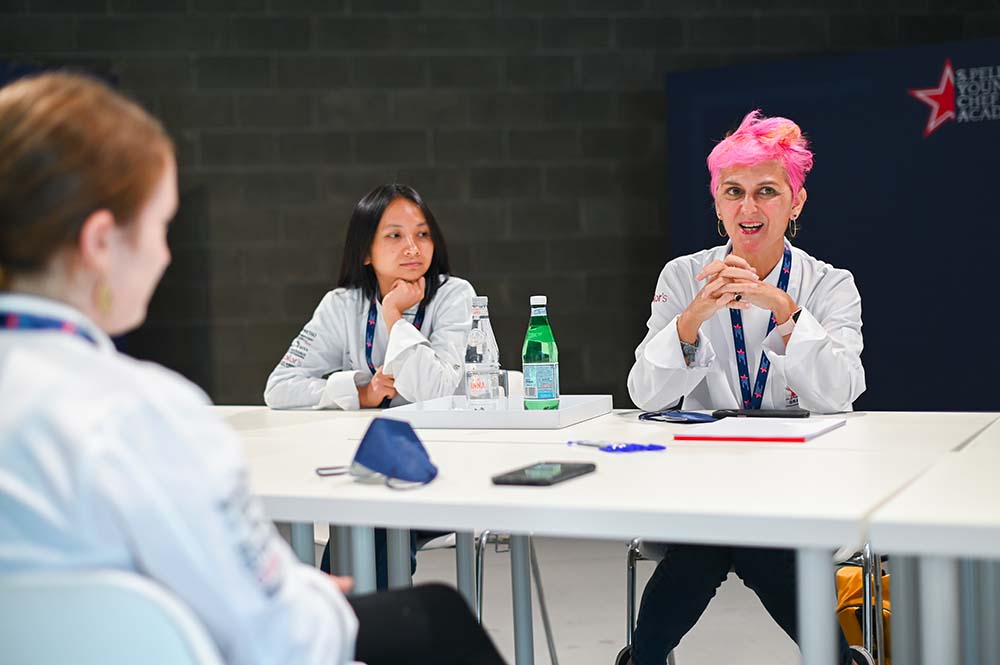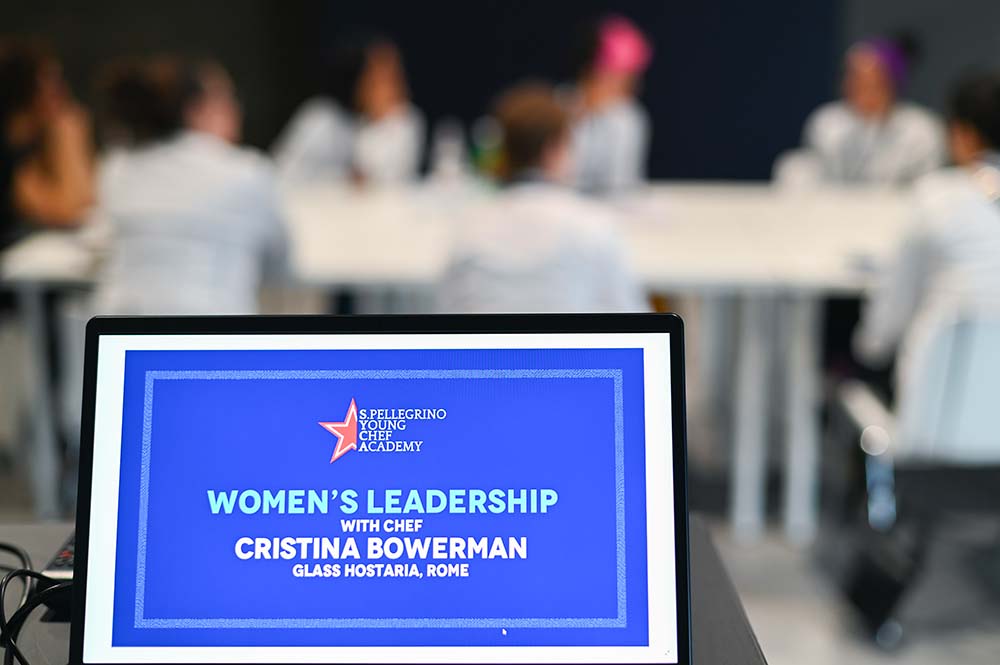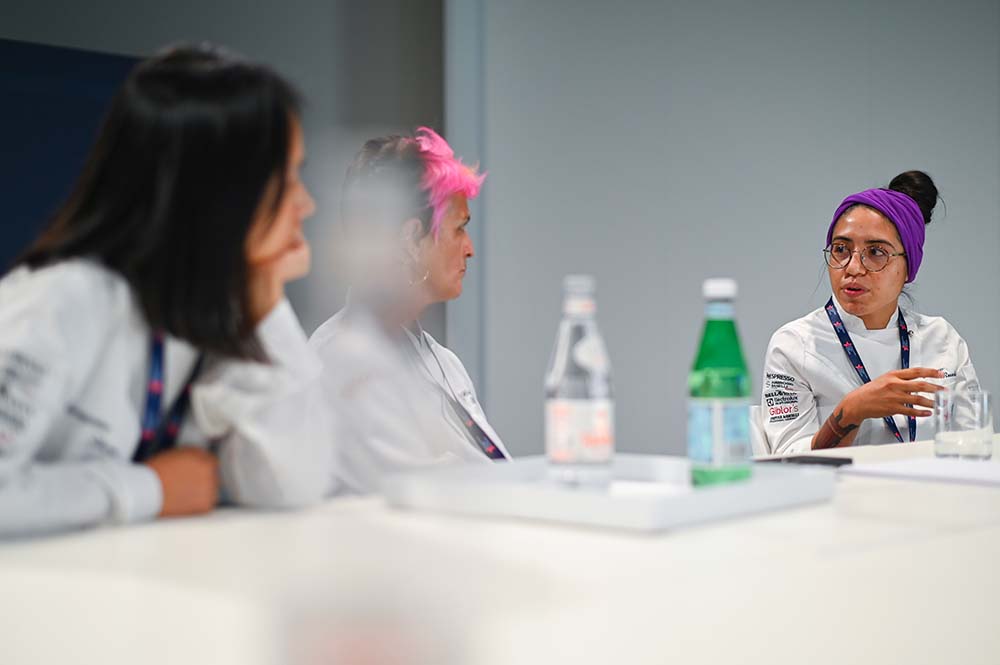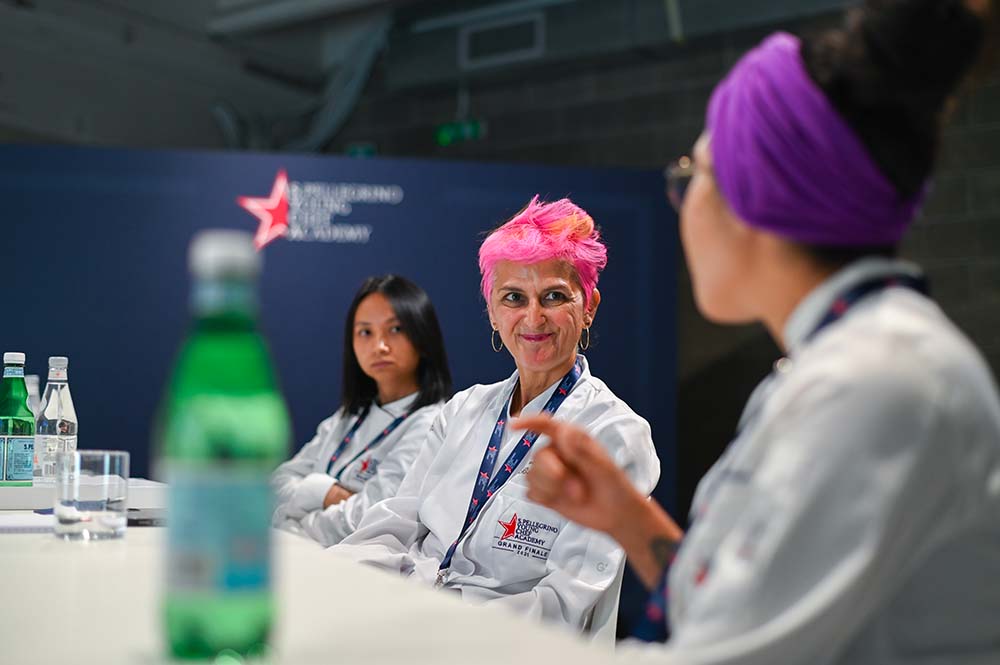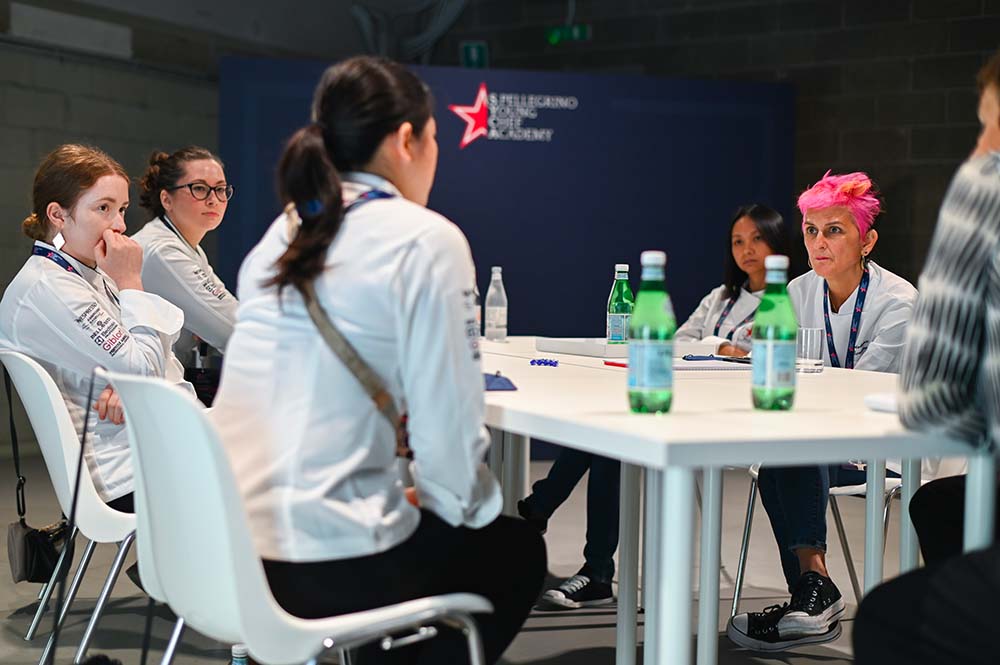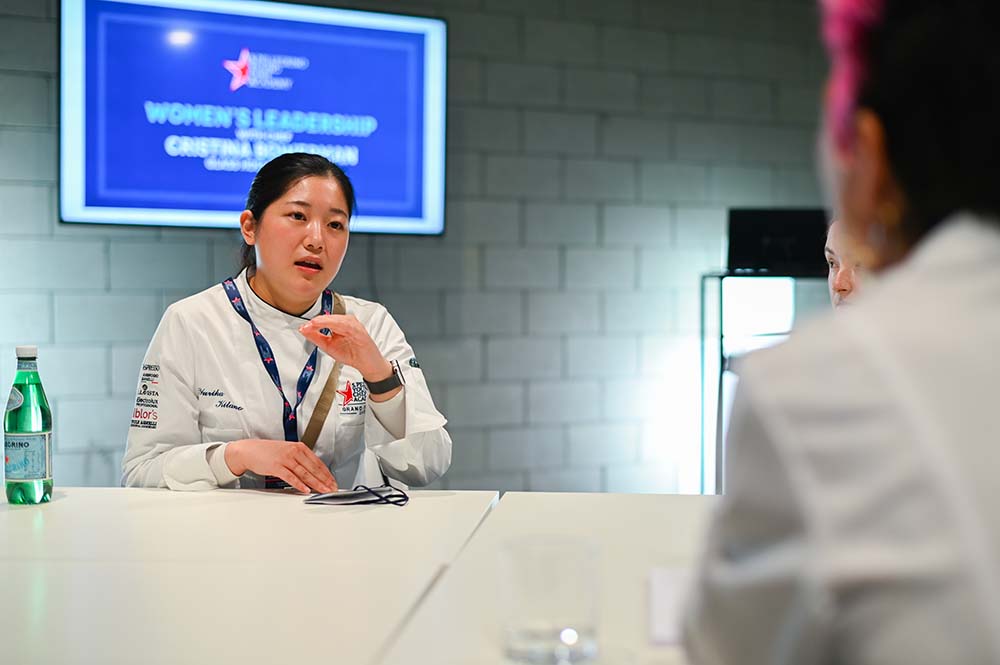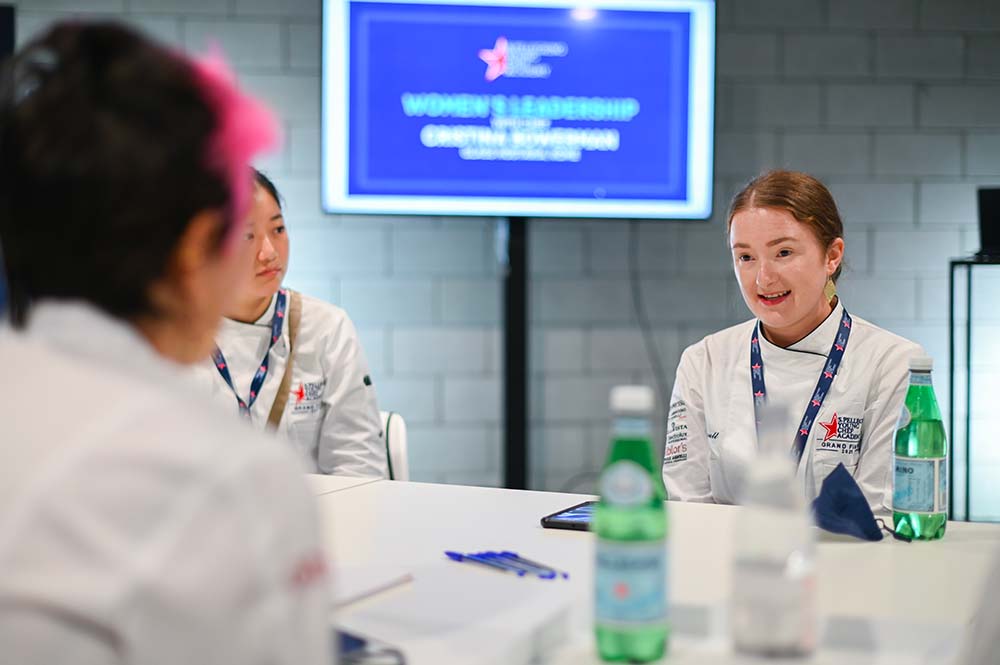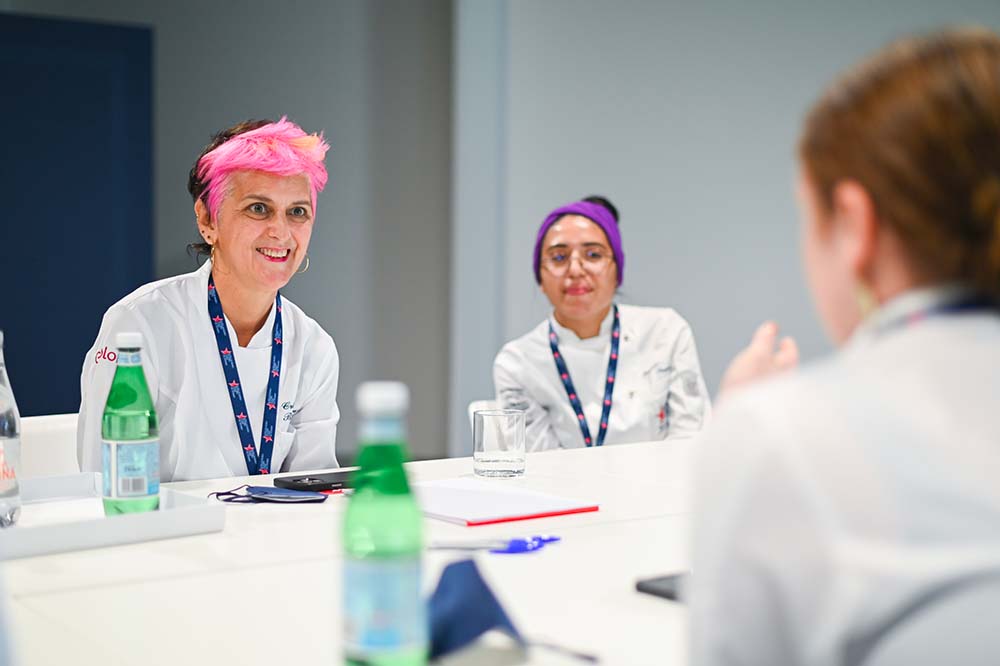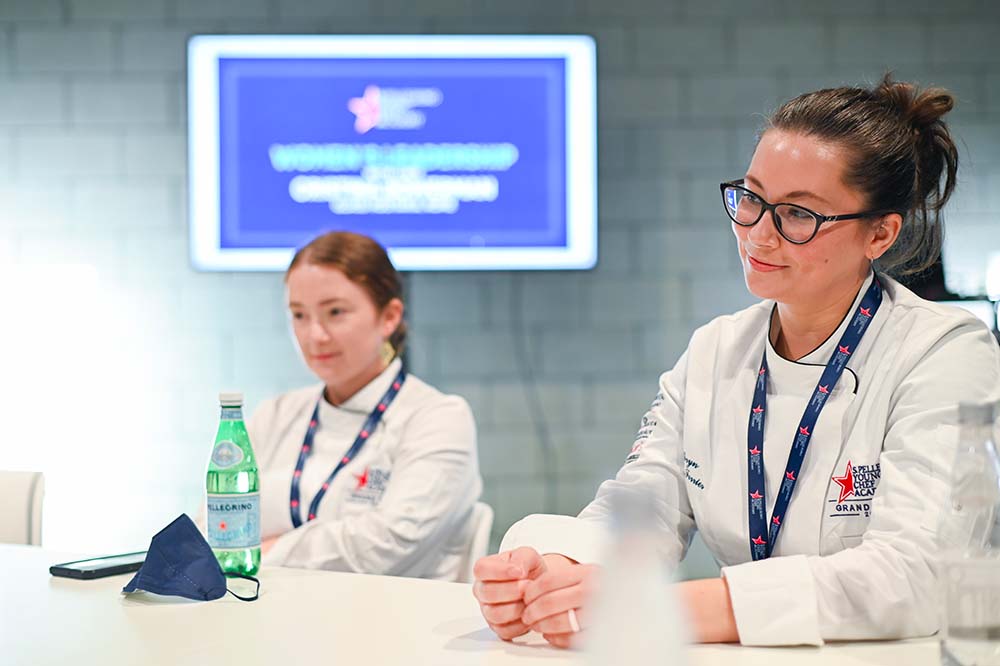 Earlier in the day a very special discussion saw chef and Academy member Cristina Bowerman get together with all the young female chef finalists attending the event (from all prizes). Having introduced her international story as a successful chef, entrepreneur, consultant and coach – Bowerman focused on the disparity between men and women in professional kitchens as part of her own experience as well as that of most other female chefs. 
"Too often there is still the lasting mentality: women cannot command, in fact it's hard to find women in charge of big food consulting businesses or restaurant chains," she said.
Then she asked the young female chefs to share their personal experiences and professional ambitions. The aim was to highlight the differences and similarities of the professional life paths of five young female chefs from very different parts of the world.
This meeting was the first activity of a long-term empowerment programme the Academy plans to implement starting in the coming months. "You can change things around you. Always think big," she implored.
Find out what happened on day one of the Grand Finale and how to watch the winner announcement live, below.
Grand Finale 2021: Day 1 
Discover what happened on the first day of the Competition in Milan.
The Grand Finale of S.Pellegrino Young Chef Academy Competition 2019-21 kicked off in style in Milan, with a series of workshops designed to equip the world's most promising young chefs with the skills they need to become culinary leaders.
With preparations for the Competition welcome dinner underway in a buzzy arena, finalists for the S.Pellegrino Award for Social Responsibility, the Acqua Panna Award for Connection in Gastronomy, and the Fine Dining Lovers Food for Thought Award were treated to expert sessions related to the prizes they were competing for.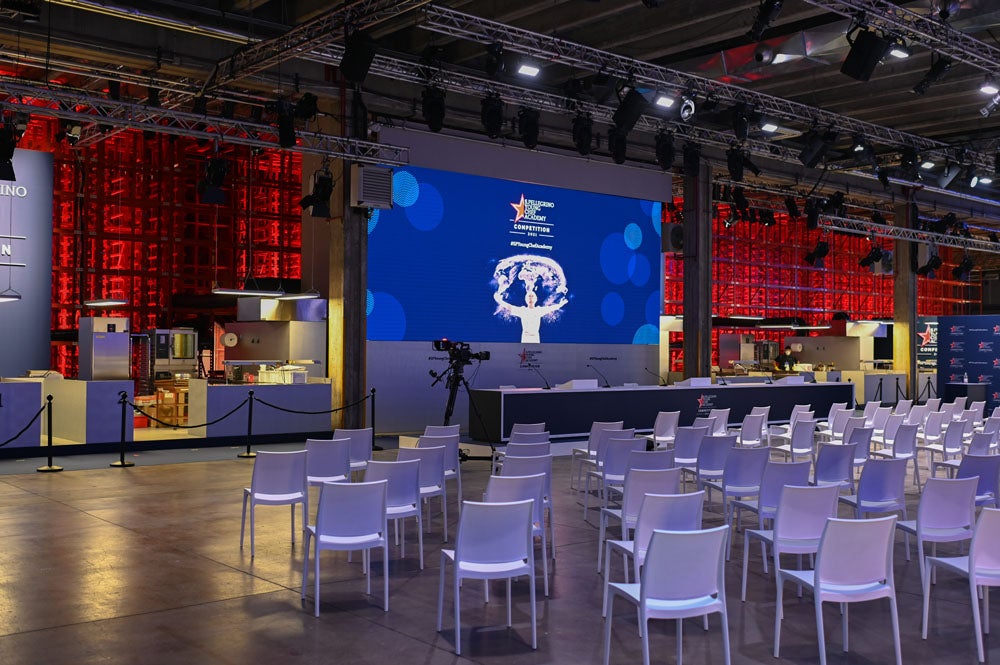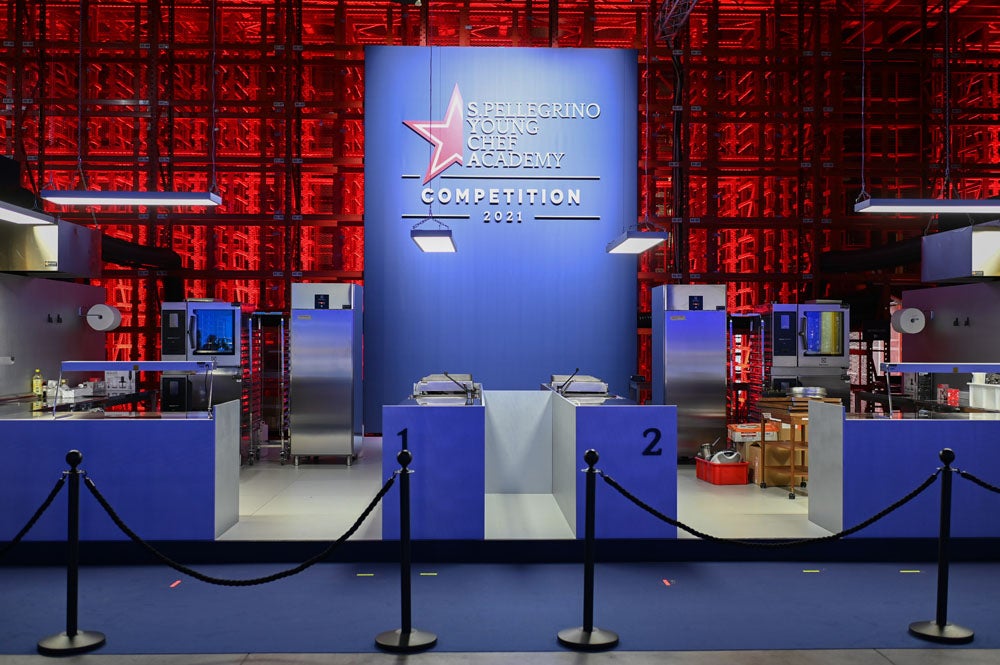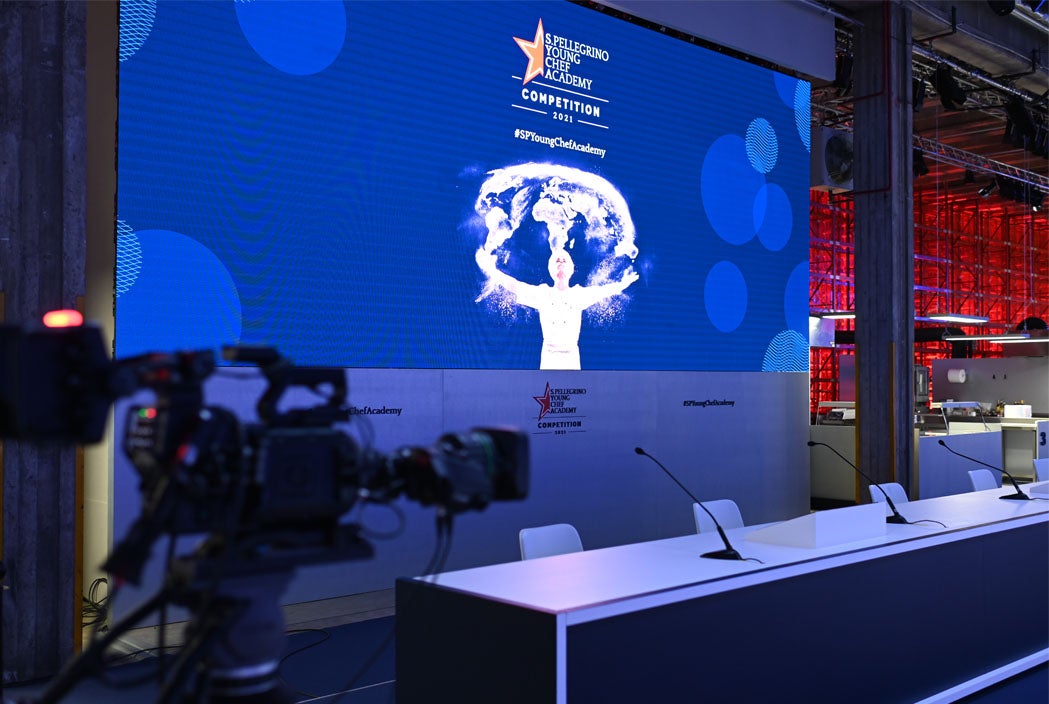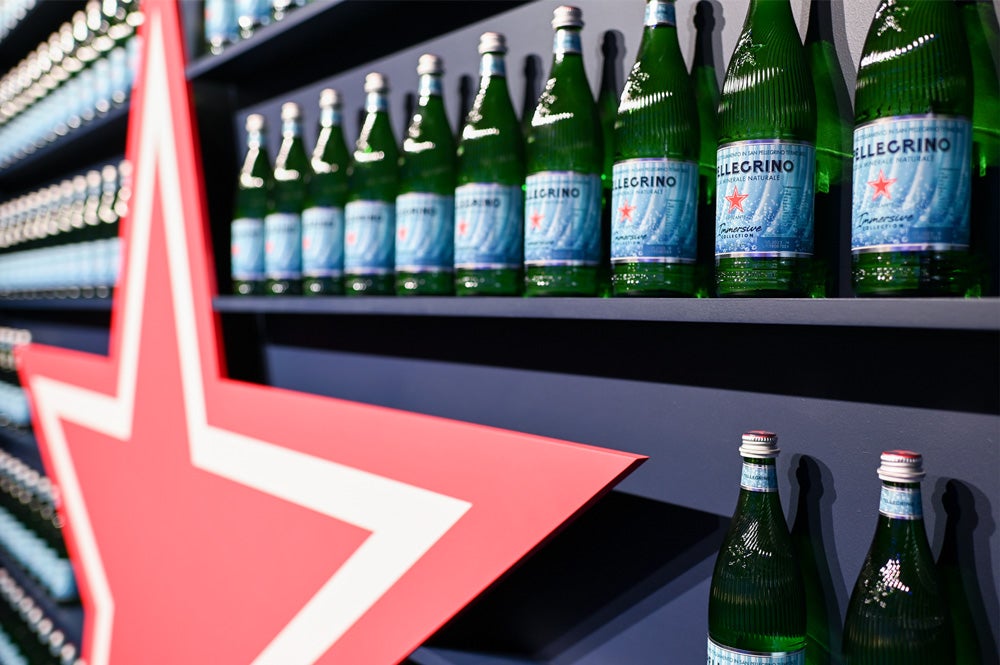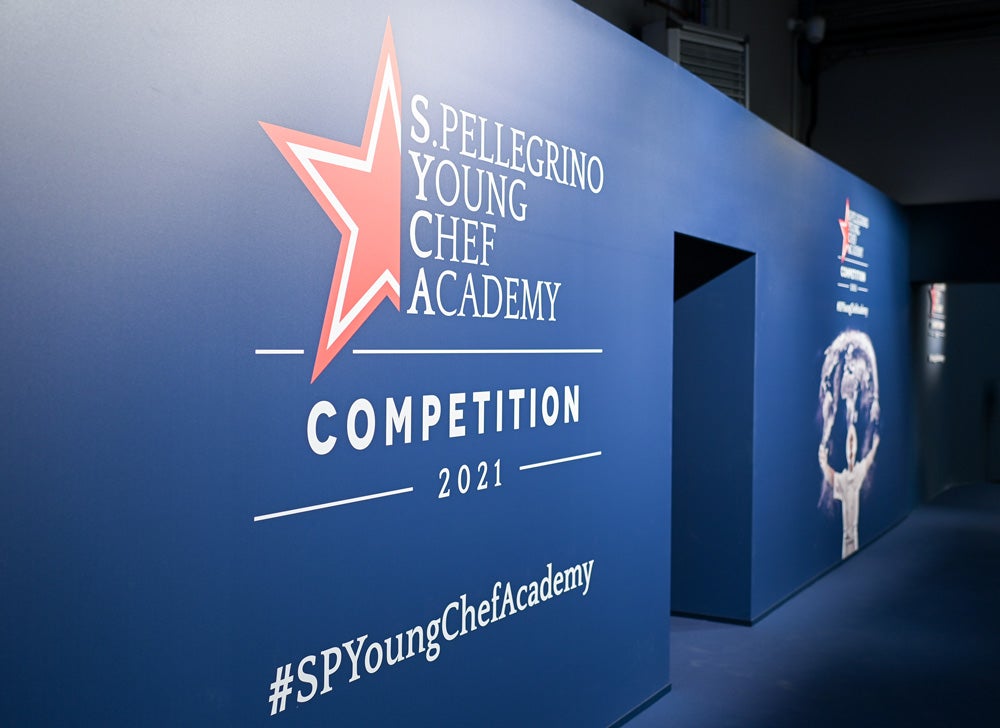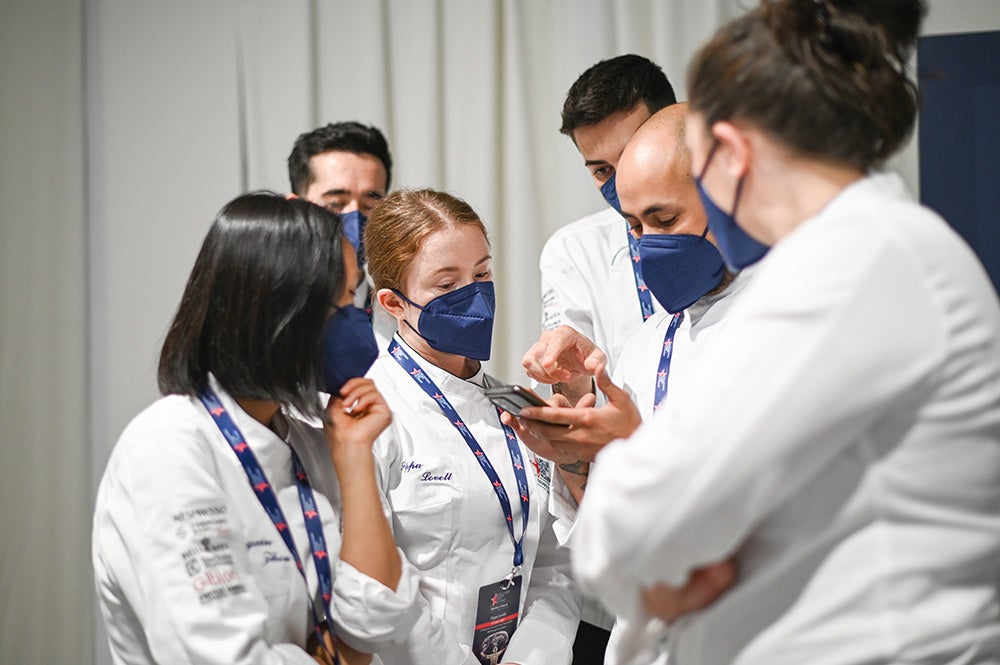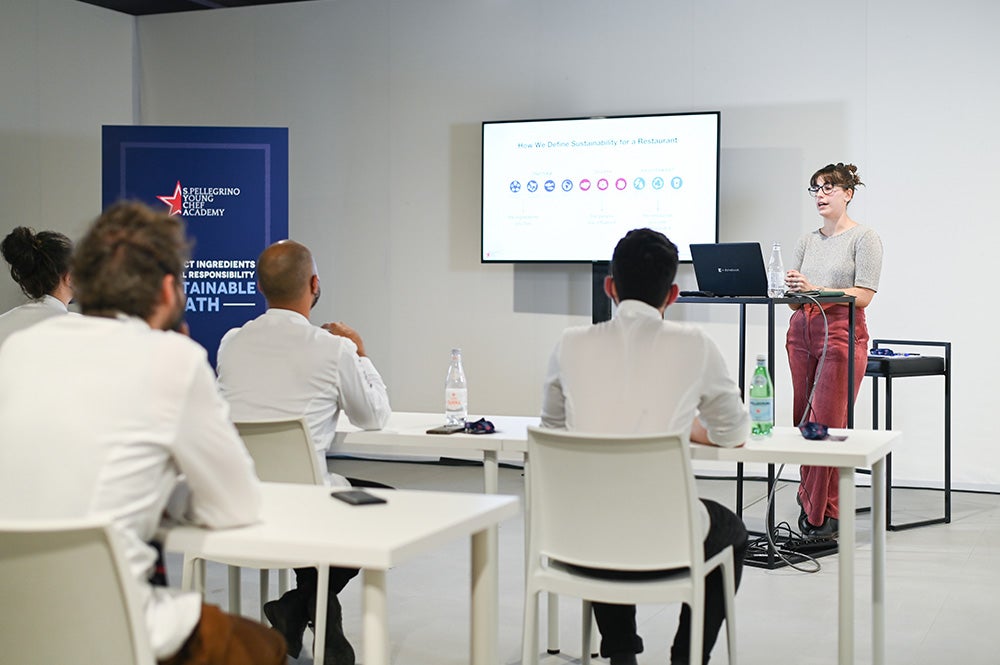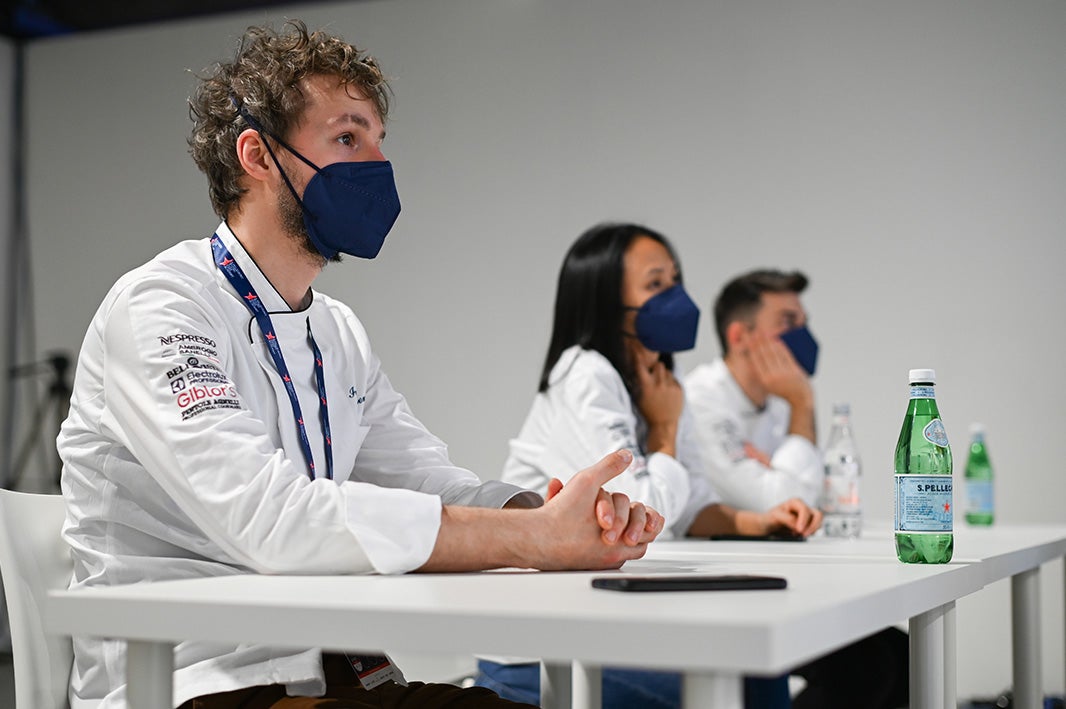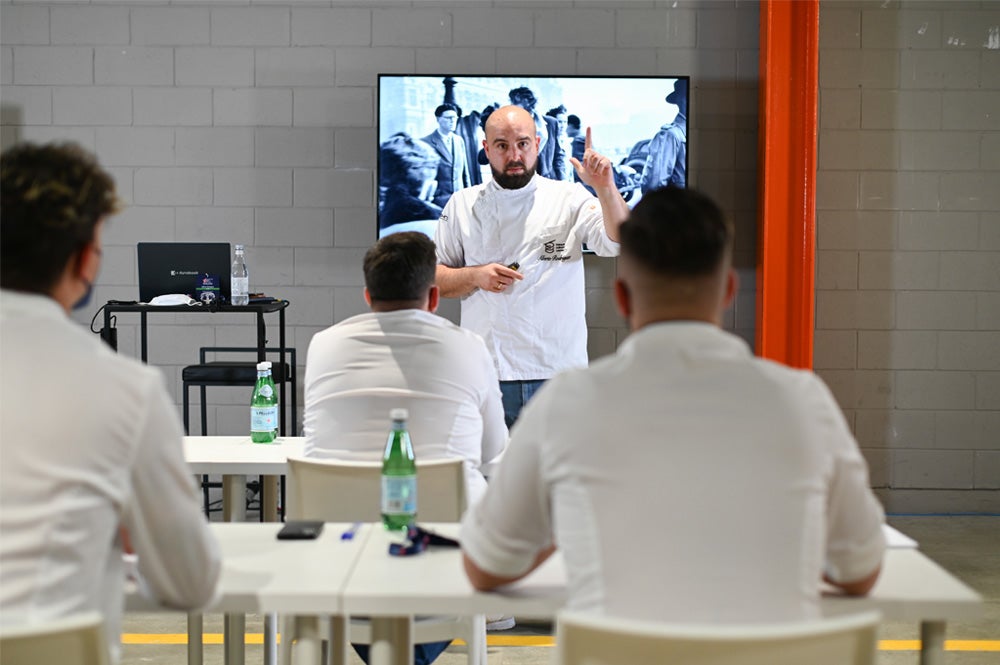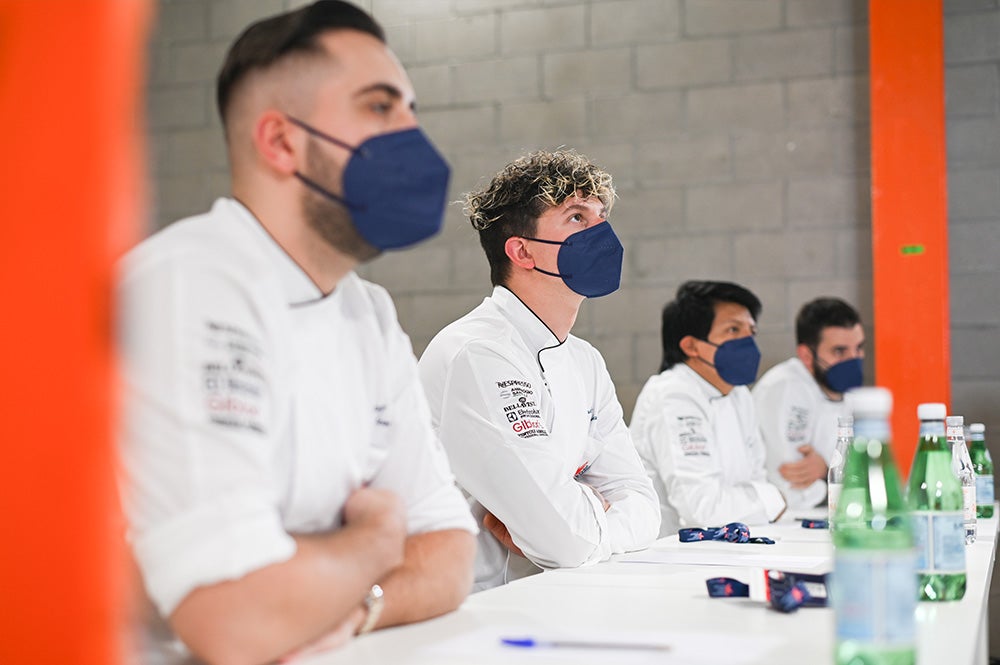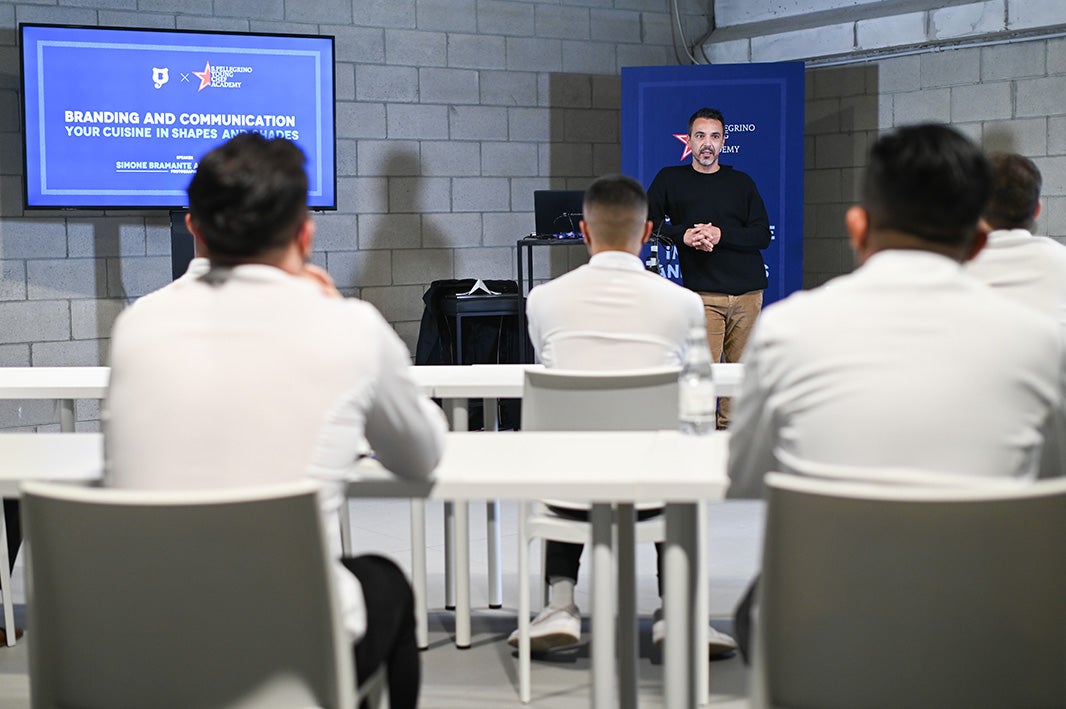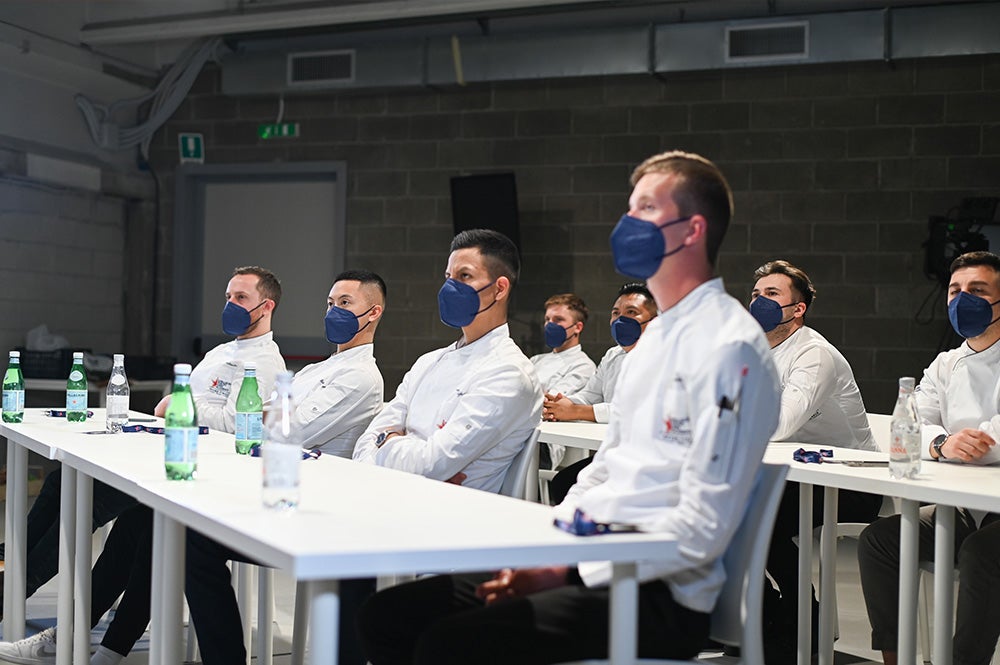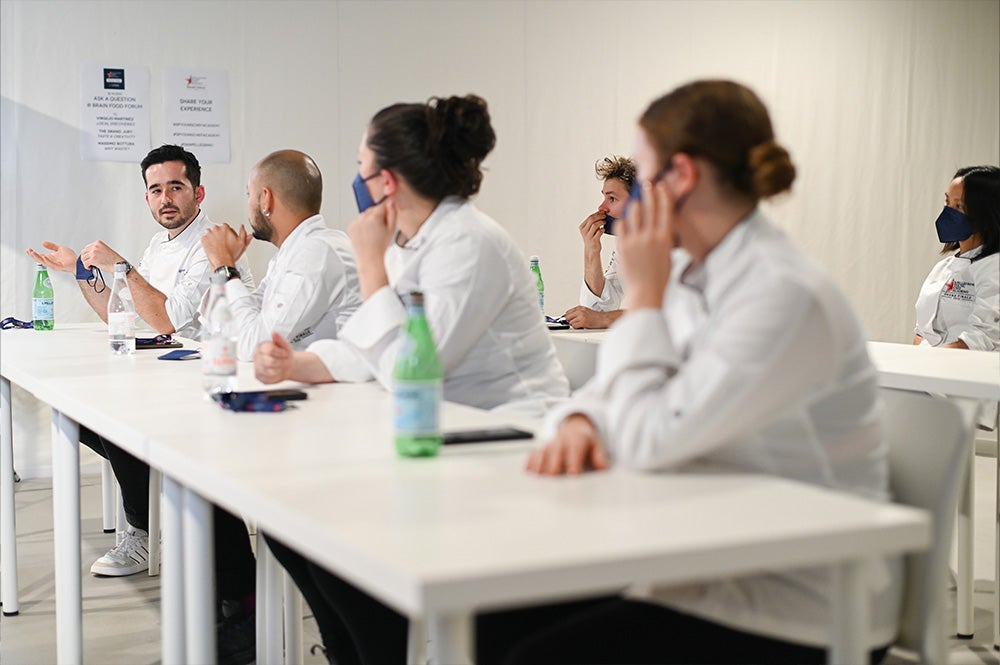 S.Pellegrino Award for Social Responsibility
Finalists for the S.Pellegrino Award for Social Responsibility were joined by Lucia Perasso from the Sustainable Restaurant Association's Food Made Good program, who led a theoretical and practical session on identifying sustainable ingredients, asking the chefs competing to investigate a way to make their competing dishes even more environmentally sound. "How can we source ingredients in a way that is mindful?" said Perasso of the overarching message. In what was a lively session, the young chefs swapped ideas and opinions and debated the merits of various sustainability practices.
Acqua Panna Award for Connection in Gastronomy
Meanwhile, finalists for the Acqua Panna Award for Connection in Gastronomy were treated to a fascinating workshop from chef Alberto Rodriguez of the Basque Culinary Center in a session aimed to encourage young chefs to think about the creative process – in all its components – and cultural influences, outside of the box, while understanding the importance of teamwork. "If you go as a team, you'll succeed. If you go alone, you'll crash," said Rodriguez.
From the start, the session was a constant back and forth between speaker and audience and in the practical session Rodriguez introduced a simple game to encourage collaboration between the young chefs. He left them with this message: "Don't be afraid to ask, to share your ideas, to make connections. This Finale is an opportunity for you all."
Fine Dining Lovers Food for Thought Award
The remaining group, finalists for the Fine Dining Lovers Food for Thought Award, met with Italian photographer and content creator Simone Bramante, aka Brahmino, who led a session designed to help the young chefs build their own personal brands online. Focusing on authentic storytelling, Brahmino went the extra mile ahead of time, preparing individual mood boards for each chef that were designed to get them thinking about the messages their cuisines project. "Don't be focused on the algorithm, just be conscious of who you are and decide how you want to express yourself", he said.
The Grand Finale of S.Pellegrino Young Chef Academy Competition 2019-21 continues
The winners of the three additional awards will be announced at the culmination of the Grand Finale on 30 October, shortly before the winner of the S.Pellegrino Young Chef Academy Competition 2019-21 is revealed.
In the lead up there will be a packed schedule of events, with the overall finalists competing in a live cook-off in which they will present their dishes to the Grand Jury of esteemed international chefs. Both the cook-off and awards ceremony can be watched live on the Academy's website and Facebook page, and also via S.Pellegrino TV.
Prior to the final awards ceremony, there will also be the inaugural S.Pellegrino Young Chef Academy Brain Food Forum curated by Fine Dining Lovers, during which chefs Massimo Bottura, Virgilio Martinez and the competition's Grand Jury will speak on food waste, local discoveries, and taste and creativity, respectively. The forum can be watched live by registered users on Fine Dining Lovers' FDL+ and is also available to members in the Academy's private Facebook group and in the reserved area of the website.