Paolo Griffa: "Sustainability in the kitchen is my everyday challenge"
An interview with Paolo Griffa, winner of S.Pellegrino Young Chef Italia 2015, who talks to us after getting his first Michelin Star.
Chef Paolo Griffa's and S.Pellegrino Young Chef's paths crossed in 2015 which was a crucial moment for both of them.
 
The competition was at its international debut and Griffa was ready to launch. Talent, perseverance and preparation earned him the title S.Pellegrino Young Chef Italy 2015. Three years later Paolo Griffa, now 28, is no longer just one of the young talents to watch, but a professional having been down the road and aware of the one still to go down.
We met him at the umpteenth prestigious award this year: the first Michelin star for the Petit Royal of Courmayeur (AO) where he has been a chef since 2017.
Congratulations on your first Michelin star: what marked this achievement for you?
Especially for us it is the satisfaction of all the work we have done. At Petit Royal we are working with the whole team with this aim in mind. We have taken care of every aspect, from the kitchen to the dining room, to give the restaurant a unique personality. We wanted people to come to us to have an experience not just related to the food and this award shows us that we are working in the right direction. This year there was not only the Michelin star, but also the prizes and awards from the Espresso Guide, Gambero Rosso, Identità Golose, and the Touring guide.
 
How do you see your future?
There is still a lot of work ahead to be even more precise and aware, with the whole team. From now on whoever comes to us will be prepared, will have high expectations and as a result, we can only aim to improve.
It is a great responsibility.
Sure, but it doesn't scare us, on the contrary. We are rewarded by reservations and requests that even arrive during the week, for events and for groups. It can only make us happy having arrived at this point.
Over the years you have built up a lot of important experience. Thinking back to all your apprenticeships, which do you think was the most decisive one for you?
There wasn't one in particular. I made some special choices sometimes. In France I worked initially in the bistros to understand how a daily kitchen worked. I went to Denmark at Studio to know better Nordic cuisine and fermented foods.
In Asia I discovered a totally different gastronomic culture with ingredients and raw materials, as well as techniques, different and almost opposite to ours.
Travelling allowed me to learn different methods and widen my horizons. Also in Italy I worked in some kitchens very different from each other. Combal.zero was aesthetic and conceptual research while at Piccolo Lago the kitchen is very concrete, able to go from serving 10 people to a thousand with no problem.
Every experience has given me something, like the time in France at Serge Vieira where I experience great rigor, technique and method. All this, along with all the books I read, led me to be what I am today.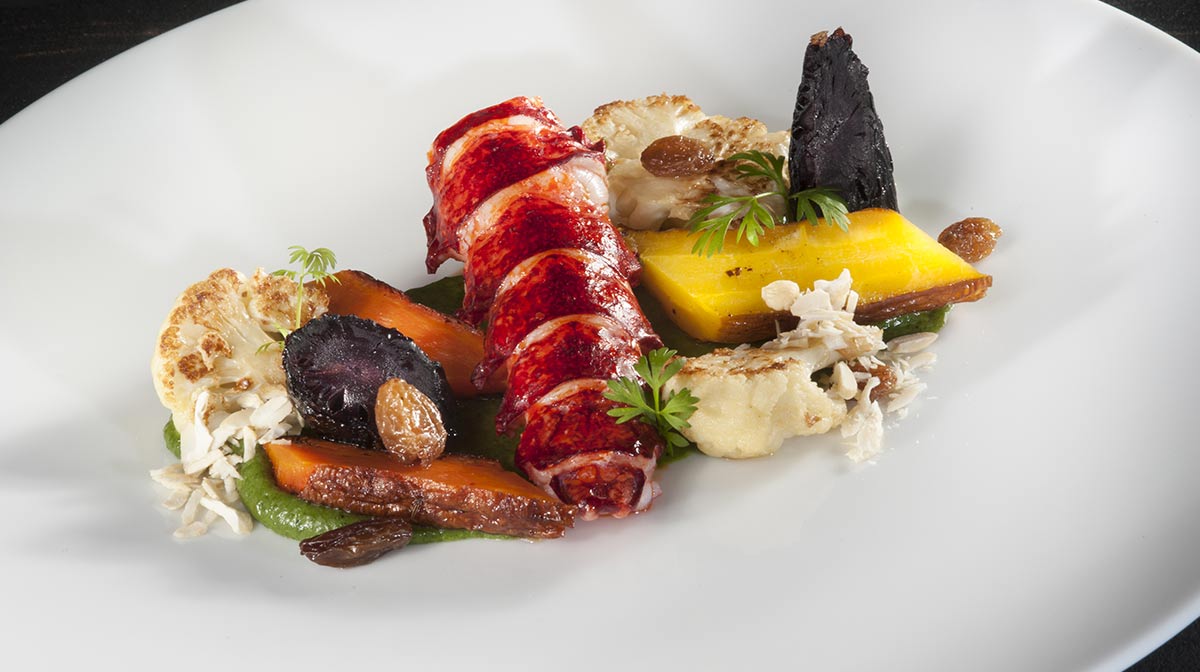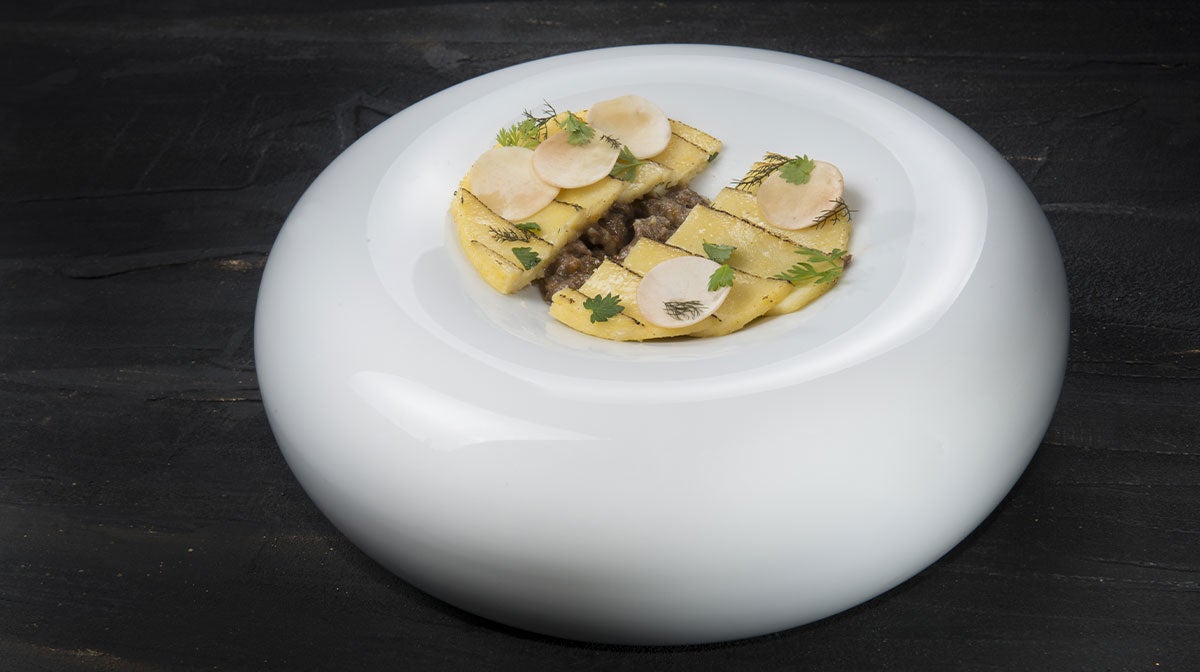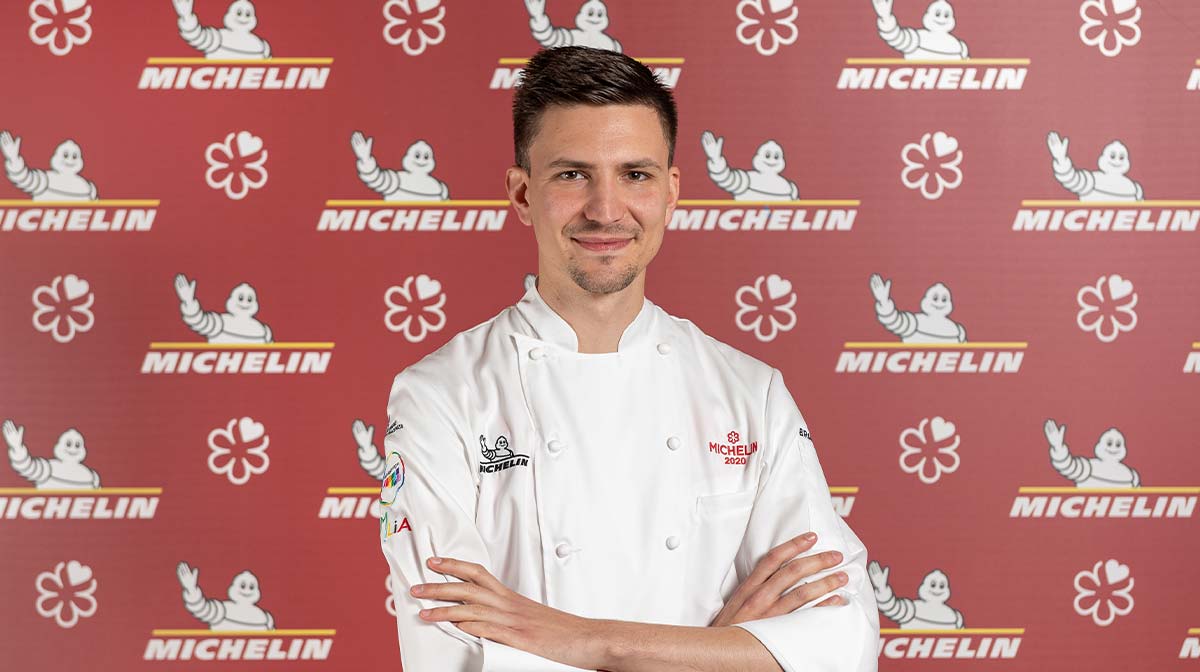 Could you describe your current kitchen concept in only 3 adjectives?
I would definitely say: curious, funny and precise. Mine is not a static cuisine based on the search for ingredients and presentation. Each dish is a shared experience between kitchen and dining room to interact with the customer. Behind all this there is the utmost attention paid to detail. Having been born a pastry chef, I pay attention to the smallest details, for me a millimetre to the right or left makes the difference.
In 2015 you won S.Pellegrino Young Chef for Italy. What memories do you have of that experience and what did it leave you with?
They were lovely days. At the time, I already felt accomplished before it due to my experience so finding myself challenged by people from all over the world put me in a position to widen my horizons as well as fuel my curiosity and desire to keep improving. In addition it was the first edition of S.Pellegrino Young Chef so I didn't know what to expect and it was really nerve-racking.
It is an experience that I recommend everyone.
Are you still in contact with any other S.Pellegrino Young Chef participants?
The commitment required and the emotions we experienced led to the creation of very strong bonds that I still cultivate today. S.Pellegrino Young Chef has given us visibility and allowed us to form relationships that wouldn't be possible otherwise.
What do you remember, what did you take away from working with your S.Pellegrino Young Chef mentor, Cristina Bowerman?
Cristina is a super-cultured person, an incredible business woman, able to manage a thousand things at the same time. This is due to her great passion and dedication to work that motivates her. She projects these aspects to everyone around her and everyone she works with. I was lucky to be able to get to know her on that occasion and still have a good relationship with her today.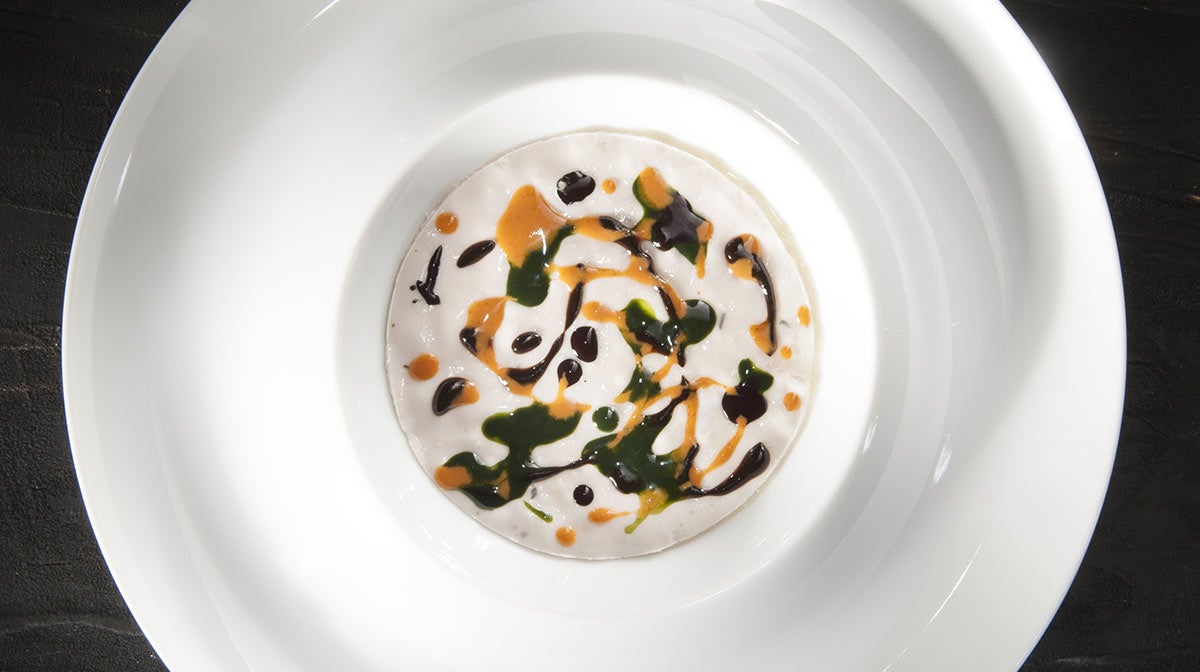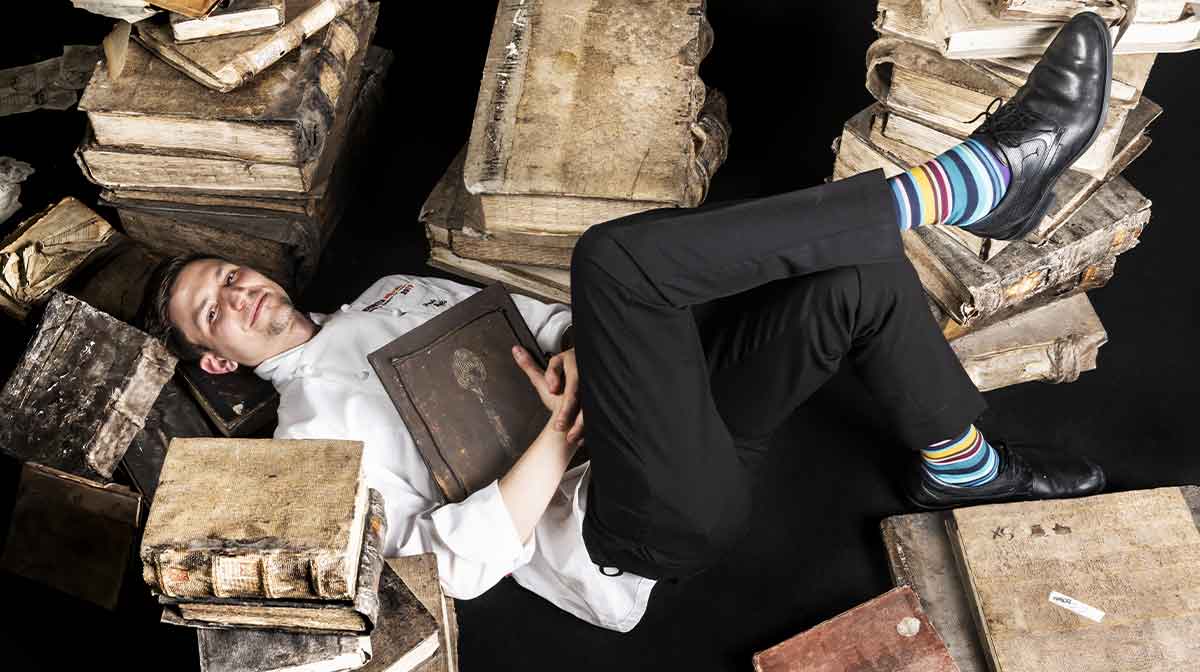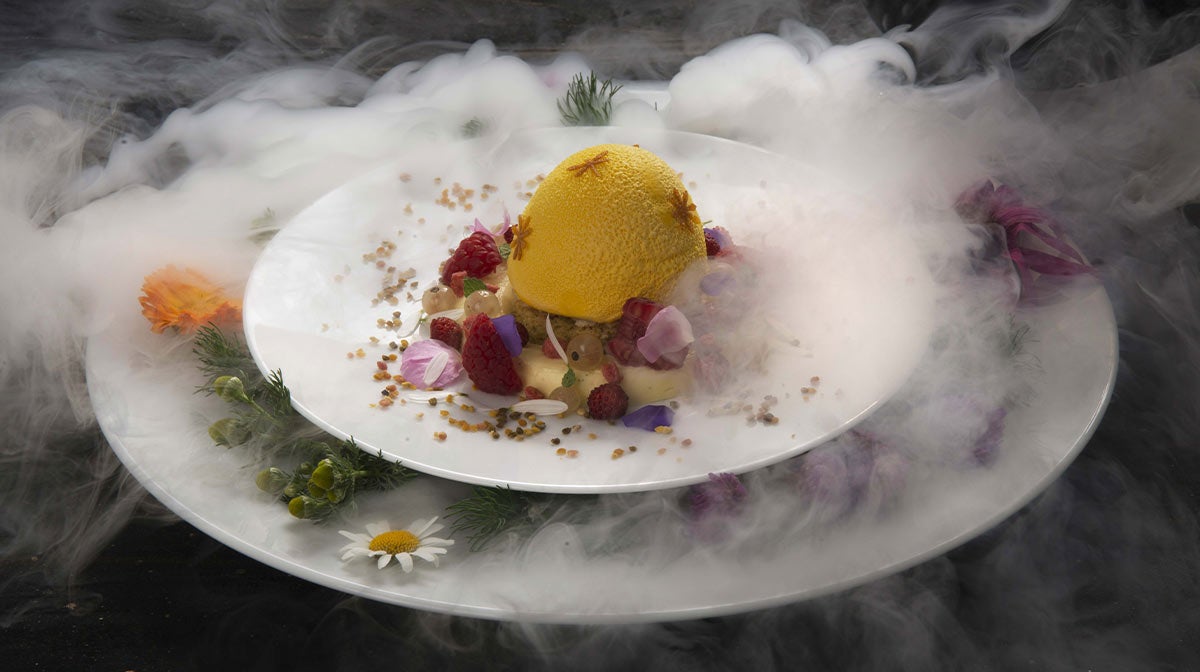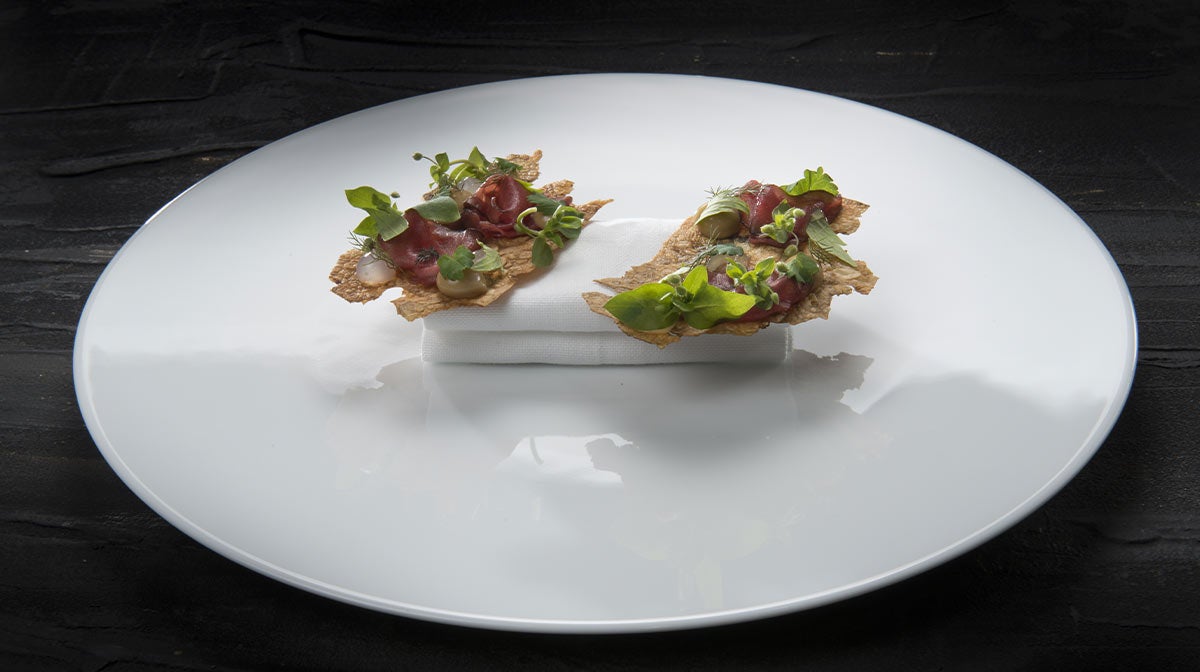 In 2015 you won with a tripe-based dish, calling it a tribute to Italian cuisine and a little-known ingredient.
What signature dish would you bring today, after 4 years, and why?
It would be hard to choose a Signature Dish. At Petit Royal we took an alternative route: offering a different menu of 45 dishes for each season. Considering we are in the fifth season, so far we have created 225 dishes... Choosing one would be complicated.
In the 2019-2020 edition of S.Pellegrino Young Chef, for the first time the S.Pellegrino Award for Social Responsibility was awarded to the signature dish that was able to show that principles of sustainability enhance food. How do you interpret sustainability in your kitchen?
Our menu is entirely an expression of sustainability, it couldn't be any other way. It would be easy to get the best ingredients from all over the world into my restaurant, but this would be a waste in terms of freshness, costs and environmental impact. Not to mention that this way I would have a type of kitchen that can be replicated everywhere. My interpretation of sustainability starts from my land, Valle D'Aosta.
When I arrived here I thought I was very disadvantaged in terms of ingredients. It was my short-coming. After researching and learning more about this region, thanks also to meetings with local artisans and producers, I realised my choice range widened and there were a wealth of products and flavours.

We have made agreements at regional level for the collection of wild herbs, we collaborate with Sistema Ollignan Onlus which cultivates medicinal herbs thanks to the work of young disabled and we have a company that cultivates our garden for us where we can stock up from. We are gradually getting to know more about local products, learning to work with them and introduce them to our customers.
Those who come to Courmayeur and try our cuisine 'geolocalise' directly in Val D'Aosta. It is a cuisine that could not exist outside this region, as certain products and ingredients wouldn't be available.
So do you want to give us a preview of the menu for the winter season?
It's hard to answer this question.
When customers come into our restaurant they do not know how much or what they will eat, whether it will be hot or cold, or what dessert to enjoy.  We decide based on the availability of products and ingredients day by day. Our menu is called Declinations. We don't give our customers a menu of dishes, but some themes to choose from.
We have I , where all courses are focused on local products. Then there is Neither Meat nor Fish, with a series of excellent vegetable-based dishes. Fire and flames are dishes that range from ember roasted to ashes, and smoked to charred. Finally, Lost in trip is dedicated to travel and the flavours that come from around the world. It is a journey that starts from Valle D'Aosta, goes round the world, then brings you back home. We use local ingredients combined with techniques from other countries.
This choice makes things more complicated, but it spurs us to stay... curious, fun and precise.