Local Juries for S.Pellegrino Young Chef Academy Competition 2022-23
Discover the revered chefs of the local juries for the next edition.
Here you will find more details about the local juries for the regional finals of S.Pellegrino Young Chef Academy Competition 2022-23. This article will be updated as the local juries are revealed.
At each regional final, a group of internationally renowned chefs will judge the signature dishes of the hopeful young chefs. This is the local jury. The winners of the regional finals will go on to compete at the Grand Finale in Milan in 2023. 
Interested in applying or know someone that is? Applications are still open for S.Pellegrino Young Chef Academy Competition 2022-23, until 30 June 2022.
The world's greatest culinary talent search is a chance for young chefs to share their unique vision with the world through a signature dish, and to help shape the future of gastronomy. More details on the competition and how to apply can be found here.
Click on the area below to find out more about each Regional Jury:
CANADA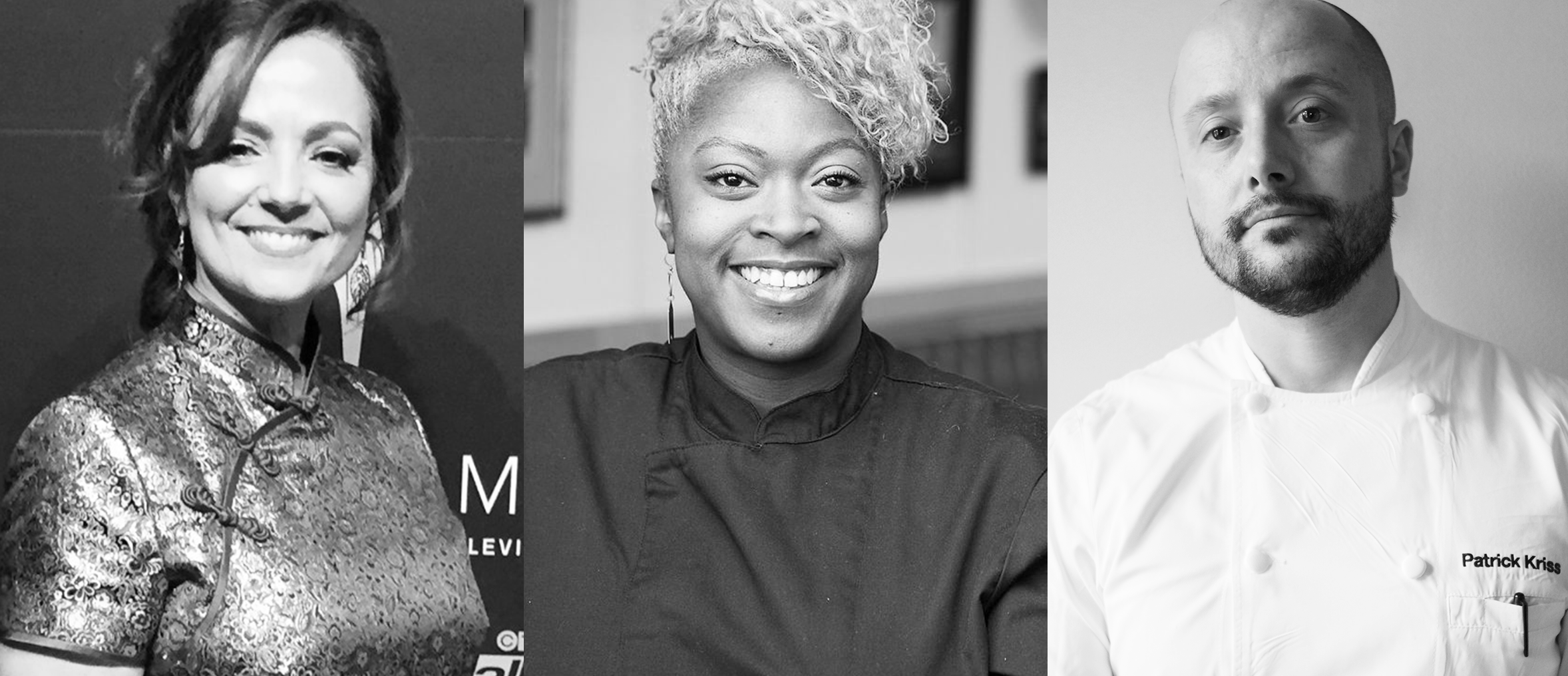 Christine Cushing
Born in Athens, Greece, Christine Cushing emigrated to Canada with her family aged one. While growing up in Toronto, her easy-bake oven soon became her most prized possession and on completing the Food and Beverage Management Program at George Brown College, she went on to graduate from the Paris-based École de Cuisine La Varenne. She has worked in kitchens such as Toronto's The Four Seasons Hotel, and Scaramouche Restaurant, is a regular on Canadian TV and was the spokesperson for Cook for the Cure breast cancer campaign. She has also published three best-selling cookbooks.
Suzanne Barr
Suzanne Barr is one of North America's most respected chefs with a signature flair for Afro-Caribbean comfort food. Her past culinary repertoire includes: Head Chef/Owner at True True Diner in Toronto, owner of Saturday Dinette; inaugural chef-in-residence at the Gladstone Hotel; a residency at Sand and Pearl Oyster Bar in Prince Edward County; starring role as one of the chefs in the documentary, The Heat: A Kitchen (R)evolution; and as a resident judge on Food Network Canada's series, Wall of Chefs. Suzanne regularly advocates for food security, people of colour, mental wellness, equal pay for equal work, LGBTQ communities, nutrition literacy and food source sustainability.
Patrick Kriss
From Toronto to New York to France, chef Patrick Kriss has worked in some of the most prestigious kitchens around the world, including Michelin-starred, Daniel in New York. Today, he is the founder of Alo Group, a celebrated group of restaurants and spaces, which includes Alo, a contemporary French restaurant in downtown Toronto; it's off-shoot bistro, Aloette; the American-style restaurant, Alobar Yorkville; and Salon, a contemporary event space for private dining.
CENTRAL EUROPE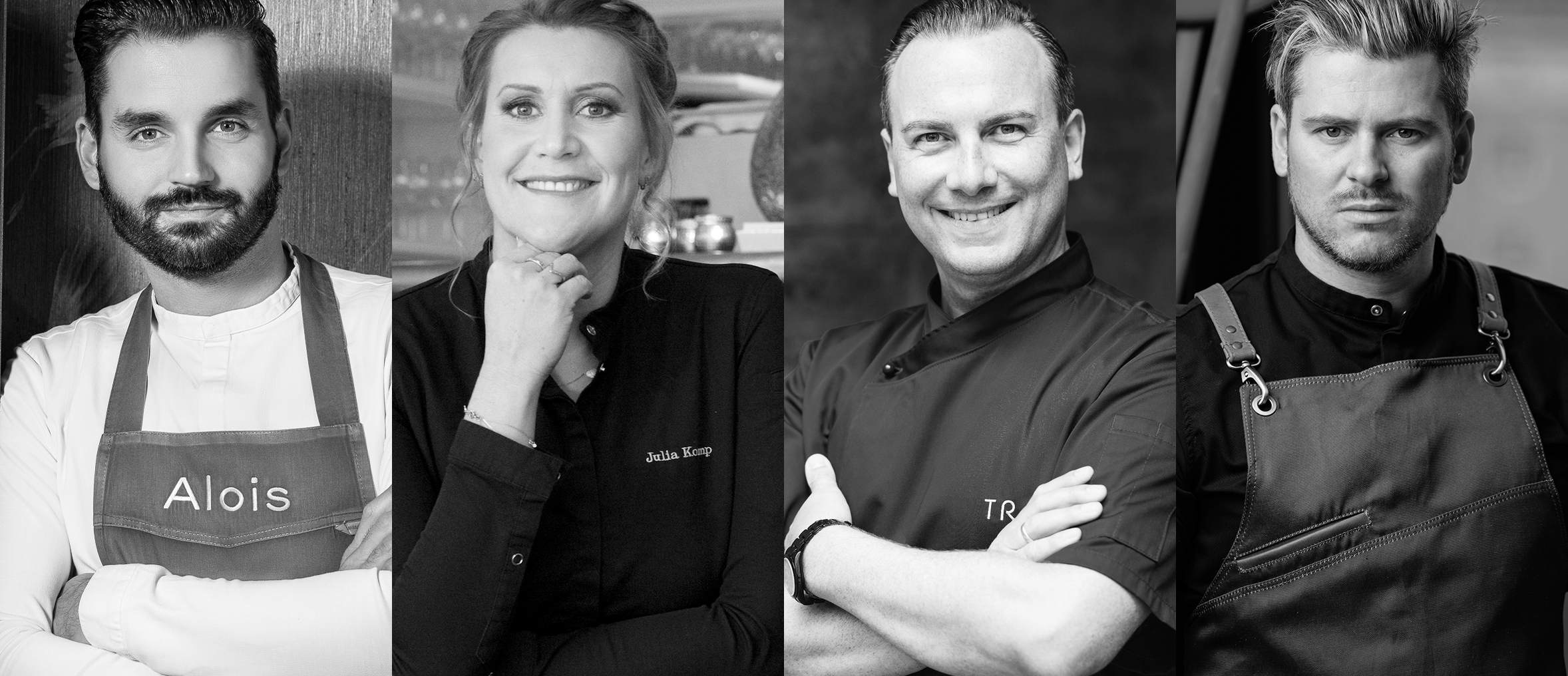 Christoph Kunz
As well as battling it out on Kitchen Impossible and making waves at restaurant Alois in Munich, Kunz has been collecting awards for years from the likes of Michelin and Gault & Millau. Now the culinary journey of this rising star chef leads him to the SPYCA Competition as a juror.
Julia Komp
Chef Julia Komp's love of cooking is shaped by her experiences as a globetrotter, collecting secret recipes from local chefs. In 2017, she won Schloss Loersfeld in Kerpen, Germany a Michelin star, the youngest female chef in the country to do so, aged 27. Today, she brings female power to the kitchens of her newly opened double restaurants Sahila and Yu*lia in Cologne.
Tim Raue
With Michelin stars, World's 50 Best accolades and many TV appearances under his belt, Tim Raue is one of Germany's best-known chefs. His cuisine is Asian-inspired, combining Japanese, Thai and Chinese influences at his flagship Restaurant Tim Raue in Berlin. His other projects include Brasserie Colette in Berlin, Munich and Constance, the Villa Kellermann in Berlin, and the Hanami by Tim Raue Restaurant on TUI cruise ships.
Daniel Gottschlich
This Cologne native's cuisine is characterised by unusual, creative dishes. At two-Michelin-starred Ox & Klee guests experience an experimental journey through the six tastes of sweet, sour, salty, bitter, fat, and umami, while at the new and more casual Puls, also in Cologne, guests can expect a sharing concept with changing à la carte dishes, but still with the inventiveness that characterises his cooking.
FRANCE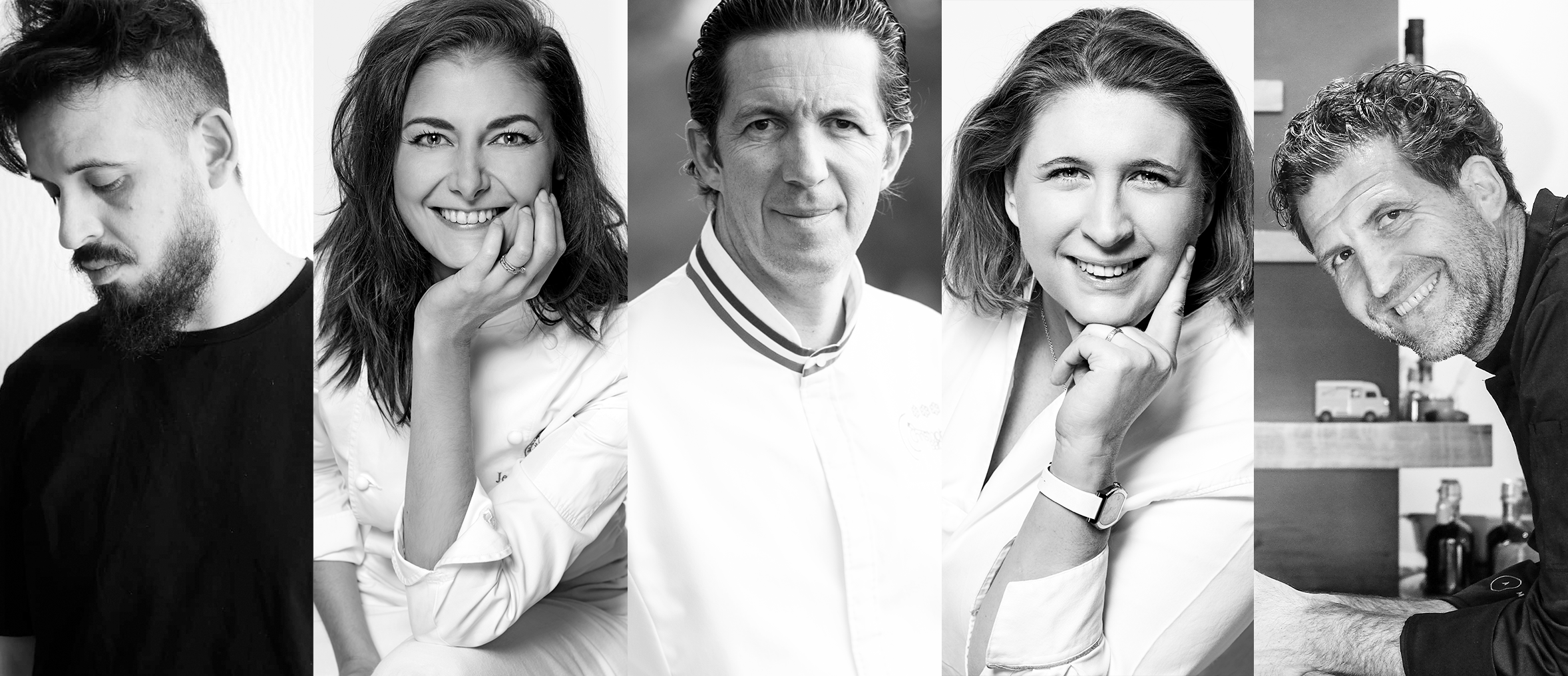 Adrien Cachot
An alumnus of Top Chef, where he worked with former Academy Competition Sage Paul Pairet, Adrien Cachot is a young chef with Catalan origins from Bordeaux with a talent for highlighting lesser loved ingredients such as offal, to create a unique culinary identity. He has also competed in the Academy Competition at the regional finals stage.
Jessica Prealpato
In 2019 Prealpato was the first woman to be awarded the title of The World's Best Pastry Chef by The World's 50 Best Restaurants. Leading pastry at Paris's three-star Plaza Athénée restaurant under Alain Ducasse, Prealpato focused on producing exquisite sweets, but with less sugar and fat, always remaining in the avant-garde.
Christophe Bacquié
Awarded the prestigious Meilleur Ouvrier de France in 2004, chef Christophe Bacquié has established his eponymous three-star restaurant as one of the premier gastronomic destinations in Provence. His signature, Mediterranean-influenced cuisine makes use of the finest local produce to create dishes that sing of the local terroir in this very special region of France.
Stéphanie Le Quellec
The chef behind two-star La Scène and MAM in Paris is one of France's brightest culinary talents. Sharing her passion for the French terroir, the native Brittany of her husband, and the exceptional work of artisans and breeders through her cuisine, Le Quellec mixes high gastronomy with simplicity to create exceptional food.
Alexandre Mazzia
France's latest member of the three-Michelin-star club, Mazzia combines the flavours of Provence and the Congo of his childhood at his restaurant AM in Marseille. Focusing on spicing and texture, Mazzia's is an exciting cuisine highlighting the very best of land and unsurprisingly given the restaurant's location on France's heady south coast, the sea.
ITALY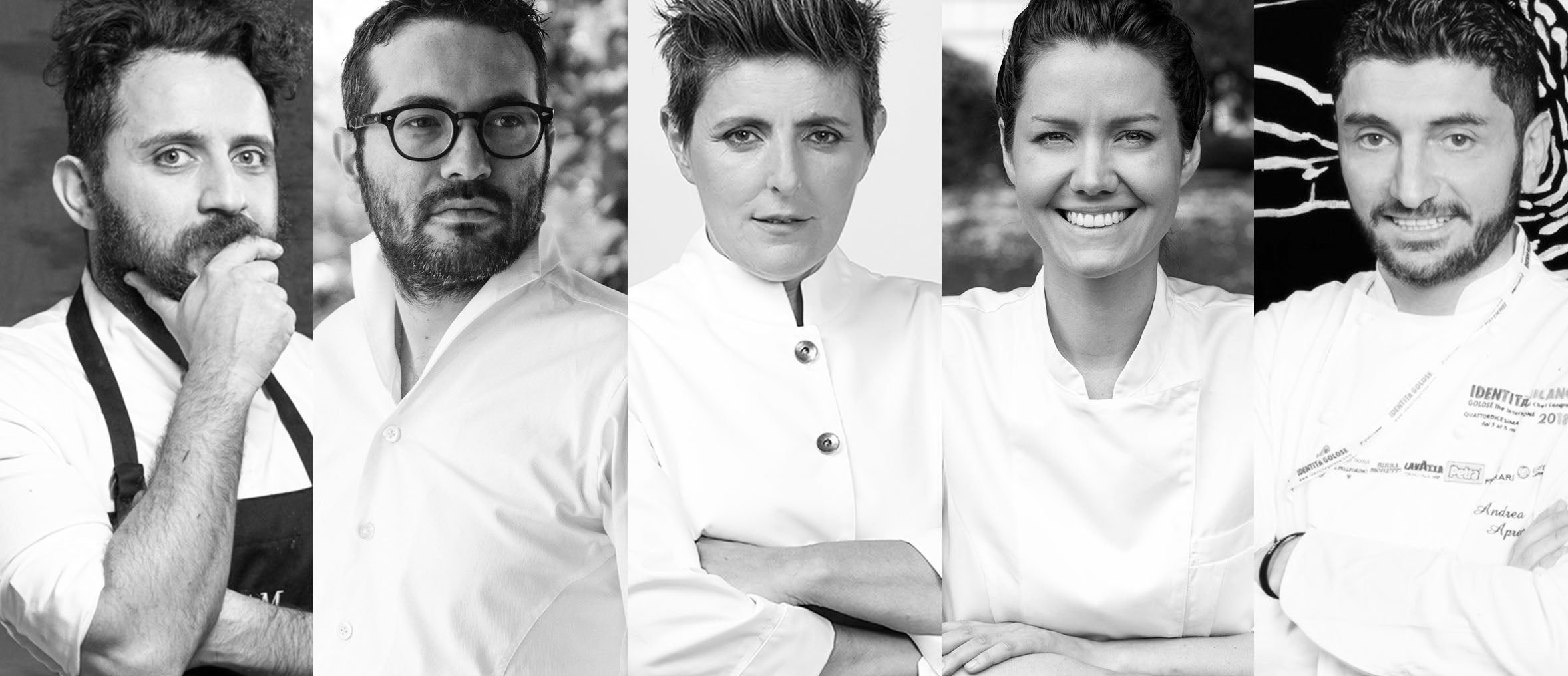 Donato Escani
Hailing from Lazio, Escani worked for the likes of chef Enrico Crippa at Alba's Piazza Duomo before his talent caught the eye of 2019-21 competition Sage Enrico Bartolini. He now heads up Bartolini's Glam restaurant at the Palazzo Venart in Venice, which was awarded its second Michelin star in 2019.
Giuseppe Ianotti
Ianotti is the chef-owner of Krésios restaurant on the outskirts of Telese Terme. The beautiful masseria or farmhouse that houses the restaurant is a refined and welcoming place where the self-taught chef creates a similarly refined and contemporary cuisine informed by meticulous research. Krésios was awarded its second Michelin star in the 2022 guide.
Viviana Varese
A chef driven by social action who believes gastronomy has the power to change society, Viviana Varese is the culinary forced behind Michelin-starred Viva restaurant in Milan. With a strong focus on fish and seafood in her Campania-inspired cuisine, Varese seeks to provide opportunities for the marginalised. Her most recent project, Viva Dolci e Gelati aims to boost the dignity and confidence of women who've experienced various forms of violence.
Jessica Rosval
Canadian chef Rosval fell in love with the cuisine of Massimo Bottura on a trip to Italy, so much so that she approached him about a job. Cut to almost a decade later and after a stint at Bottura's flagship Osteria Francescana restaurant, Rosval now heads up the kitchen at Casa Maria Luigia, the Francescana group's luxury retreat just outside Modena.
Andrea Aprea
After 10 years as Executive Chef of the two-Michelin-starred VUN restaurant in Milan, Aprea was well placed to take on the restaurant and bar-bistro at the Etruscan Museum in the city in his first chef-patron role. Straddling both traditional and contemporary Italian cuisine, Aprea's food is also inspired by his various travels and experiences, in cities such as London, and Kuala Lumpur.
LATAM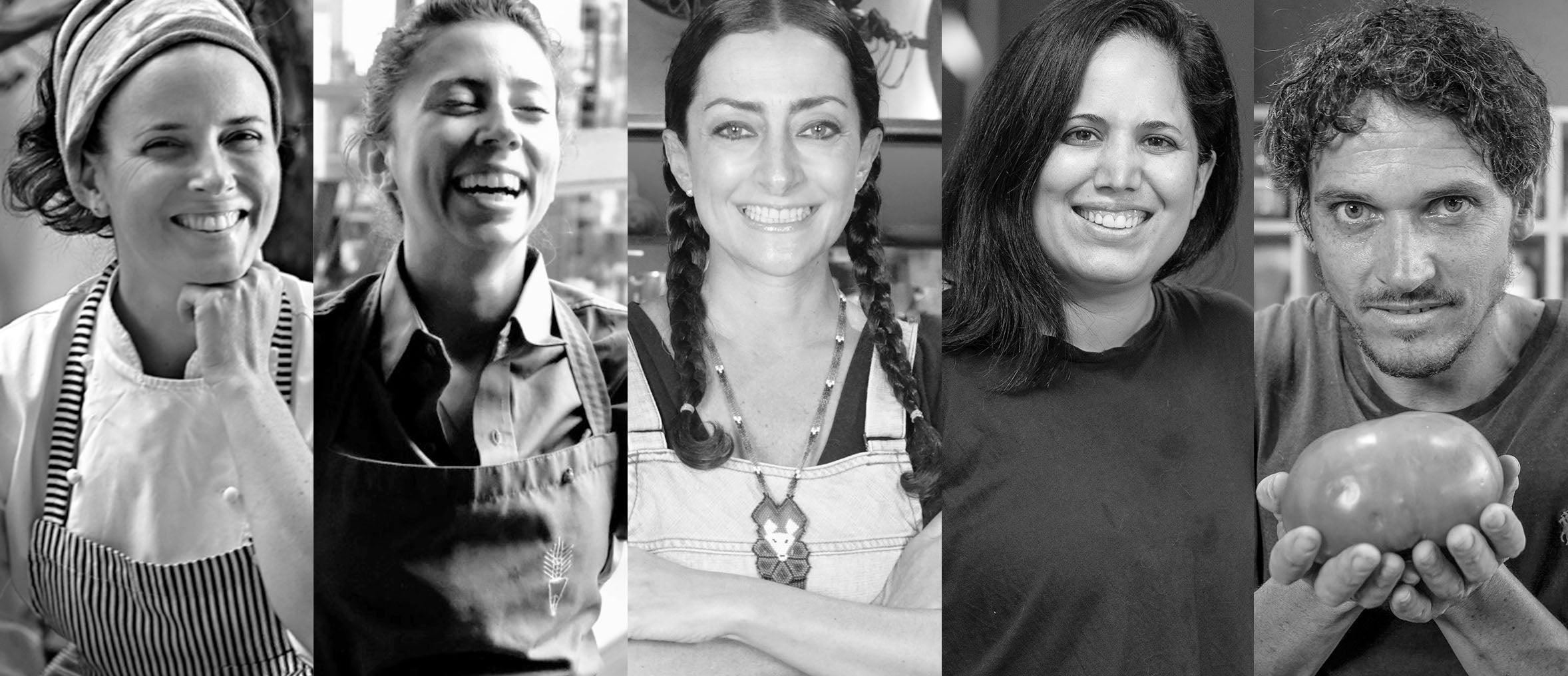 Helena Rizzo 
Helena Rizzo hails from Porto Alegre, Brazil. Having left for Europe at the age of 21, where she worked at some of the continent's best restaurants, including El Celler de Can Roca, she moved back to Brazil to open Maní, in 2006. The restaurant has held one Michelin star since 2015 and is listed among the best restaurants in Latin America and the world according to the 50 Best organisation. It also awarded Helena the titles of Best Female Chef in Latin America in 2013, and in the world in 2014.
Debora Fadul 
Chef-owner Debora Fadul's Diacá, a one table restaurant in Guatemala City, is the perfect expression of New Guatemalan cuisine, a movement that is updating the country's culinary traditions. Working with farmers from all over the country, Fadul explores culinary expressions of Guatemala's hundreds of microclimates, with a youthful energy that is catching the attention of the gastronomic world.
Lula Martin del Campo 
Chef and award-winning cookbook author Lula Martín del Campo hails from Mexico City. Intent on maintaining and strengthening the culinary heritage of her homeland, del Campo's culinary vision is focused on three basic ingredients that define Mexican gastronomy: corn, beans and chili peppers. She also promotes sustainable product initiatives from small farmers that have maintained the culinary heritage of Mexico since ancestral times. Her motto is: "Less is more".
Arlette Eulert
Having worked all over the world, today chef Arlette Eulert is the co-owner of Matria restaurant in Lima. An ardent promoter of Peruvian cuisine at home and abroad, she has been recognised by her own government for her contribution to the country's gastronomy, teaches cooking at the Pontifical Catholic University of Peru and is host of the television program 'Sabe a Perú' where she travels bringing the taste of Peru to the world.
Rodolfo Guzmán
Rodolfo Guzmán is the chef-owner of the renowned Boragó restaurant in Santiago, Chile, frequently cited as one of the world's best restaurants. After a stint at Mugaritz in Spain, Guzmán returned to Chile to focus on the unique biodiversity of his country, introducing numerous techniques, ingredients, and Chilean products to the world in his quest for a micro-seasonal cuisine, rooted in place.
MAINLAND CHINA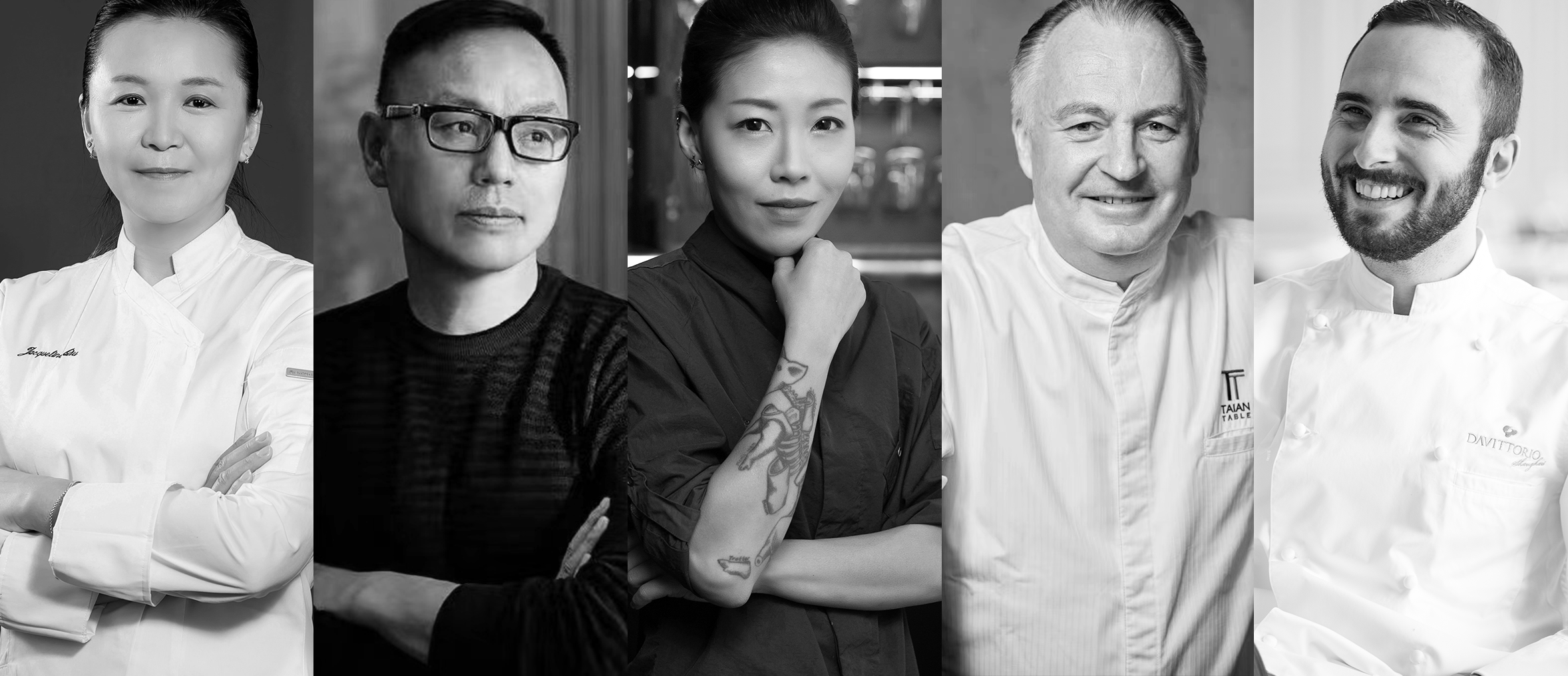 Jacqueline Qiu
Born in Shanghai, Qiu began her culinary studies in 1985. She has worked at the likes of Jean Georges at the Park Hyatt and the Hyatt group's five-star Andaz concept in Shanghai, and is currently Senior Manager of F&B Operations for Hilton Hotels Greater China & Mongolia. The first female Executive Chef in mainland China, she has a long history with the Academy Competition, serving as a local juror and mentor.
Zhang Yong
Hailing from Taizhou in Zhejiang Province, Zhang Yong now has eight restaurants in Beijing, Shanghai and Hong Kong, with a total of 12 Michelin stars. He has almost single-handedly made a name for Taizhou cuisine outside of Zhejiang and has also made Taizhou a popular foodie destination.
DeAille Tam
Born in Hong Kong and raised in Canada, Tam moved to Shanghai in 2016 to head Bo Shanghai, awarded a Michelin star just a year after it opened, making her the first female chef in mainland China to lead her restaurant to the honour. Named Asia's Best Female Chef 2021 by Asia's 50 Best Restaurants, her focus now is her and co-chef Simon Wong's Shanghai fine dining restaurant Obscura, also one-Michelin-star rated.
Stefan Stiller
Originally from Germany, Stiller relocated to Shanghai in 2004 after considerable experience in the Michelin-starred kitchens of Europe. His Taian Table, an innovative and sophisticated restaurant centred around an open kitchen opened in 2016 and quickly received a Michelin star in the inaugural guide to Shanghai. In 2019 the restaurant received its second star and in 2021, its third.
Stefano Bacchelli
Originally from Tuscany, Italy, Bacchelli worked for a decade at Da Vittorio in Bergamo under the Cerea family, before taking up the position of Executive Chef at Da Vittorio Shanghai. In 2021 the restaurant was awarded its second Michelin star, serving the kind of seafood-focused Italian classics the Cerea family has been perfecting for decades.
SOUTH-EAST EUROPE & MEDITERRANEAN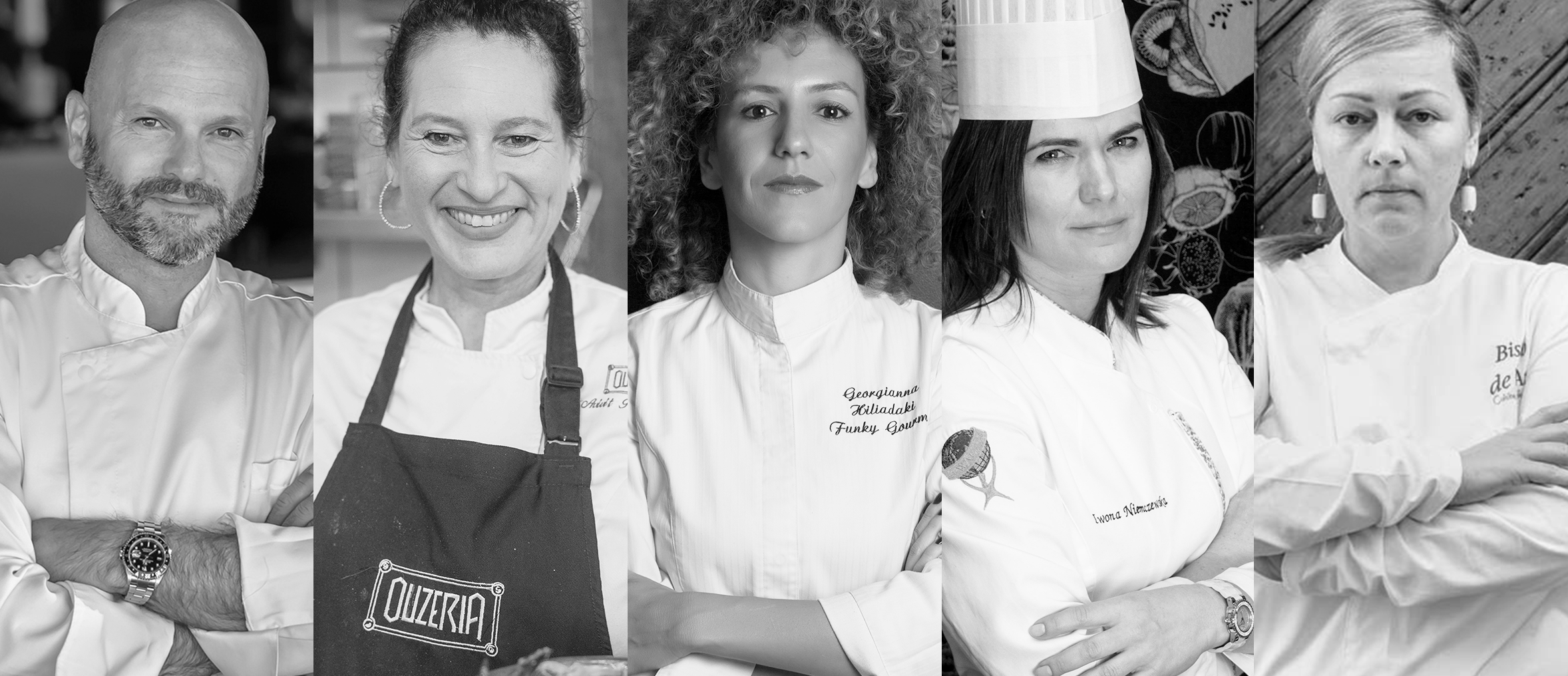 Jeffrey J Vella 
Maltese chef Jeffrey J Vella comes from a family of hoteliers, so hospitality is in his blood. He has worked with some of the biggest names in the industry, including Gordon Ramsay and Alain Ducasse, and currently heads up the Cap Aureo restaurant in Rovinj, Croatia. There he cooks a predominantly vegetable-focused, modern Mediterranean cuisine, using the freshest local ingredients.
Avivit Priel Avichai 
Tel Aviv-based chef Avivit Priel Avivchai is the co-founder of Ouzeria, a vibrant and cosy restaurant overlooking a local market that is inspired by the ouzerias of Athens and Spanish tapas restaurants. There she serves a colourful and fresh Mediterranean cuisine washed down with anis-based drinks and delicious cocktails.
Georgianna Hiliadaki 
Chefs Georgianna Hiliadaki and Nikos Roussos are the co-founders of the Modern Greek Food Group (MGFG). Its flagship is the two-Michelin-starred Funky Gourmet restaurant in Athens, where Greek cuisine is given an avant-garde twist. The group also has several restaurants in London. Hiliadaki has lectured in Culinary Psychology at Harvard University since February 2021.
Iwona Niemczewska 
A former lawyer who swapped her profession for cooking, Iwona Niemczewska is the chef-owner of Lustra restaurant in Szczecin, Poland. With a love of fine dining, slow food and the highest quality natural ingredients, Niemczewska has crafted an expansive cuisine inspired by her travels and time working at the likes of Hibiscus and Murano in London. She is also a renowned trainer and culinary judge, and the winner of the Female Boss 2018 Prize, awarded by Gault & Millau Polska.
Oana Coanta 
Born in Transylvania, Romania and now located in the city of Brașov, Oana Coanta opened Bistro de l'Arte in December 2000. With a strong focus on local cuisine and sustaining local producers, she seeks to encourage other Romanian chefs to be proud of their gastronomic heritage and in 2019 was awarded the title of best female chef in the country by Gault & Millau.
UK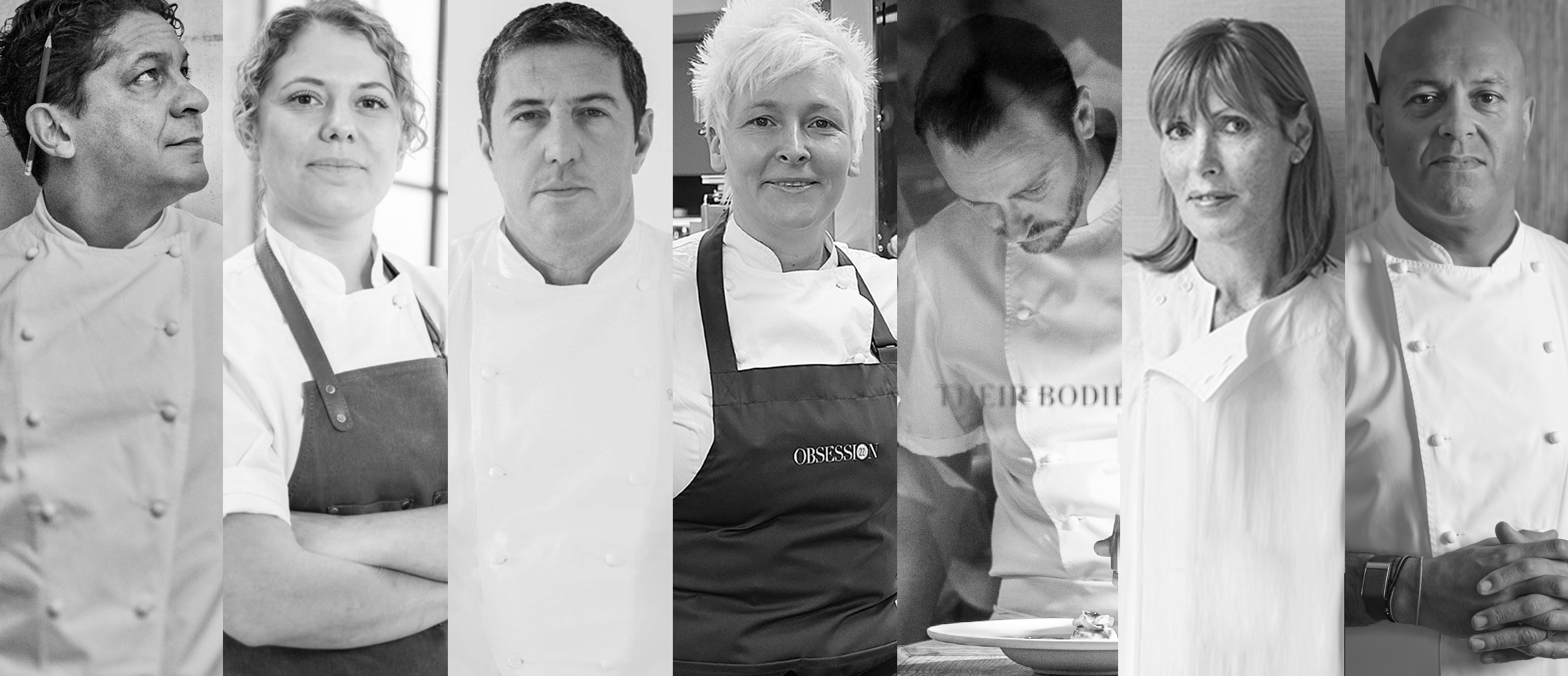 Francesco Mazzei
Francesco Mazzei spent the early part of his career working in major cities such as Rome and London before going on to open restaurants in Edinburgh, Milan, and Bangkok. In 2008, he opened his first London restaurant, L'Anima, with a menu inspired by traditional cooking from Calabria, Puglia, Sicily, and Sardinia. He has also been Chef-Patron at Sartoria in Mayfair since 2015 as well as Radici, a neighbourhood trattoria in Islington, and Fiume, a riverside restaurant in Battersea.
Sally Abe
After cutting her teeth at the likes of Brett Graham's The Ledbury and Phil Howard's Elystan Street, Sally Abé rose to fame at The Harwood Arms. She's now at the helm of The Pem inside the Conrad London St James hotel, along with three accompanying establishments.
Claude Bosi
Known for combining highly skilled classical techniques with the world's best produce, Claude Bosi is one of the best chefs working in the UK today. After rising to the top at his restaurant Hibiscus, he now mans the kitchen at the two Michelin-starred Bibendum in London.
Lisa Goodwin-Allen
Lisa Goodwin-Allen is a British chef best known for being Executive Chef of the Michelin-starred Northcote restaurant in Lancashire. She's also a regular face on British TV and won the BBC's cooking show Great British Menu.
Jason Atherton
Jason Atherton launched his flagship London restaurant, Pollen Street Social in April 2011, which was awarded a Michelin star within six months of opening. Since then, his restaurant group, 'The Social Company', has won multiple awards and accolades for its contribution to the UK restaurant scene. Atherton now operates seven acclaimed London restaurants, two of which hold Michelin stars, and a further seven international outposts in New York, The Philippines, Mykonos and St Moritz.
Skye Gyngell
Skye Gyngell works closely with biodynamic farm Fern Verrow to bring the UK's best produce to London. Originally from Australia, she trained in Sydney and Paris before arriving in the UK capital, where she made a name for herself as head chef at Petersham Nurseries. She now has her own restaurant, Spring, in Somerset House, with an emphasis on simple, zero-waste cookery.
Sat Bains
Sat Bains is best known for being the chef proprietor of the two-Michelin star Restaurant Sat Bains with Rooms in Nottingham, England. He won the Roux Scholarship in 1999, and worked in France, before returning to the UK and opening his own restaurant. Bains was also one of the winners on the BBC show Great British Menu in 2007.
US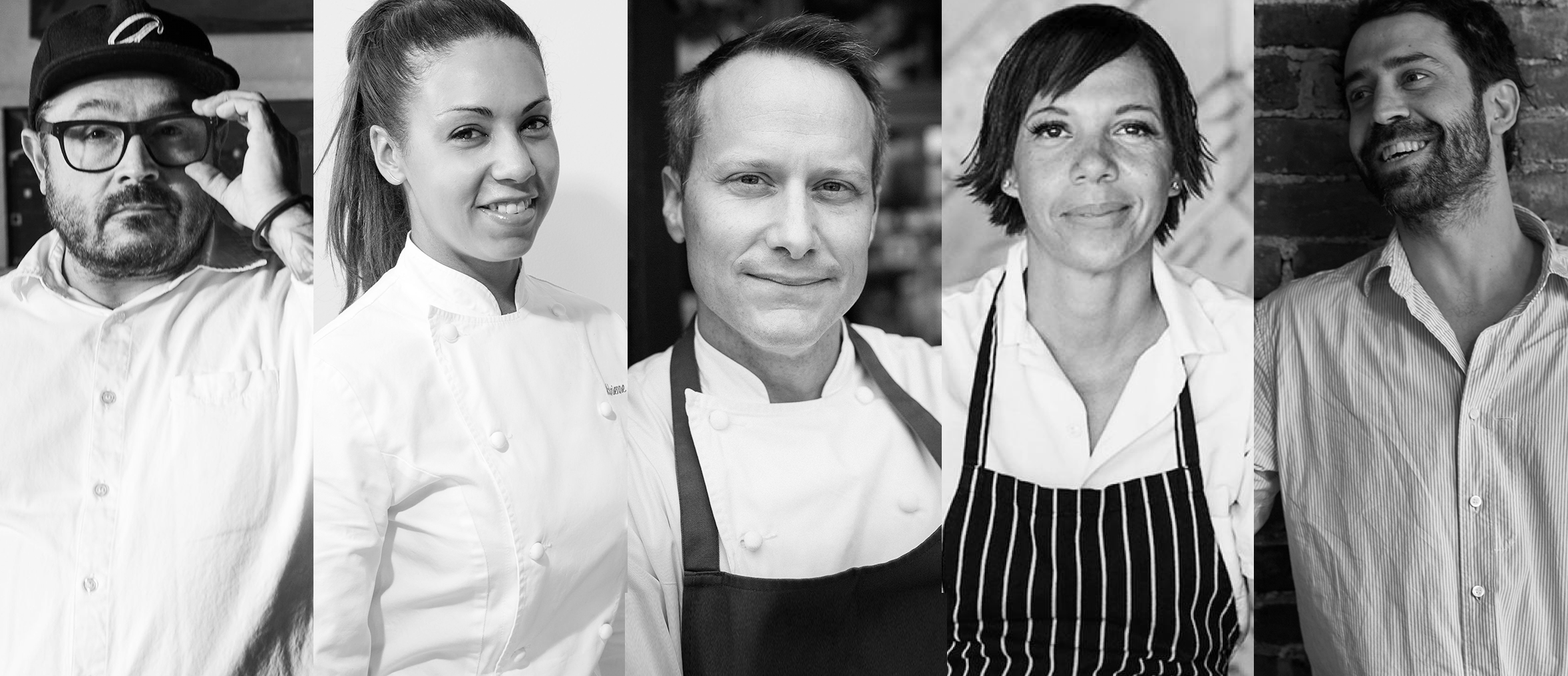 Sean Brock
Raised in rural Virginia, Sean Brock is a chef and restauranteur known for his involvement in the repatriation of the Southern pantry and cuisine over the past 20 years. For over a decade, he was the chef and partner of McCrady's and McCrady's Tavern in Charleston, South Carolina, as well as the founding chef of Husk Restaurants, located in Charleston, Nashville, and Savannah. In 2019, he laid down roots in Nashville to open four ambitious restaurant endeavours: Joyland, The Continental, Audrey, and the forthcoming June.
Adrienne Cheatham
Chef Adrienne Cheatham grew up working in the restaurants her mother managed in Chicago. After moving to New York City, she found herself at Le Bernardin, under Eric Ripert, later becoming Executive Sous Chef of the three-Michelin starred restaurant. A longtime Harlem resident, Cheatham later joined chef Marcus Samuelsson as Corporate Chef de Cuisine and was recently a Chef-in-Residence at Blue Hill at Stone Barns. Cheatham's debut cookbook, Sunday Best, was released in April 2022.
Philip Tessier
Formerly Executive Sous Chef at California's famed The French Laundry restaurant, Philip Tessier coached the gold-winning USA team at Bocuse d'Or 2017, as well as being a silver medallist himself in 2017 – the first American to ever reach the podium. He is also an author (writing a book about his Bocuse experience), culinary partner and philanthropist.
Nina Compton
A James Beard Award winner, Nina Compton is Chef-Owner of award-winning restaurant Compère Lapin in New Orleans' Warehouse District. Her second restaurant venture, Bywater American Bistro (BABs), is located in New Orleans' Bywater neighbourhood. Born and raised in St. Lucia, Compton grew up with the flavours and beauty of the Caribbean. Graduating in 2001 from The Culinary Institute of America, she began her professional journey at Daniel in New York City, working and continuing her culinary education alongside world renowned chef/restaurateur Daniel Boulud and his team.
Ignacio Mattos
Ignacio Mattos is the Chef and Founder of Mattos Hospitality, which comprises New York restaurants estela, Altro Paradiso, and Lodi. Since moving to Manhattan nearly two decades ago, the Uruguayan-born chef has developed a bold, deceptively simple style of food, and built a reputation for creating elegant spaces that capture the energy of the city. estela, Mattos' first restaurant, holds a Michelin star.
WEST EUROPE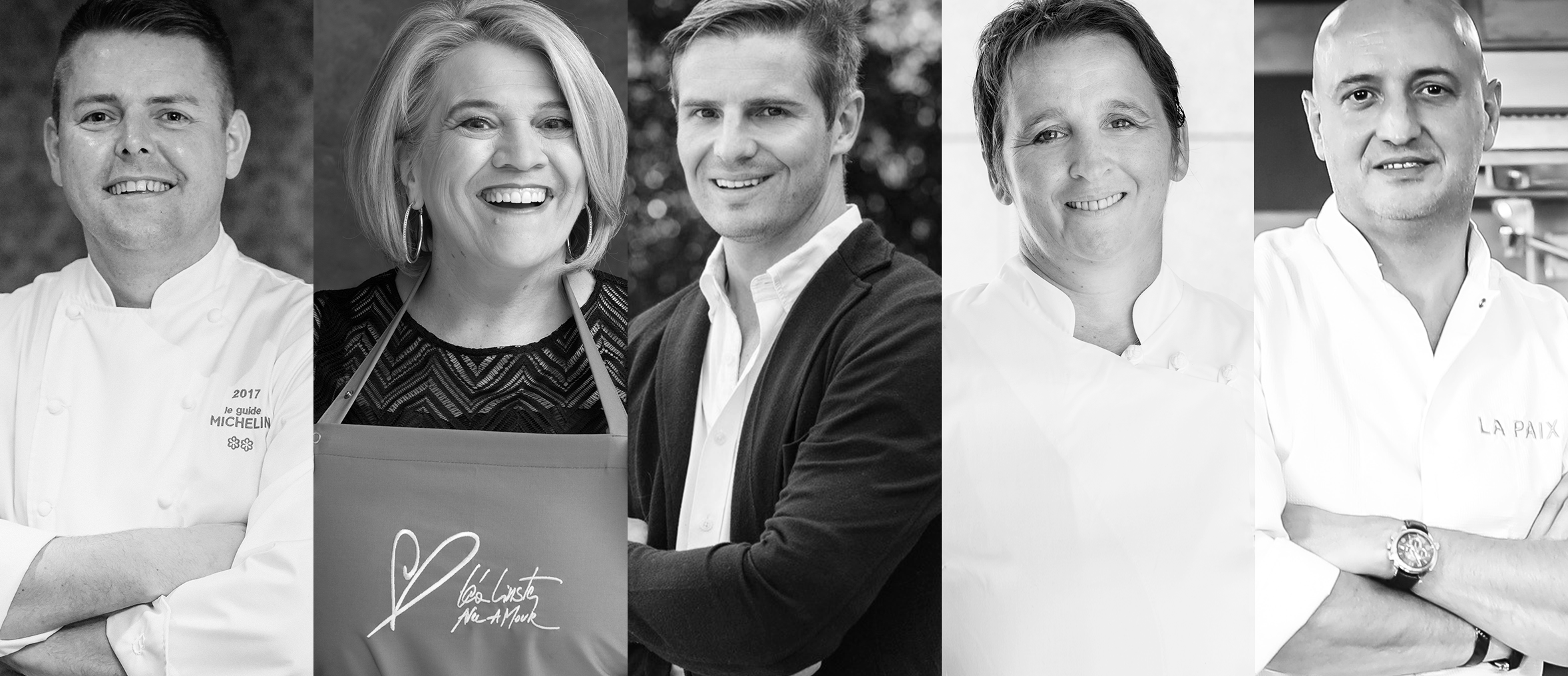 Stefan Heilemann
German-born Stefan Heilemann trained under Harald Wohlfahrt at Traube Tonbach, before heading to the Giardino Ascona hotel in Switzerland, where he assisted Rolf Fliegauf as Sous Chef at Ecco Ascona from 2012. In 2015, Heilemann was offered the opportunity to take over the newly opened Ecco Zurich kitchen. In 2016, the restaurant was awarded two Michelin stars. Since June 2020, he has been Head Chef of the Widder Restaurant in the Widder Hotel, again cooking his way to two Michelin stars.
Léa Linster
Native Luxembourger Léa Linster was the first and to date only female winner of the Bocuse d'Or competition. The daughter of a pastry chef and cook, she took over the family business in her hometown of Frisange in 1982, a café-restaurant at the time, and shaped it into a fine dining restaurant. In 1987 the restaurant was awarded a Michelin star, which was retained for over 30 years. In 2019 she handed her restaurant to her son Louis who was also awarded with a star the same year. She is now an ambassador for culinary culture and the Bocuse d'Or organisation.
Tim Boury
Tim Boury and his wife Inge founded restaurant Boury, in Roeselare, Belgium, in 2010. Boury started his career in the kitchen of Comme chez Soi, where he worked as Chef de Partie. Later, he became the Sous Chef of Sergio Herman at Oud Sluis. Boury was awarded a Michelin star one year after opening. After moving to another location (also in Roeselare) the restaurant was awarded its second star and in 2022, its third.
Mary Nohazic
Born in Belley, France in 1974 into a traditional rural family, Mary Nohazic spent her youth on the family farm. After attending hotel school she went to work in Stuttgart at the restaurant Alte Post, then on to Switzerland to Le Grand Pin in Peseux and eventually Schiff am See in Morat. Since 2007 she has been in Cheseaux-Noréaz at Table de Mary, winning the restaurant a Michelin star in 2017.
David Martin
David Martin is a Franco-Spanish chef who has cooked all over the world, including with revered master Alain Passard at L'Arpège in Paris. He eventually found himself at La Paix, a classic brasserie in Brussels, Belgium, owned by his wife's family, which the couple have since bought and reimagined, and where he has earned two Michelin stars for his Japanese-influenced cuisine.